There are several XDefiant Factions to be excited about, especially if you're a long-time fan of Ubisoft games. From super spies to freedom fighters, Ubisoft's free-to-play shooter brings its various IPs together for an action-packed multiplayer experience.
If you just can't get enough of XDefiant and the Factions on offer, then you're in luck as Ubisoft has long-term plans for the game following the XDefiant release date. No matter what Faction you're playing though, you'll want to know your way around the XDefiant weapons. Luckily for you, we've already got the best XDefiant guns right here.
All XDefiant Factions
The five XDefiant Factions are:
Libertad – The Freedom Fighters (Far Cry 6)
Phantoms – The Future Soldiers (Ghost Recon)
Echelon – The Super Spies (Splinter Cell)
Cleaners – The Pyro Technicians (The Division)
DedSec – The Cyber Attackers (Watch Dogs)
If you're a long-time fan of Ubisoft games then you'll no doubt recognise these groups. Each Faction comes from a popular Ubisoft series and their playstyle reflects this, creating the individual XDefiant classes. For instance, the Phantoms come from the Ghost Recon Series and are futuristic soldiers with advanced technology specialising in battlefield control. This gives this Faction and its classes defensive and tanky abilities. On the other hand, Echelon, from Splinter Cell, are expert covert operatives adept in reconnaissance and subterfuge. As such, the Echelon classes excel at utility and stealth.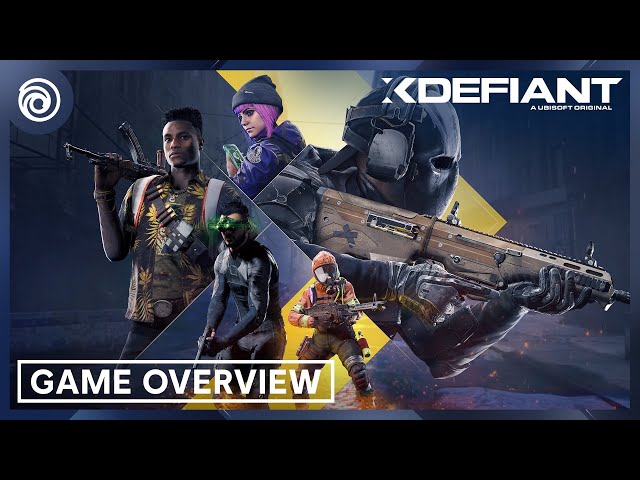 When you get into a match you can pick whichever Faction and class you would like, since it's not representative of your team. Mix and match Factions within your team to be able to effectively control the battlefield and win the match. Certain Factions will be better suited to different XDefiant maps and XDefiant game modes, so pick wisely.
Read on below to find out more about each of the XDefiant Factions, including their playstyles and all their Faction abilities.
Libertad
Libertad are a group of freedom fighters you might recognise from Far Cry 6. Thanks to their BioVida technology, Libertad are the healer Faction, making use of strong healing abilities to keep the team alive. They also make for perhaps the best XDefiant Faction for solo players, due to their ability to quickly self-heal and turn any fight around, defining the XDefiant meta so far.
These are the Libertad abilities:
Médico Supremo (Ultra) – provides a large health and healing boost for a limited time
El Remedio (Ability) – heals allies until it is destroyed or cancelled
BioVida Boost (Ability) – boosts total health and regen for you and nearby allies
Espíritu de Libertad (Passive) – slowly heals you and nearby allies
Phantoms
Phantoms, who you make recognise from Ghost Recon, are the zone controlling XDefiant Faction. Through a variety of tanky and defensive skills, Phantoms are great for controlling the map and any objective areas you need to capture. This goes hand in hand with builds like the best XDefiant M249 loadout, which is even stronger when you're set up with a shield.
These are the Phantom abilities:
Aegis (Ultra) – plasma shield with an electro-scattergun for close-quarters combat
Mag Barrier (Ability) – blocks incoming enemy fire and grenades
Blitz Shield (Ability) – equip a tactical shield to block and melee enemies
Hardened (Passive) – increased health
Echelon
Echolon are the iconic super spies from the Splinter Cell series. While fans have been clamoring for a new Splinter Cell game for years now, you can play the stealthy spy Faction in XDefiant. If getting the jump on your enemies is your favorite playstyle, then Echelon is for you. They also work wonders with the XDefiant MP7 loadout, which is one of the best XDefiant loadouts you can make.
These are the Echelon abilities:
Sonar Goggles (Ultra) – reveal enemies and hunt them down with the classic Third Echelon 5.7 pistol
Intel Suit (Ability) – shares the location of nearby enemies with your team
Digital Ghillie Suit (Ability) – makes you nearly invisible, but movement and aiming reduce the effect
Low Profile (Passive) – you won't appear on enemy mini maps
Cleaners
The Cleaners are a band of pyrotechnic cleaners from The Division, which excel at area denial. Thanks to powerful offensive abilities, Cleaners are great for pushing enemies and objectives. Since Cleaners are a versatile Faction, they work with just about anything, including well-rounded setups like the best XDefiant ACR loadout.
These are the Cleaners abilities:
The Purifier (Ultra) – equip a flamethrower
Incinerator Drone (Ability) – send a napalm-delivering drone in a short path forwards
Firebomb (Ability) – throw a Molotov to cause explosive damage and set fire to the surrounding area
Incendiary Rounds (Passive) – inflicts extra burn damage but decreases weapon range
DedSec
DedSec, the renowned hacker group from the Watch Dogs series, are experts in disruption and chaos. Making use of several gadgets, the DedSec XDefiant Faction can give your team the advantage over the enemy, and even stop them in their tracks. While just about any weapon can work, we've found using a sniper like the best XDefiant TAC 50 loadout or XDefiant M44 loadout a good fit. The XDefiant M870 loadout is also a lot of fun as you can hack the enemy and charge headfirst into the fight.
These are the DedSec abilities:
Lockout (Ultra) – disable the enemies' HUD, mini map, and abilities in the affected area
Spiderbot (Ability) – deploy a SpiderBot that will target and stun the closest enemy
Hijack (Ability) – hack enemy-deployed abilities to switch them to your side
Fabricator (Passive) – after a device is deployed, the Fabricator prints a new one
XDefiant Factions roadmap
XDefiant will see new Factions arriving as part of the post-launch content, alongside new maps and other exciting additions. The XDefiant roadmap for year one confirms four upcoming Factions will be making their way to the game, though these are currently unknown.
What Factions could come to XDefiant in the future?
Since we know we'll be getting four new XDefiant Faction this year alone, it's worth speculating what factions these could be out of Ubisoft's varied and iconic catalogue of groups.
The most likely XDefiant Factions to be arriving in the future are Division Agents, Rainbow Six, and Assassins. These groups already have unique and instantly recognisable skills from their own games, so there's lots of potential for them to be translated into XDefiant Factions.
We've already got Cleaners from The Division universe, so why not chuck in the heroes? Division Agents have everything from healing fields to seeking mines and flame turrets. Their technology would make them adaptable characters that would be a blast to play around with in a competitive first-person shooter.
Likewise, Rainbow Six has a long history, but Siege alone has several characters or kits they could take inspiration from, such as a riot shield, a heartbeat scanner, cluster charge, or a variety of other devices. Given the variety in Siege's characters, there's great potential for both offensive and defensive options alike that would bulk out the XDefiant Factions roster.
Lastly, we believe an Assassin XDefiant Faction is likely to come in the future. As Ubisoft's most iconic series nowadays, it would be highly surprising to not see this group arrive. While it might sound tricky at first, remember that the Assassins from Assassin's Creed aren't limited to ancient time periods; the fight between the Templars and Assassins is still rife in the modern day. Well-known for their contraptions, such as the Hidden Blade, Phantom Blade, and a variety of bombs and the like, we're sure Ubisoft wouldn't pass on an opportunity to add this group.
With that said, Ubisoft has a large collection of franchises they could pick from, and with four Factions coming to XDefiant in just one year, no doubt we'll see nearly all of the potential picks arrive at some point.
And that's all the iconic teams represented in the XDefiant Factions list right now. With more Factions coming later down the line, we'll keep this guide updated with the latest on this exciting arena shooter. In the meantime, don't miss out on the XDefiant Twitch Drops that can give you exclusive in-game rewards.