One of the most important elements of an arena shooter are the locations you'll wage war in. As such, it's worth finding out all the XDefiant maps that will be available at launch and beyond. From amusement parks to research facilities and tech company offices, there's lots of diverse arenas for you to blast your way through in this fast-paced arena shooter.
The XDefiant maps will no doubt be exciting for fans of Ubisoft games, as many are inspired by their hit franchises. With a post-launch roadmap, there's even more in store past the XDefiant release date, including more XDefiant weapons.
All XDefiant maps
Here are all 14 XDefiant maps:
Arena – Domination, Occupy
Attica Heights – Domination, Occupy
DUMBO – Domination, Occupy
Echelon HQ – Domination, Occupy
Emporium – Domination, Occupy
Liberty – Domination, Occupy
Mayday – Domination, Occupy
Nudleplex – Domination, Occupy
Pueblito – Domination, Occupy
Showtime – Domination, Occupy
Meltdown – Escort, Zone
Midway – Escort, Zone
Times Square – Escort, Zone
Zoo – Escort, Zone
With 14 maps currently in the game, there's a strong variety in terms of themes and design. Pair this with the diverse XDefiant classes and we're in for some fast-paced yet tactical action.
These maps are split in two sections based on the available XDefiant game modes, with four only being available in Escort or Zone (known as Progression modes) while the remaining ten are Domination and Occupy mode maps (known as Arena modes).
Furthermore, much like the XDefiant Factions, each map is inspired by a popular Ubisoft series, so fans will no doubt recognise some locales. For example, Nudleplex is based on areas of Watch Dogs, while Pueblito is inspired by Far Cry 6.
You can see these striking arenas in action in this showcase: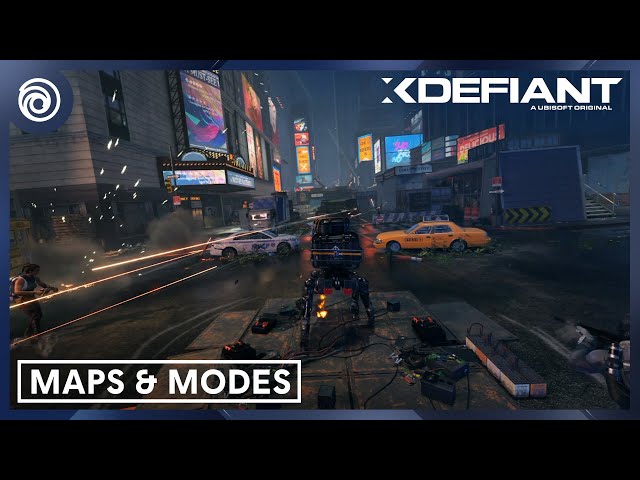 We also know that there will be new XDefiant maps coming in the future, thanks to the XDefiant roadmap. According to the roadmap XDefiant Year 1 will see 12 new maps arrive in the first year, resulting in a new map every single month. Though this sounds like a tall order, a new map every month will certainly keep the action fresh and exciting for players.
That's all the XDefiant maps you can battle it out in so far, but we'll keep this guide updated with the latest on this exciting multiplayer arena shooter. So, grab the best XDefiant guns and head into the diverse arenas.