When is Starfield coming out? If you've had the Starfield release date marked in your calendar for some time, then you'll have no doubt crossed that out by now. Unfortunately, Bethesda recently delayed the open world space exploration game to 2023, and we've been counting down the days since.
The writing was somewhat on the wall, too. Since it's initial reveal, we hadn't seen an ounce of gameplay and with the global pandemic disrupting most – if not all – production worldwide, it seemed inevitable that the Starfield release date was going to be pushed back.
But despite all the drama, things are looking up and it's nearly all systems go on what is set to be Bethesda's biggest game yet. Now that we've finally got our first look at Starfield gameplay, it's time to prep your space ration packs and brace for landing. Here's everything we know about the Starfield release date, including when you can get your hands on it on both Xbox and PC.
Starfield release date
If you still think you're getting your hands on Starfield by the end of the year, we've got bad news for you: Starfield was delayed into 2023.
That's all we knew for a while, but Todd Howard recently confirmed in the Xbox and Bethesda showcase that the Starfield release date is set for sometime in "early 2023."
As for the actual date, no one really knows at the moment. According to Xbox all the games shown at the Xbox and Bethesda showcase were launching within a 12 month period, so that means we'll see Starfield by the end of May 2023 at the latest.
Unless it gets delayed again, of course.
Starfield platforms
Starfield will be an Xbox and PC exclusive game, after Microsoft struck a deal to buy Bethesda's parent company, ZeniMax Media.
Unfortunately, this means that Starfield won't be making its way onto PlayStation 4 or PlayStation 5 consoles – at least for now.
Starfield gameplay
It feels like we've been waiting a lifetime to see Starfield in action, but, thanks to Todd Howard, we got our first glimpse of Starfield gameplay in the Xbox and Bethesda showcase 2022.
It kicks off with a space explorer getting off their ship with a Vasco robot on a moon called Kreet, and follows them as they take their first steps onto this sulphurous planet. This short segment, which shows the explorer coming face to face with space critters and pirates, has drawn similarities to No Man's Sky gameplay – with scanners, weapons, and worlds taking centre stage.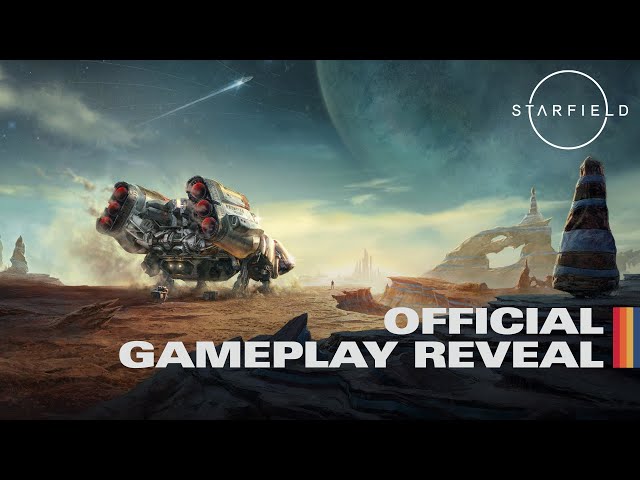 We also get a sneak peek at the zero gravity combat, which, like Fallout, looks gritty and satisfying, as well as things like lockpicking and hacking.
Then, we're transported to one of the biggest Starfield cities, New Atlantis, where we meet the Constellation – a group of the last space explorers – for the first time. What follows is a sort of montage, with storylines of different factions, missions, and Starfield planets all coming into the fore. It seems we'll have plenty of dialogue options and choices based on this gameplay reveal, which is Bethesda through and through.
The gameplay reveal also goes into detail about the Starfield character creator, which will allow you to change things like your biometric ID, your body, and your traits. Later down the line, a skill tree is revealed, along with an outpost creation system that'll allow you to set up a "home away from home" run by NPCs you recruit along the way.
We also got our first look at the game's ship editor, which will seemingly allow you to customise pretty much anything you please. These ships can be flown on your journeys to any of the "1,000 planets" in game and used to battle enemies in Star Wars Squadrons-like dog fights.
Starfield trailers
In 2021, we got our first look at Bethesda's new game via the Starfield teaser trailer, which you can watch below. This in-engine trailer doesn't feature any gameplay, but it does give you a pretty good indication of the world in which we'll be playing.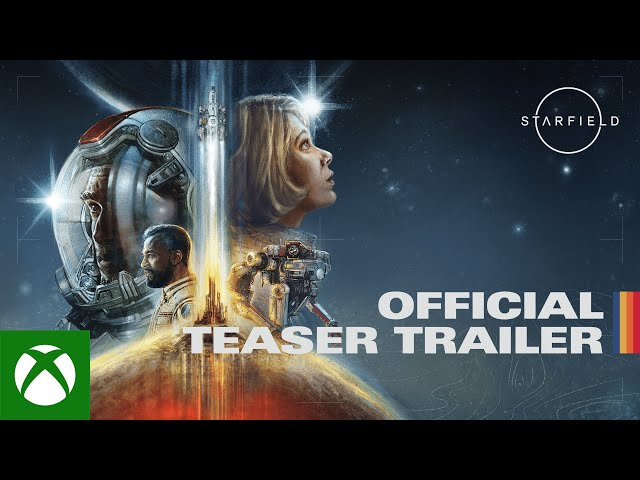 It also features some voice lines by a member of the Constellation, urging you to discover the remnants of artefacts in the galaxy in order to answer that age old question of 'what else is out there?'
While this appears to be the only official trailer, Bethesda has released a number of videos highlighting different aspects of this Skyrim in space adventure. We've had one on the music and sound design, which explores why Starfield's music adds a "fourth dimension" to the game, one on the cute and friendly companion robot called Vasco, and several teasers on the game's confirmed locations.
Starfield news
We're being fed Starfield news in dribs and drabs, but the recent Xbox and Bethesda showcase had oodles of information.
In the gameplay reveal, we spotted that several of Starfield's planets are named after real-life astronauts, like Jemison, Gagarin, and Chawla. It's unclear if there's a bigger theme at play here, but given there are "over 1,000 planets" to explore in the galaxy, Bethesda has its work cut out.
We've also heard that the Starfield character creator is the deepest yet, allowing you to tweak pretty much anything in sight. Like Mass Effect, you can hone your character's background, which will, ultimately, have a say on how your narrative choices play out.
In a dev deep dive, it was revealed that Starfield's world mechanics are totally different to Bethesda games of yore, with more of a focus on real-time effects rather than action-packed sequences.
Another episode highlights how the Starfield factions are set up to be impactful, ensuring your decisions in game are made to feel weighty and consequential. However, while there's meant to be impact behind your decisions, you won't necessarily hear your character deliver it. According to Bethesda, all dialogue will take place in first person, but your character won't have a voice.
These are the big talking points from all the latest Starfield reveals, but if we're lucky we might hear more as we creep ever closer to the Starfield release date.