The 2023 Summer Game Fest Showcase might not have been a complete blockbuster (although, some Final Fantasy fans may have a different opinion on that), but that's not to say there weren't some super exciting upcoming PS5 games and upcoming Xbox games that caught our attention.
From completely fresh IPs, to long-awaited sequels, to an on-form Nicolas Cage in a shimmering suit, there was plenty to get hyped about. Following the SGF Showcase, I've asked each member of The Loadout team to give me their highlight. Will we get a clean sweep for Palworld? Will anyone be brave enough to leave out Final Fantasy 7 Rebirth? Read on to find out.
Kyle – Alan Wake 2 gameplay
Remedy Entertainment creative director Sam Lake has often explained that Alan Wake 2 is going to be the developer's first true "survival horror" game, but I think it should be pitching it as a 'suspense thriller'. Why? Well, because I was thrilled to see new Alan Wake 2 gameplay at this year's Summer Game Fest showcase – and, I find myself arrested in suspense wanting to know more. Is this going to be one of the best horror games when it drops? Well, it's looking that way.
From what we were shown of newcomer Saga Anderson's late-night venture to the overgrown Cauldron Lake General Store, Alan Wake 2 is shaping up to be a fantastically gripping game. It's easily one of my most anticipated upcoming PS5 games out there and it could be one of the best PS5 horror games yet. Graphically, this game looks stunning, and the isolating spotlight of the playable character's handheld flashlight only looks like it's going to make the violence more visceral. With the end of this gameplay segment also teasing a new investigation mechanic, the Alan Wake 2 release date really can't come soon enough.
Joe – FF7 Rebirth reveal
My highlight of Summer Game Fest was definitely the closing act. After seven mediocre teases on Twitter, Square Enix finally revealed what Final Fantasy 7 Rebirth has in store for us: and it was one big mindfuck.
Now that Sephiroth has freed the Final Fantasy 7 timeline from the Whispers' control by getting us to destroy them, he has free reign to confuse Cloud – and us – as Square Enix proved by seemingly showing the entire party being dead in the FF7 Rebirth trailer. Sephiroth and Square are going to make us doubt what we think about the story, where it might be heading, and even who everyone is.
At this point, it's clear Square Enix knows what it needs to do with this latest retelling of Final Fantasy 7, and appears to be delivering in all the ways fans want. This trailer answered a lot of lingering questions we had from the end of Remake and the Intermission DLC. And with Red XIII and Yuffie playable in Rebirth and a part of the crew, I'll be counting down the days to the FF7 Rebirth release date.
Rory – John Carpenter's Toxic Commando
Saber Interactive has proved itself a versatile developer, going from the intense and bombastic World War Z game, to the methodical and intricate truck simulator Snowrunner. As a fan of both of these titles, it's safe to say that I was pleasantly surprised to see Saber combine both of these worlds into Toxic Commando.
Not only are there absolutely huge hordes of infected out for blood, but there's also a variety of vehicles, from big-rigs with spikes to humvees with mounted machine guns, that look to shake up the formula when the Toxic Commando release date arrives.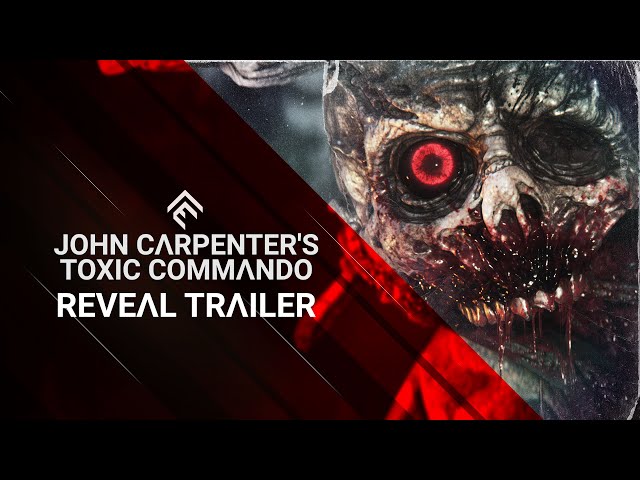 While I don't expect too much of the sim elements of Snowrunner, the trailer did show off some familiar features, such as getting stuck in deep mud and towing other vehicles. This could already be pretty intense in Snowrunner without the addition of brain-hungry zombies, so I can't wait to get stuck into the blood-pumping action. In particular, I'm looking forward to seeing how Saber will innovate in a rather stagnant genre to create what could become one of the best co-op games.
Sam – erm, Toxic Commando again
The Halloween maestro has always appreciated the world of gaming, so it seems fitting that John Carpenter's Toxic Commando taps into the horror auteur's mind. Saber Interactive delivered one of the best Xbox zombie games with World War Z, which saw a wealth of updates arrive post-launch, taking the bloodshed to new heights. The studio's success with adapting popular horror IP has continued with Evil Dead The Game, making them a sturdy choice to bring Carpenter's ideas into the hands of PS5 and Xbox players.
The gruesome trailer already seems to take cues from Escape From New York or Big Trouble in Little China, depicting Carpenter's forbidding sense of dread in each shred of zombie guts. With the absence of a standalone Call of Duty Zombies experience right now, I'm hoping that Toxic Commando can fill that void with some gnarly world-building and grin-inducing action. Now that the mainline Aether saga is done in COD Zombies, I'm ready for new lore to get absorbed by.
A filmmaker-influenced zombie FPS could be just what the genre needs. All I know is that one thing is abundantly clear with Carpenter involved: "Evil dies tonight."
Jamie – Immortals of Aveum gameplay
I'm not gonna lie to you, readers – I was this close to making it three on the bounce for Toxic Commando. However, in the interest of variety, and because it genuinely intrigued me, I'll go with the new gameplay slice we saw from magic FPS game Immortals of Aveum.
All through this game's marketing cycle ahead of the Immortals of Aveum release date, it's been parroted as a 'Call of Duty but with magic instead of assault rifles'. Up until now, I didn't totally believe it from what we've seen already, and even after reading Callum's excellent preview of the game. However, the Summer Game Fest gameplay trailer showed some footage of a pretty epic-looking mission, and now I properly see the CoD campaign DNA that Ascendant Studios head Bret Robbins is bringing to the table.
While this will sadly never make our best competitive FPS games list due to its lack of multiplayer, the SGF trailer certainly made me take much more notice of this exciting single-player shooter.
Callum – Spider-Man 2 gets a date
As a huge Spider-Man fan, and someone who has become even more obsessed with the web-slinger since Across the Spider-Verse, the reveal of the Marvel's Spider-Man 2 release date was enough to make this Summer Game Fest worth watching. Not only that, but new artwork of our favorite Spider-Men fighting Kraven and Venom is enough to tide any fan over until we boot up our PlayStation 5s in October.
There's also the beautiful Collector's Edition among the Marvel's Spider-Man 2 pre-orders, which I know I'll pick up as soon as it is up on the PlayStation Direct store. And after the showcase, we also found out about the fact that Spider-Man 2 suits will come in several color variants, which is pretty exciting, to say the least.
While the PlayStation Showcase did most of the heavy lifting when it comes to Spider-Man 2, its smaller but just as significant appearance at Summer Game Fest was certainly my highlight of the show.
Aaron – Lies of P gameplay
The Lies of P release date has finally been revealed at Summer Game Fest, and my hype for the upcoming Belle Époque soulslike is beginning to reach critical mass. Judging from Joe's hands-on preview of the game, I'm not alone in feeling that hype either. The latest trailer, which showcases some of Krat's grimly gorgeous hotspots, doesn't offer up any new gameplay – the Lies of P demo is there for that – but what we do see is absolutely stunning.
Of course, with any soulslike worth its salt, the Lies of P bosses will be the deciding factor in whether or not it'll have us on strings over and over, just as FromSoft titans Bloodborne and Elden Ring continue to own my ass to this day. While we don't know how sophisticated their AI will be, the variety on display during the reveal trailer – including everything from a giant constabulary robot, to a Batman Bane-esque monster – has my hopes up at unhealthy highs.
Perhaps the most exciting prospect potentially teased is that Krat could very well evolve (see 1:15 in the trailer above) as Pinocchio explores the city, much in the same way that the Lands Between morph at specific points in Elden Ring's story. If Neowiz Games and Round 8 Studio pull it off, then who knows how many different narrative paths we could be sent down?
While the Lies of P length perhaps won't be as unwieldy as Elden Ring's, I'm confident that every moment spent in Krat is going to be special.