It's time, folks – the FC 24 ratings are starting to be officially revealed by EA Sports. We've had a mountain of leaks in recent weeks, but now it's time for the real deal as we rapidly approach the FC 24 release date. EA Sports' first ratings drop includes some big names, some upcoming stars, and some EA FC ambassadors too, and the headline news is that Erling Haaland has scored his way to the very top of the FC 24 charts.
Haaland, who is the cover star for FC 24 and comes off the back of a record-breaking season, will be blessed with an overall rating of 91, which is an upgrade of +3 compared to last year's game. This was the joint-highest rating of FIFA 23 when it came to Ultimate Team cards (in Kick Off modes, Barcelona Femeni's Alexia Putellas came in at 92), and according to leaks, 91 will be the top rating again. While Haaland is now nailed on, leaks suggest he will be sharing that top spot with Manchester City teammate Kevin De Bruyne, PSG star Kylian Mbappe, and the aforementioned Putellas.
Another big upgrade will also arrive for Real Madrid's Vinicius Jr., who looks like he'll be one of the best FC 24 wingers. With an overall rating of 89, the Brazilian also gets a +3 upgrade like Haaland. Vini boasts 95 pace, 90 dribbling, 82 shooting, and you can pretty much guarantee he'll be one of the FC 24 5 star skillers as well.
There's also an upgrade for his new teammate, Jude Bellingham, who's off to a flier with Real Madrid after signing with them in the summer. While the young English midfielder gets a +2 upgrade to become 86-rated, we personally think he deserved at least an 87 or even an 88 with how he's been performing over the last 12 months. While his card stats might not be all that attractive to many players, he's still one of the best FC 24 CMs when it comes to overall rating.
You'll probably know by now that stars of the women's game are coming to Ultimate Team for the first time in FC 24, and we've got some exciting ratings there as well. Chelsea's Sam Kerr will be 90-rated, and while that is one rating lower than last year, she still has some excellent stats. If you're looking for a bit more pace in attack, how about Washington Spirit's 84-rated right winger Trinity Rodman? With 94 pace, the American will be one of the fastest FC 24 players you can pick up for your Ultimate Team. And we also get a look at Arsenal center-back Leah Williamson, who's been granted an 85 overall rating, a +1 upgrade compared to last year.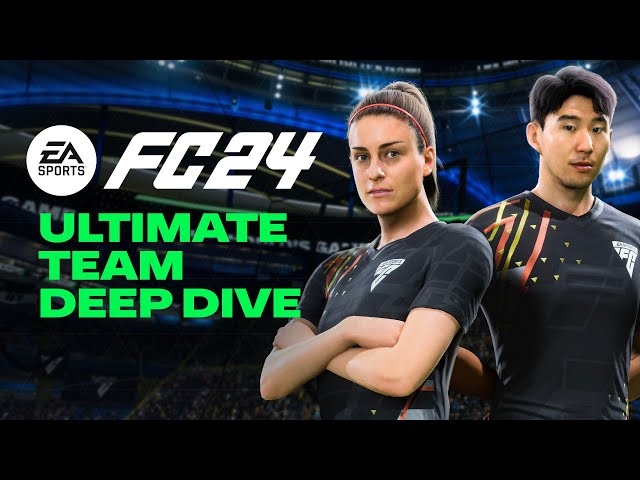 When it comes to the most growth in overall rating, Dortmund's Youssoufa Moukoko takes the crown for this ratings drop. In FIFA 23, he was a 69-rated silver card, but for FC 24, he's been given a +8 upgrade, taking him to a common gold 77-rated card.
Here are the 11 FC 24 ratings confirmed by EA Sports today:
Erling Haaland – 91 (+3)
Sam Kerr – 90 (-1)
Vinicius Jr. – 89 (+3)
Virgil van Dijk – 89 (-1)
Heung-min Son – 87 (-2)
Jude Bellingham – 86 (+2)
Leah Williamson – 85 (+1)
Federico Chiesa – 84
Trinity Rodman – 84 (+1)
Enzo Fernandez – 83 (+5)
Youssoufa Moukoko – 77 (+8)
Aside from some of the new FC 24 Heroes, these are our first official ratings of the EA FC era for current players. If EA Sports sticks to its usual procedure when doing ratings rollouts, expect to see new ratings confirmed every day from now until the FC 24 Web App release date or the FC 24 early access start date.
Typically for past FIFA games, we get themed batches of players, including the strongest players, fastest players, 5-star skillers, and of course the prestigious Top 100 of the highest-rated players. Ratings discourse is always fiery, with players debating the risers and the fallers, but what's also up for debate is whether FC 24 is going to be one of the best sports games of recent times. All the signs point in the right direction, but only time will tell.