What are the Man City's FC 24 ratings? Coming off the back of an incredibly successful season that included domestic and european title victories, the EA FC 24 Man City ratings will surely replicate their dominance on the pitch. Despite losing their captain, fresh talent has arrived to bolster the squad depth and all signs suggest more silverware is on its way to the blue half of Manchester.
Not only do we expect Manchester City to be one of the best rated squads in the game, but the top 100 FC 24 ratings will surely feature many of their stars, with Erling Haaland, Kevin De Bruyne, Ederson, and Ruben Dias surely eying up a spot on the list. As EA Sports has finally begun to confirm those all important numbers, here are our predictions and analysis for the rest of the FC 24 Man City ratings.
Confirmed FC 24 Man City ratings
The officially confirmed FC 24 Man City ratings from EA Sports are:
Erling Haaland – 91 (+3)
Kevin De Bruyne – 91
Ruben Dias – 89 (+1)
Rodri – 89 (+2)
Bernardo Silva – 88
Phil Foden – 85
Jack Grealish – 85 (+1)
We'll be sure to keep our list updated as more ratings are officially confirmed by EA Sports. For a deeper dive into each player's stats, you can see the official announcement page here. Before the ratings began to drop, we used our soccer and FIFA expertise here at The Loadout to predict the FC 24 Man City ratings – check out how we did below.
FC 24 Man City ratings predictions
Our FC 24 Man City ratings predictions are:
Erling Haaland – 90 (+2)
Kevin De Bruyne – 91
Ederson – 90 (+1)
Rodri – 89 (+2)
Ruben Dias – 88
Bernardo Silva – 86 (-2)
Kyle Walker – 85
Jack Grealish – 85 (+1)
Josko Gvardiol – 84 (+3)
Phil Foden – 84
Manuel Akanji – 83 (+1)
Aymeric Laporte – 82 (-3)
John Stones – 83
Mathan Aké – 82 (+4)
Stefan Ortega – 82 (+2)
Mateo Kovacic – 82
Kalvin Phillips – 79 (-2)
Julian Alvarez – 79 (+1)
Rico Lewis – 78 (+8)
Sergio Gomez – 75 (+1)
Cole Palmer – 72 (+6)
While it may initially seem like this is a strong team getting way stronger, that doesn't mean some of City's treble-winning squad aren't in line to get downgraded. But let's focus on those getting a boost first.
Erling Haaland took the Premier League and Champions League by storm and made everything he did look easy. Despite injury concerns towards the end of his spell with Borussia Dortmund, he made 53 appearances, scoring 52 goals in all competitions. The Haaland FC 24 rating has finally been officially confirmed by EA Sports, and it's definitely what we were hoping for – even if we didn't predict it exactly. Prepare for Haaland to be battling fiercely with PSG's Kylian Mbappe for the title of best FC 24 striker.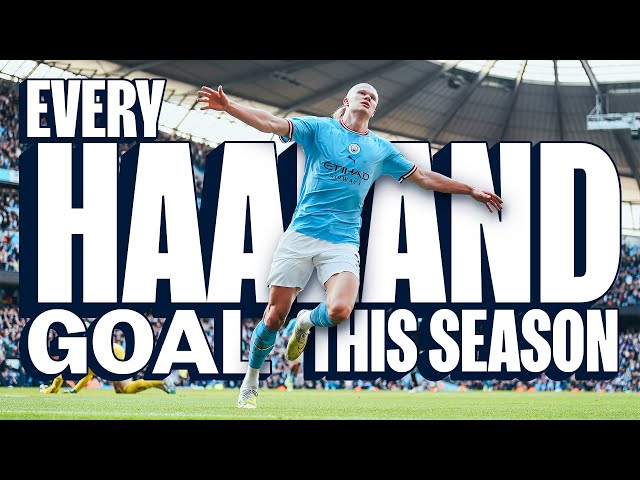 Kevin De Bruyne also had a fantastic season but arguably we've just become so accustomed to his level of performance that we don't see a ratings increase coming this year. Ederson's late heroics in the Champions League final just solidified that he's more than a ball-playing goalkeeper and that should be enough to push him into the 90's, which would likely make him the best FC 24 GK.
Full-back Rico Lewis could very well be an FC 24 Wonderkid as he looks set to see far more first-team playing time this year and we anticipate a big base rating jump to go alongside this. The same could be said for Cole Palmer, but there may be less opportunities for him given the depth that Man City already has in attack.
Elsewhere, we've predicted boosts in overall rating for the likes of Nathan Ake, Rodri, Jack Grealish, and new centre-back Josko Gvardiol.
When it comes to downgrades, we feel that Kalvin Phillips is sure to struggle given his limited to just 593 minutes last season thanks to injuries and general fitness issues. Another downgrade that should come as no surprise is that of Aymeric Laporte who struggled to gain minutes last year and fell down the depth chart behind Stones, Aké, and Akanji. While he's still going to be a high-rated player, we're also predicting a downgrade for Bernardo Silva, who only provided 10 goal contributions in the Premier League and 15 across all competitions which was a reduction compared to the previous year.
Overall, the FC 24 Man City ratings are likely to see far more improvements than downgrades simply because they have retained the core of the team that won them three major trophies last season.
For more on what's new with EA FC on the gameplay front, you can check out our guide to FC 24 PlayStyles, the newly-reworked traits system. Ultimate Team players should also read up on the fantastic new FC 24 Evolutions mechanic which is inspired by the NBA 2K series.