The introduction of FC 24 Evolutions has finally made EA's hit soccer game series less reliant on parting with your hard-earned cash in order to remain competitive in its most iconic mode. Thanks to the innovative new upgrade system, players boosted with the best FC 24 Evolutions paths can become mainstays in your Ultimate Team line-up as you climb the ranks.
EA FC 24 Ultimate Team Evolutions introduces a whole new way to level up certain players in EA FC 24, including some of those you pick up after choosing the best FC 24 starter pack. You might want to hop on the FC 24 Web App and tweak your team after reading this guide, because this groundbreaking feature will be an absolute game-changer if you're looking to level up your EA FC 24 Ultimate Team line-up with little monetary investment. Unfortunately, only one Evolution upgrade path can be active at a time, so choosing the best Evolution to work towards first will be crucial to getting your career FC 24 Ultimate Team off to a flying start. This, as you'll see below, is where we come in.
FC 24 best Evolutions
The best FC 24 Evolutions are:
Relentless Winger
Golden Glow Up
Don't worry, we're not just going to name drop a couple of Evolutions routes and dip. Read on, and we'll explain what makes each path so good, as well as the ideal players you should be looking to evolve into Ultimate Team powerhouses – we'll be using FUTWIZ's incredibly useful Evolutions tool for this.
Relentless Winger
The best FC 24 Evolutions path right now is Relentless Winger. It should come as little surprise that the paid-for Evolution path is the best, but with Ultimate Team traditionally prioritizing pacey wingers, you can turbocharge an already-solid Gold player into a monster on both flanks.
The best player for the Relentless Winger Evolution path is Ansu Fati. When fully-upgraded, the Spaniard can be deployed anywhere in the forward line, and boasts ridiculous Pace and Dribbling stats – two keys to unlocking any defense in FC 24. Good with both feet, and in possession of four-star skills, good luck getting the ball off the FC 24 Wonderkid after he skips past you.
While the stats below only show his Relentless Winger upgrade path, you absolutely should apply the 'Welcome to Evolutions' upgrade to him first, granting him an 85 Overall rating when completely kitted out.
Judging from the other available players for the Evolution, we'd definitely recommend Lena Hurtig, Janine Becky, or Steven Bergwijn. While Hurtig isn't as quick off the mark as the other two options, her final stats – which you can check out below – make her a solid all-rounder. Additionally, she'll synergize well with the Arsenal players we know plenty of people will be running in Premier League squads.
Meanwhile, the addition of the RW position allows you to utilize her as an inverted or traditional winger on the right flank, thanks to her impressive four-star weak foot. Finally, thanks to the Relentless FC 24 PlayStyle, you can rest assured that your player of choice – be it Hurtig or otherwise – will continue to bomb it down the wings for the full duration of the match without too much fuss.
Golden Glow Up Series
If you're looking for the best free Evolutions path, then it has to be the Golden Glow Up series. With Federico Valverde entering the famed 'Gullit Gang' thanks to his clean sweep of 80+ ratings across the six main stat categories, one of the best FC 24 CM players is going to cost a small fortune to acquire, so you're going to need to make your own CM star… enter Golden Glow Up.
Golden Glow Up provides a well-balanced (and substantial) stat boost to your player of choice, allowing you to take a mid-60s overall Bronze player and transform them into an 80+ overall beast. While you won't quite get the full house of 80s across the board, you'll get pretty darn close.
The best player for the Golden Glow Up Evolution path is Kobbie Mainoo. While his base Overall falls lower than other potential candidates, having a Bronze player with Premier League links is crucial to maintaining the FUT chemistry of your squad. As with Relentless Winger, don't forget to apply Welcome to Evolutions should you wish to use it on Mainoo – this time make sure you use it between the two parts of Golden Glow Up.
Some other eligible bachelors for the upgrade include Michal Walski or Alistair Smith, with both players putting up similar stats to Mainoo when upgraded. Note that the screenshots below only show
Just remember that in order to be eligible for part two, your chosen CM must come in with maximum stats of 80 overall, 80 Pace, 81 Shooting, 86 Dribbling, and 80 Defending.
EA FC 24 Ultimate Team Evolutions explained
FC 24 Evolutions is a brand new feature added to the FUT game mode that lets you upgrade the cards of certain players by completing set objectives. According to EA, doing so will improve their "individual skills, PlayStyles, and overall ratings" as the year progresses.
Under the new FUT Evolutions system, not only will you be able to "take your favourite lower-rated players from any Club and level them up", but EA says you can also customise some of the top players in the FC 24 ratings by "adding skill moves, changing work rates and weak foot upgrades", among other things. This goes for players from both men's and women's teams.
Evolvable players can undergo multiple evolutions throughout the year, and thanks to being able to upgrade even specific attributes like Curve, you'll most likely end up with a totally unique version of that player that very few people will have.
Additionally, EA says that the Player Items belonging to Evolutions players can be pimped out with "new designs and animated backgrounds", allowing you to show off that now-85 stat Moukoko when you take on opponents online – be it on your own platform, or through EA FC 24 crossplay.
You can check out the full UT deep dive below, which has more on Evolutions at 0:32.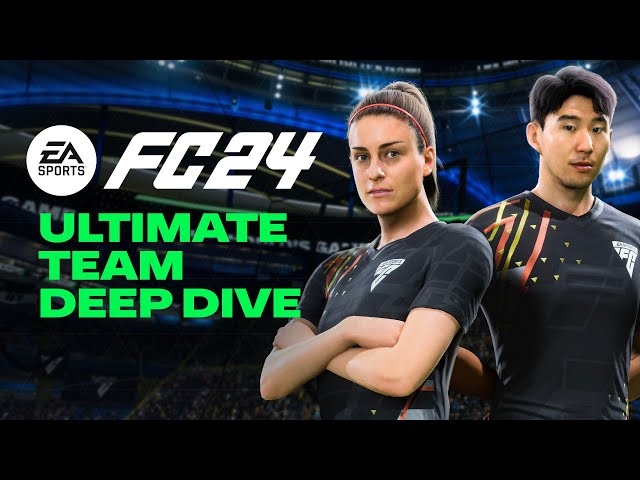 As you can imagine, this is great news for low budget players who struggle to keep up with the Ultimate Team meta each year. By offering new ways to attain high-stat players, remaining competitive becomes much more approachable. Not only that, but when a broader pool of players are viable, the meta has a much greater chance of remaining diverse throughout the year.
And that's all you need to know about EA FC 24 Ultimate Team Evolutions, and the best FC 24 Evolutions paths. Be sure to bookmark this guide and check back as both the Evolutions paths and our recommendations change over the course of the year.
In the meantime, be sure to check out some of the other best football games, as well as if EA FC 24 Game Pass will materialize. That is, if you're on Xbox.