It's by far the biggest mode in FIFA, but what do we know about EA FC 24 Ultimate Team offerings? Well, actually quite a lot. After FIFA and EA Sports' messy divorce, the developer has decided to go it alone and create EA Sports FC.
While it might not be the FIFA 24 game you were expecting, the series – which is expected to continue one of the best football games of all time – is still going to have the hallmarks of a good FIFA game. And yes, it'll include the modes you know and love. So what can we expect from the mode by the time the FC 24 release date rolls around? Here's everything you need to know.
EA FC 24 Ultimate Team explained
EA FC 24 Ultimate Team has been a core mode in EA's soccer games since FIFA 09. Here, players create unique squads from player cards – be they legends of the game, or current stars – which are acquired by opening packs and other means. Squads are then pitted against each other in online PvP.
Historically, the first couple of months of each season are spent getting a feel for the Ultimate Team meta, as players gradually build up a collection of high-quality cards. Additionally, with multiple versions of star or over-performing players getting injected into the mode over the course of the year, Ultimate Team quickly devolves into a race to complete the most optimal squad, and use it to dominate opponents.
While little has been done in the past to remedy the pay-to-win nature of Ultimate Team – players even have to stump up ludicrous sums of earned FIFA Coins to acquire top picks on the auction house-esque Transfer Market – EA FC 24 will offer some welcomed versatility through evolving player cards. However, it remains to be seen just how impactful the change will be when it comes to spicing up the meta.
On top of accruing players, Ultimate Team squads require strong chemistry to perform. This used to be achieved by forming synergy lines between club and countrymen – as well as picking the right manager cards – though FIFA 23 did away with it, instead giving players individual chemistry values.
The final factor players have traditionally had to consider when squad building is traits. Each player comes with specific specialties, which in Ultimate Team could be switched up to an extent using trait cards. In EA FC 24 this system has been revamped and enhanced, rebranding to 'PlayStyles' in the process.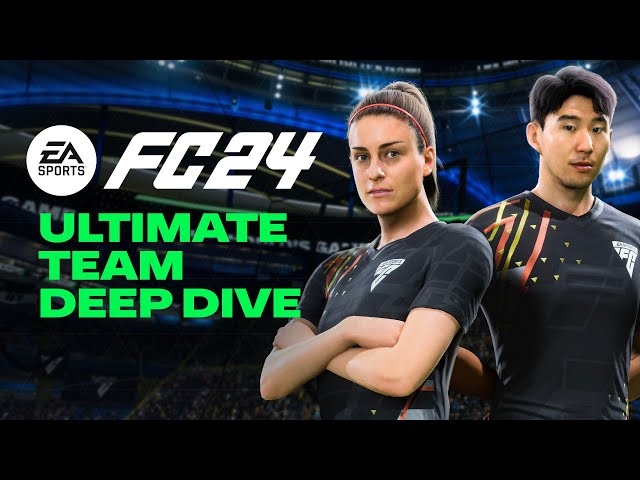 EA FC 24 Ultimate Team changes
This year's iteration of Ultimate Team looks to add a much-needed quality of life feature for free-to-play or low budget players in EA FC 24 Ultimate Team Evolutions. Additionally, the traits system of years past has had a long-awaited facelift, and is being transformed into EA FC 24 PlayStyles.
The final and most important change to this year's Ultimate Team offering is the introduction of stars of the women's game. At long last, Kerr and Kane can line up next to each other in EA FC 24's most popular mode, adding a whole new dimension to the hit soccer game series.
As per EA, all clubs and players from the following leagues will be available at launch, alongside "a select number" from the UEFA Women's Champions League:
Barclays Women's Super League (England)
D1 Arkema (France)
Google Pixel Frauen-Bundesliga (Germany)
Liga F (Spain)
National Women's Soccer League (United States)
When it comes to Chemistry between men and women's football in Ultimate Team, this will function in the exact same way as traditional Chemistry does. Players from the same leagues and nations will link, while men and women can link through their affiliated club – take siblings Reece and Lauren James who link due to both players playing for Chelsea, for example.
Will EA FC 24 Ultimate Team still have FUT Points?
EA FC 24 Ultimate Team will have FUT Points, though they have been rebranded to 'FC Points' in-keeping with the game's own facelift. These will once again allow you to buy packs and cosmetics as they did in FIFA games.
If you want to find out if you can transfer FIFA Points to EA FC 24, check out our guide.
EA FC 24 Ultimate Team pre-order bonuses
Players who get their EA FC 24 pre-orders in can pick up some worthwhile Ultimate Team goodies, depending on the version:
Standard edition* – Ultimate Team Cover Star Loan Player Item for ten Ultimate Team matches, Two Ambassador Loan Player Pick Items for five Ultimate Team matches
Ultimate edition – Standard edition bonuses, Nike X EA Sports FC Ultimate Team Kit, Nike Ultimate Team Campaign Loan Player Item for 24 Ultimate Team matches, Nike Ultimate Team Campaign access, 4,600 FC Points, Team of the Week 1 Ultimate Team Player Item, one untradeable UCL/UWCL Hero**
*Excluding Nintendo Switch.
**For pre-orders by August 22, 2023. The card will be accessible from November 27, 2023.
Should you play EA FC 24 Ultimate Team?
EA FC 24 Ultimate Team is great fun if you have the means to invest, but can become frustrating if you fall behind the meta. While being a cracked player will help you navigate past weaker opponents – regardless of how overpowered their squad is – this will become increasingly difficult as you scale the leaderboards.
The dopamine hit from packing one of your favourite players, be it Henry, Messi, or Kerr, is always a major draw. However, for free-to-play or low budget players these hits can be few and far between. If you're worried that this dearth of packs will lead you to splash cash you don't necessarily have, then steer clear.
That's all you need to know about EA FC 24 Ultimate Team. If you want to check out what's going on elsewhere in the new game, be it in EA FC 24 Pro Clubs or EA FC 24 Career Mode, then be sure to consult our guides for those. Good luck on the pulls when the time comes.