The Erling Haaland FC 24 rating has been one of the most hotly-anticipated reveals in EA Sports' rebooted soccer game series. Though he wasn't the highest-rated player in FIFA 23, he did end up in the Team of the Year line-up after a record-breaking season with Manchester City.
A marauding presence in City's front line who consistently developed his game to become a more complete striker last season, Haaland isn't just one of the hottest properties in real-world soccer, but is also one of the best FC 24 strikers in-game. Scratch that – he's one of the best players, regardless of position. We're fully expecting the Norwegian star to tear it up in EA FC 24 Ultimate Team, and EA Sports has finally confirmed that Haaland will be right at the top of the FC 24 ratings when the FC 24 release date rolls around. Having kicked Kylian Mbappé off the cover of this year's soccer game, the developer has big plans for Haaland's rating in FC 24.
Haaland FC 24 rating
As confirmed by EA Sports, the Erling Haaland FC 24 rating is 91 overall, which represents a +3 upgrade compared to last year's game. According to leaks from 'FUT Scoreboard', this also makes Haaland the joint-highest-rated player in FC 24.
It's not all that surprising that after his record-smashing season, Manchester City's Erling Haaland is going to be the highest-rated player in EA FC 24. However, according to leaks from FUT Scoreboard, he will be sharing the top spot with three other players: Man City teammate Kevin De Bruyne, PSG forward Kylian Mbappe, and Barcelona Femeni star Alexia Putellas.
Haaland FC 24 stats
Haaland's FC stats make for scary reading – expect to be facing plenty of Haaland teams in the first few weeks of Division Rivals and FUT Champions. So lethal is his finishing, his Shooting stat has been bumped up to 93, putting him on par with Cristiano Ronaldo at his very best.
Erling Haaland's FC 24 stats are:
Pace – 89 (-)
Shooting – 93 (+2)
Passing – 66 (+1)
Dribbling – 80 (-)
Defending – 45 (-4)
Physical – 88 (+1)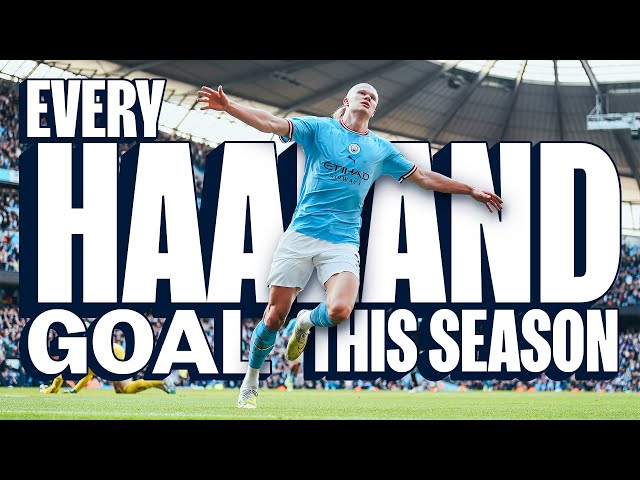 While Haaland hasn't had many major stat increases when compared to his FIFA 23 card, there are some notable changes. Of course, that ridiculous 93 shooting is going to make Haaland an absolute monster in front of goal – as if he wasn't already. EA has also given modest boosts to his Passing and Physical attributes.
Funnily enough, the biggest stat change on Haaland's card is actually a downgrade to his defending, dropping from 49 in FIFA 23 to 45 in FC 24. However, if you're tracking back with the Norwegian, then you're doing something very wrong.
While the FC 24 Haaland rating and stats have now been officially confirmed, below you can find The Loadout's early predictions – as you'll see, we sold the Man City star a little bit short!
Haaland FC 24 rating prediction
We predict that the Haaland FC 24 rating is going to be 90 – a +2 boost from his base rating in FIFA 23. After breaking the Premier League's single-season scoring record in his inaugural year at Manchester City, it's clear that Haaland should be placed among the world's most elite finishers.
Having notched up a monstrous 36 goals and eight assists across the 35 domestic games he participated in last season – as well as the 12 goals he bagged en route to lifting the Champions League trophy – Haaland more than proved that he could become the leading light in Pep Guardiola's side. Furthermore, Haaland opened the 2023/24 Premier League season with a brace against Burnley, indicating that we've only just seen the beginnings of what he has to offer.
While it may make sense for Haaland to be placed on the same pedestal as the FC 24 Mbappé rating, and we'd love to see him given the 91 rating his French counterpart is expected to receive yet again this year, we can't see EA Sports granting our wish.
Haaland's shooting will undoubtedly remain his strongest attribute. In FC 24 we're hoping to see it bumped up from 91 to 92 – the same stat only Cristiano Ronaldo was awarded in FIFA 23. Elsewhere, Haaland could get a small boost to his passing considering his decent assist record last season.
With the introduction of FC 24 PlayStyles – a replacement for the Traits system – Haaland will certainly benefit from boosted PlayStyle+ attributes as one of the best players in the game. Expect to see him paired up with the likes of Finesse Shot or Power Shot often.
Additionally, thanks to changes to FC 24's Accelerate system – now Accelerate 2.0 – Haaland shouldn't feel nearly as clunky to play as he did in FIFA 23 thanks to the addition of multiple 'Lengthy' player types.
And that's the FC 24 Haaland rating. Needless to say, we're fully expecting the Norwegian to have plenty of completely busted cards this season, and for him to be a regular starter in most FC 24 career mode squads should you have the budget to pry him away from the Etihad. See you pitch side.