What's new in EA FC 24 Career Mode? That's one of the big questions long-time fans of the original FIFA franchise have been wondering since EA Sports announced that it was rebranding it to EA FC. In FC 24 Career Mode, would Manager and Player Career Mode experiences remain, and would there be any sweeping changes or improvements for the start of this new era?
Well, Player and Manager Career Mode are back for FC 24, so there's one question answered. The fan-favorite mode will still let you rise through the ranks as a player to become one of the GOATs or let you take the reins of a club and manage them to glory. However, when the FC 24 release date arrives, you'll be greeted with plenty of changes and new additions to Career Mode. While Ultimate Team heads get to grips with new FC 24 Evolutions mechanic, here's what all you Career Mode fans need to look out for.
EA FC 24 Career Mode changes and new features
EA FC 24 Career Mode takes both the Player and Manager Career experience you're used to with FIFA games and gives them several upgrades, including a new spectator mode, improved match preparation, and the ability to win the Ballon D'Or.
Way back when EA Sports revealed that EA FC was going to be the new big thing in soccer games, a blog post was released to put fans' minds at ease. This essentially detailed that while this is the biggest shift in the series for some time, you shouldn't get worried about any of the core modes being ditched or replaced – but that's not to say big innovations aren't on the way.
Let's go through some of the main talking points and things to look out for in FC 24 Career Mode.
FC 24 Manager Career changes
For those that love scouting new talent and taking third division teams to the Champions League, FC 24 Manager Career is getting some rather interesting new features and improvements from EA Sports.
Tactical Visions
In Manager Career Mode, Tactical Visions are new managerial philosophies that you can apply to your team. This will of course affect how your team plays, and it also ties in with the enhanced coaching system too.
Recruiting coaches that align with your Tactical Vision will see players receive boosts for upcoming matches and player development will be sped up. Coaches can also help you set specific training plans that ensure your players stay in top condition from game to game.
While the full lineup of Tactical Visions hasn't been revealed yet, four were shown or mentioned during an FC 24 developer showcase, seen by The Loadout. They are:
Tiki Taka
Gegenpressing
Park the Bus
Counter-Attack
Spectator Mode
In FC 24 Manager Career Mode, fans will be able to enjoy a Football Manager-esque experience with a brand new Spectator Mode. This lets you watch games in real time from a variety of perspectives, including a view from the touchline for the ultimate authenticity of being a manager.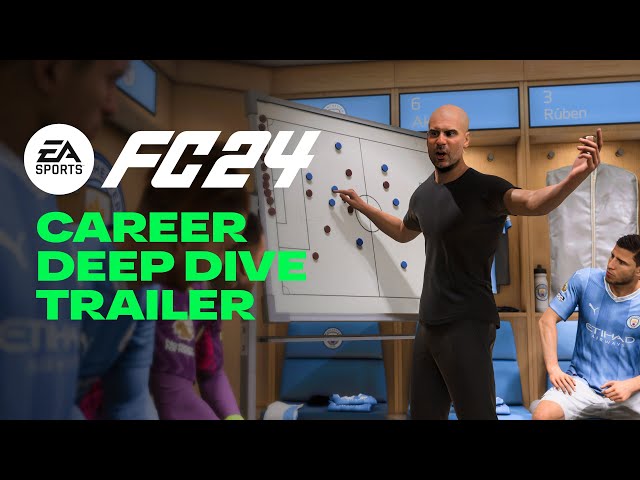 Pre-match preparation
When it comes to match preparation, there's a lot more to think about in FC 24. First, you can receive pre-match reports to help you plan for your next opponent. Who are their key players? What formation do they play? Are they on a hot streak of results? These are the kind of things reports will cover.
Pre-game day training sessions also now have one of the game's new mechanics woven into them. A successful training session could grant players on your team with extra, temporary FC 24 PlayStyles to give them extra boosts in the match.
FC 24 Player Career changes
For those more interested in carving out a trophy-filled career for themselves on the pitch, Player Career is also evolving in FC 24. Here are the biggest changes and new features.
Player agents
You can now hire agents to represent you in Player Career. Agents will not only help you out with things like demanding higher wages or handing in a transfer request, but they will also help you realize your vision for your own career path.
When you hire an agent, you can pick a dream club to play for, and they will then set you objectives and offer recommendations on how you can improve your game and ultimately get on that club's radar.
Player Career personalities
Personalities are back again in FC 24, and while they function similarly to how they did in FIFA 23 – the decisions you make on and off the pitch affect key attributes – they're closely-tied to the new PlayStyles system.
Each personality tier will unlock a new usable PlayStyle. The PlayStyles that become available will be based entirely on your personality type. When you reach the top of a personality tier, that tier's PlayStyle will become a PlayStyle+, boosting the bonus.
You can win the Ballon d'Or
This is one of those additions that makes you think: 'why the hell has this not been in Player Career Mode before?' Yes, your player can not only bag trophies and accolades with their club, but they can also scoop the most prestigious individual prize in soccer – the Ballon d'Or.
A new cinematic moment will also show you in your tuxedo accepting the award at an authentic-looking ceremony. This is a really nice touch, and is now the ultimate north star for players to aim for.
On top of the Ballon d'Or, you'll even be able to take part in other celebratory moments during your FC 24 career, such as bus parades and other award ceremonies.
Is EA FC 24 Career Mode better than FIFA 23?
There's no mistaking that Career Mode in FIFA games of old has been a popular element of the overall experience, but is often underdeveloped in comparison to something like Ultimate Team. While it is once again not really the primary focus for EA Sports, FC 24 Career Mode does genuinely boast some excellent additions and improvements – particularly to Manager Career.
While some Career Mode fans will no doubt wish there was even more innovation, the majority will be happy with these changes.
Should you play EA FC 24 Career Mode?
While the excitement of Ultimate Team or the multiplayer comradery of Clubs will usually lure players in the early weeks of FC 24, you should definitely start up a Career Mode save, as it's the kind of experience you can gradually chip away at and keep coming back to. It's also a welcomed offline mode in the sea of always-online gameplay.
If you love tactics, strategy, and turning young prospects into superstars, Manager Career is definitely for you. Or, if you want to challenge the likes of Ronaldo and Messi for GOAT status and scoop a Ballon d'Or or two, Player Career is where you want to be.
All in all, we hope this has given you most of, if not all of the answers you need in relation to FC 24 Career Mode. You can now sit back, get your tactics board out, and start thinking about those all-important wonderkids that you'll hopefully be able to recruit on the cheap.
With FC 24 early access and a potential beta on the horizon, thankfully you won't have to wait too long.