Ubisoft's XDefiant is really shaping up to be one of the best competitive FPS games out there right now, and the release date hasn't even arrived yet. With fast movement and fun gunplay, the open beta is well worth checking out before it ends. If you are someone who's thinking of jumping in and you want to make sure you're using one of the best loadouts for one of the best guns in-game, we have you covered. As per the advice from an ex-Call of Duty pro player, we have an XDefiant ACR class below that's going to knock your socks off.
Christopher 'Parasite' Duarte, 2013 world champion with Fariko Impact, has taken to Twitter to share the best XDefiant ACR loadout right now – and it's a beast. Prioritizing mobility, this assault rifle isn't going to be the hardest-hitting weapon available. However, if you can take advantage of this weapon's natural bonuses, you'll find that this will fit into any one of the XDefiant classes you decide to play with.
Anyway, let's get to the loadout. Here's what you need to equip to find yourself with the best ACR in the XDefiant open beta:
Muzzle: Brake
Barrel: Default
Front Rail: Small Vent
Optics: Reflex
Magazine: Default
Rear Grip: Quick Draw
Stock: Lightweight
We know that isn't quite as complex as some of the best Warzone loadouts out there, but that isn't a bad thing. Equipping all of these attachments is all you really need to do. Then, your ACR is ready to go.
A fast-firing assault rifle with a horizontal recoil kick, this is a great option for those of you out there looking for something that can engage enemies at longer ranges. However, it's not going to be a lazer beam – so, you need to be prepared to manage it's kickback during sustained fire. Usually, you'd have to level this gun up to level 38 – at least – to get the full loadout. But, Ubisoft has unlocked everything in the beta – for now – so, you don't need to worry about all that.
If you're not sure whether this is going to be the XDefiant meta in the long-term and you want to explore your options, content creator has thrown together a few more loadouts you should check out when you're in-game. See them all below: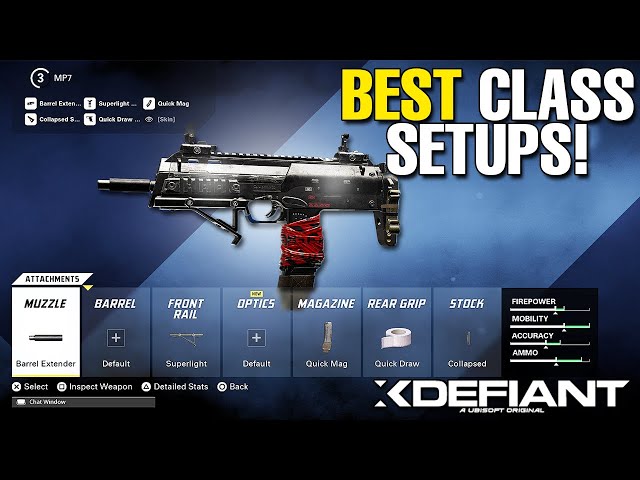 If you want to prepare yourself before you jump in, however, you can check out everything we know about all the XDefiant game modes and all the maps right here. Ubisoft does promise that this shooter will get a new map "every month" from launch, though – which might mean you'll need to keep tabs on that list.