Tom Clancy's XDefiant is a new 6v6 shooter that Ubisoft is hoping to make the "best in class" of competitive FPS games. While it might not be the new Splinter Cell game everyone was hoping for, XDefiant does bring together the worlds of Splinter Cell, The Division, and Rainbow Six Siege.
This free-to-play high octane shooter looks a little like Rogue Company in places, but it has a real focus on realistic gunplay. It also has factions which have been brought over from other games, and each of these factions have abilities and ultimates that can be used across the board.
While that might sound good on paper, it appears we might be a little while away full launch. Ubisoft was a little light on details during the reveal, but we do know that fans will be able to help the development team test the game over the next couple of months.
If that's caught your attention, then read on. Here's everything you need to know about this new arena shooter, including the Tom Clancy's XDefiant release date, its beta, modes, factions, and more.
Tom Clancy's xDefiant release date
When is xDefiant coming out? Well, the honest truth is, we don't know yet. When Ubisoft revealed the game, it told players they'd be able to get their hands on it soon – but only in an beta capacity.
With that in mind and the fact that multiple other Ubisoft games – like Rainbow Six Extraction – have all been delayed recently, it's unlikely the XDefiant release date will be any time soon.
Tom Clancy's XDefiant platforms
XDefiant is set to launch on PC, Google Stadia, PS4, PS5, Xbox One, and Xbox Series X|S.
While XDefiant is coming to all major platforms on launch, only PC fans will be able to play the game in its first round of tests later this year.
TOM CLANCY'S XDEFIANT CROSS-PLAY
Fans with friends across platforms will be happy to know that XDefiant will have full cross-play on day one.
This means everyone from PC players to console players will be able to join and play games together.
Tom Clancy's XDefiant beta
Ubisoft has jumped the gun in revealing XDefiant a tad because the development team is still testing gameplay. However, parts of the testing phase will be opened up to the public fairly soon.
On August 5, PC players in the United States and Canada will be able to take part in a closed beta for the game and provide feedback on the many guns, maps, and modes on offer.
Fans who wish to be a part of this test need to register their interest via the official website. You'll also need to choose PC as your preferred platform and answer a couple of questions.
More tests are coming soon, according to Ubisoft, so if you do miss out on the August 5 playlets, hold tight.
Tom Clancy's XDefiant trailer
If you're looking for a closer look at XDefiant, you're in luck – Ubisoft showed off plenty in the reveal trailer, which you can watch below.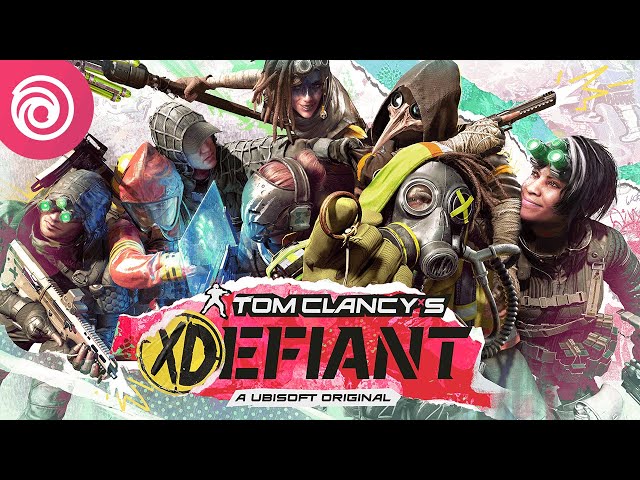 Tom Clancy's XDefiant modes
What modes will be available to play in XDefiant? Well, quite a few by the sounds of it. Executive producer Mark Rubin says beta testers will be able to try out five modes in August.
The XDefiant game modes are:
Domination
Ringleader
Upload
Escort
Zone Control
These are the modes currently confirmed for the upcoming beta, but Rubin says more will be available at launch.
Tom Clancy XDefiant maps
How many XDefiant maps will there be? Ten in the beta, apparently. Seven maps will be spread out across the Domination, Ringleader, and Upload maps, and the other three will be dedicated to Escort and Zone Control.
However, like the modes, more maps will be available at launch.
Tom Clancy's XDefiant Factions
XDefiant takes inspiration from Tom Clancy games of yesteryear, which means a few old faces are returning for this game.
Here are the XDefiant factions:
The Wolves (Ghost Recon)
Echelon (Splinter Cell)
Outcast (The Division)
Cleaners (The Division)
All these factions have their own special abilities and ultimates that will speak to any hero-shooter players. However, ability aren't specific to individual characters, but to factions.
The Wolves will be a tank class, with shield-based abilities, The Cleaners will be a DPS assault class, The Outcasts will be healers, and the Echelon will be support-based.
Players will also have the chance to build custom load outs around "authentic guns", giving you more control over how and what you play.
Tom Clancy's XDefiant ranked mode
Will there be a XDefiant ranked mode? Who knows. Ubisoft says you'll be able to play this game with casually and competitively, which implies there will be some sort of ranked system to grind, But since we don't have any concrete information at the moment, we'll just have to wait and see.
More information about Tom Clancy's XDefiant is being released all the time. We'll continue to update our guide if we hear anything else.