Skillfully alternating between offense and defense down the right flank, the best FC 24 RM players are required to offer positional breadth and pin-point crossing precision while on the attack. When the run of play is against them, they must backtrack to safeguard their defense in wide positions. Though they don't inherently position themselves as high up the soccer pitch as wingers, you'll often see modern right midfielders making a beeline for the byline to get the ball into the box, or cutting inside if they're inverted.
Picking out the sports game's most dynamic right midfielders from our FC 24 ratings list, this guide will give you the full rundown on who the best RMs to use in FC 24 are – be it in EA FC 24 Ultimate Team or even EA FC 24 Career Mode. We'll also be offering up some top picks outside of the top 10 that can either dominate the opposition, or serve as more budget-friendly options if you don't have the UT Coins or Career Mode dollars to stump up for the top talents.
Best FC 24 RM
The best FC 24 RM players are:
Riyad Mahrez – 86
Svenja Huth – 86
Moussa Diaby – 84
Serge Gnabry – 84
Marcos Llorente – 84
Clara Mateo – 84
Leroy Sané – 84
Otávio – 82
Sveindís Jane Jónsdóttir – 82
Donyell Malen – 82
What's Riyad Mahrez doing here, then? Well, though he could be deployed as an RM in FIFA 23, his card had him down as a RW. As such, while he won't get a spot on our best FC 24 wingers list, he is the best RM in the game thanks to his dazzling performances at Manchester City last season. Now at Al Ahli in the Saudi Pro League, the Alegerian is continuing to show why he's an absolute baller.
While Svenja Huth's VfL Wolfsburg lost out on back-to-back Frauen-Bundesliga titles by a win's-worth of points last season, the German journeywoman continued to show why she's one of the league's top playmakers with eight assists to her name.
Moussa Diaby's ascendancy continues at Villa Park, with the pacey Frenchman – one of the fastest FC 24 players – already impressing at Aston Villa this season. Recording two goals and two assists in his first five Premier League appearances, we can expect to see plenty of in-forms for him this season.
For the first time since FIFA 20, Bayern Munich star Serge Gnabry has found himself down at 84 overall. While this is only a small downgrade from the 85 he's held for the past few years – a downgrade we were certainly left scratching our heads at – the German will have to pull out all the stops to get back to his best by EA's standards.
One of the all-round best cards in FC 24 has to be Marcos Llorente. The Atletico Madrid man can not only be deployed anywhere down the right flank – yes, that also includes at right-back – he can also play as a CM. With near-Gullit Gang stats and plenty of pace to spare, he's going to be a popular pick in FUT and Career Mode alike.
EA FC 24 RM top alternatives
While the best of the best may be must-haves for many – be it in Ultimate Team or Career Mode – there are plenty of great options outside of the top ten that should definitely be considered. To name a few we have:
Lauren James – 83
Karim Adeyemi – 80
Jota – 78
First up with have Chelsea star Lauren James. Though traditionally deployed as a right-winger, the Englishwoman can also be deployed not only as a RM, but as a CAM and striker, too. This makes her a ridiculously versatile forward, with great stats to boot. As a solid fit for England or Chelsea teams, you can't go wrong.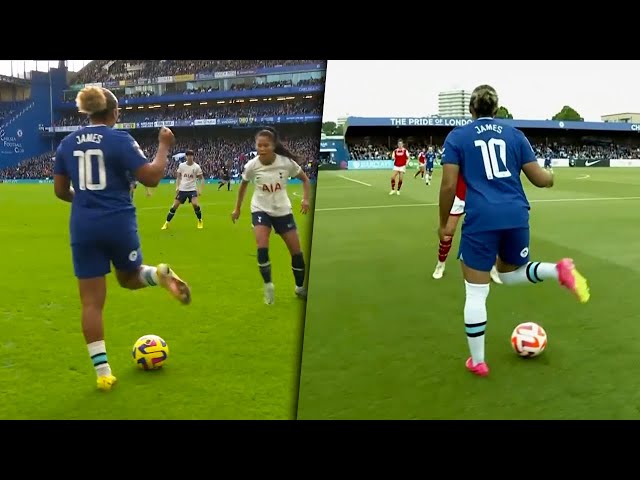 Next up is FC 24 Wonderkid Karim Adeyemi, who is not only one of the fastest FC 24 players, but has ridiculous potential. We're sure he'll be a popular pick in FUT, but even moreso a must-buy in Career Mode.
Finally, we have Jota (the Al Ittihad one, not the Liverpool one). The versatile forward can play equally well on both flanks thanks to his five-star weak foot, while providing a great Portuguese alternative to the likes of Ansu Fati when it comes to deciding on a Relentless Winger Evolution candidate in FUT. Coming in at a fraction of the price of his Spanish counterpart, Jota looks to be a shrewd acquisition for managers on a budget.
The importance of RM players in EA FC 24
The right midfield role is key to a number of the best EA FC 24 formations, such as the classic 4-4-2. Unlike out-and-out wingers, who seldom track back and defend, RMs are an important addition to teams who want to maintain a balanced presence across the full width and breadth of the pitch.
The best FC 24 RM players are not only elite ball carriers, but have the playmaking ability to whip in dangerous balls, and create pockets of space for attackers to exploit by drawing multiple defenders towards them. As a balanced role, they also need top level stamina to facilitate their need to consistently run the full length of the pitch over the course of a game.
And that's the best FC 24 RM ratings and alternatives. Before you go, be sure to familiarize yourself with the FC 24 PlayStyles utilized by each of these players. When trying to snag a bargain on top FUT talent, make sure you're using the FC 24 Web App to ensure you never miss out on the best players in one of the best soccer games. See you on the pitch.