Who is Sarah Morgan in Starfield? As one of the main characters in the narrative, and even a traveling companion, it's worth getting to know Sarah, including all the skills she brings to the party. So, here's everything you need to know about Starfield Sarah Morgan in our companion guide, with a detailed build, overview of her skills, and even her backstory to get you started.
Sarah Morgan is one of the many Starfield companions and Starfield crew you can come across on your journey. Given the Starfield length, you'll be pleased to know that you will encounter Sarah very early on, so long as you've been doing the main quest and not ignoring it in favor of side quests and exploring. With a whole universe of Starfield planets, we wouldn't blame you.
How to recruit Sarah Morgan in Starfield
To recruit Sarah Morgan as your companion in Starfield, continue the One Small Step main quest until you reach the Constellation faction in New Atlantis, at which point she will provide a new quest, The Old Neighbourhood, and request to join you.
Given this takes place very early in the story, this will only take an hour or so to reach if you've been continuing with the main story after leaving Starfield character customization. As one a leader of one of the Starfield factions, it's no surprise that you will first encounter Sarah Morgan in the Constellation HQ in New Atlantis.
With Constellation being integral to the main narrative, we're glad that you can recruit Sarah Morgan almost right away. With her skills, it's likely that you'll keep her as your companion for the long haul too, as Sarah is a great companion.
Starfield Sarah Morgan skills
Sarah Morgan's skills in Starfield are:
Astrodynamics 4
Lasers 3
Leadership 2
Botany 1
As the leader of Constellation and one of the main companions, it's not all that surprising that Sarah Morgan is a strong companion with access to some of the best Starfield skills.
Firstly, Astrodynamics is a science skill that will increase the grav jump range of jump drives. With her high proficiency, if Sarah Morgan is assigned to your ship crew then this skill will be a massive boost to your jump drive capabilities, letting you traverse across the galaxy with ease.
Next, Sarah Morgan's high Lasers skill will cause her to deal increased damage with laser-based weapons. While these aren't easy to come by at the start of the game, you will find a few basic ones. However, once you progress further you'll come across lots of powerful laser weapons that will suit Sarah Morgan.
Leadership will increase the rate at which you can form a relationship with companions. As such, you'll be able to progress your relationship with Sarah Morgan much easier. This is notable given Sarah is one of the Starfield romance options. Considering she's the leader of Constellation though, it's a little weird that Sarah doesn't have a higher Leadership skill.
Last but not least, Botany will come in handy when you're exploring planets and analyzing the various flora you can come across.
As with all companions, Sarah is also able to carry an inventory full of items. So, if you're stuck with a full inventory but don't want to throw anything away, consider trading a few items to Sarah to look after in the meantime.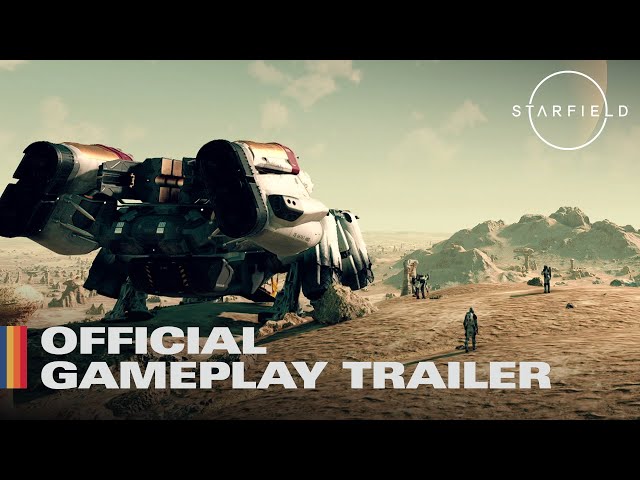 Starfield Sarah Morgan build
The best Starfield Sarah Morgan build is:
Assignment: Companion
Weapons: Laser
Armor: Anything that boosts laser weapons
While you could assign Sarah to be a crew member on your ship to take advantage of her high Astrodynamics rank, we'd rather her be a companion while exploring. Thanks to her strong Lasers skill, she'll pack a punch if you can equip her well. Look out for upgraded laser weapons or even create your own at the weapons workbench and pass it on for her to equip. Likewise, she'll do well with armor that boosts survivability and lasers weapons even further.
Starfield Sarah Morgan lore
In Starfield, Sarah Morgan is the leader of the Constellation faction. As an ex-soldier for the United Colonies that has since turned to a life of adventure with Constellation, Sarah is primarily concerned with understanding the Starfield Artifacts that seemingly hold answers to the great mysteries of the universe. Alongside the other members of Constellation, including the player character, Sarah Morgan is set on tracking down these Artifacts.
As for her time with the UC, Sarah was a navigator during the Colony War, with her ship having seen significant combat. In fact, she still carries much of this trauma now, something you'll learn more about as you grow closer to her.
Due to her experience with the United Colonies in New Atlantis, she will often comment on events surrounding these elements. Likewise, she's also a well-traveled adventurer, so she's typically a very knowledgeable and experienced companion to bring along from a roleplaying angle.
That's everything you need to know about Starfield's Sarah Morgan, from how to get Sarah as your companion, to all her skills and backstory. She's a great companion to have around as you explore, build Starfield outposts, and progress through the story in what could be one of the best RPG games in the eye's of many.
Still looking for more? While a good Starfield wiki can be a handy source of information, our new Starfield Database goes further, offering you daily news, searchable databanks, and even interactive tools.