What is the Starfield Dream Home trait? Near the start of your adventure among the stars, you'll be introduced to the traits system in the character creator. It's certainly a daunting choice, with plenty to choose from and each one having pros and cons. However, the Starfield Dream Home trait is one of the most interesting and complex of all. So, we've prepared all you need to know about Dream Home in Starfield to help you make the big decision, including the where to find the Dream Home location and how to pay the Dream Home Mortgage.
Due to Starfield's Dream Home trait not offering any boosts to your combat effectiveness, it won't feature in the best Starfield builds. However, it certainly can be among the best Starfield traits if you're big on customization and having a place to call home. Like outposts, there's lots of fun to be had here. For our thoughts on Bethesda's massive space RPG, check out our Starfield review.
Starfield Dream Home trait explained
The Starfield Dream Home trait provides access to a luxurious two-story house on the planet of Nesoi in the Olympus system. However, this comes with a 125,000 credit mortgage that has to be repaid weekly.
If you're a big fan of customization and want to get your hands on one of the Starfield houses right away for free – besides a mortgage – then Dream Home is a great trait to choose. Similar to the Starfield outposts system, you'll be able to customize your home, including building furniture to place and decorate it.
Perhaps best of all though, it's the perfect place to store loot and build workshop benches to customize your gear as well. This will go a long way in upgrading the best Starfield weapons and Starfield armor without having to search around the Starfield map to find crafting benches. Likewise, if you've got more Starfield unique weapons than you can count, but don't want to throw them away, then look no further than your dream home.
As for paying the Dream Home mortgage, this is done by interacting with the front door of your house. Here, you will get the prompt to pay 500 credits to enter the house, giving you one week of access before the next payment is due or until the mortgage is paid in full.
For a tour of your new Dream Home, check out the video below by 'LunarGaming':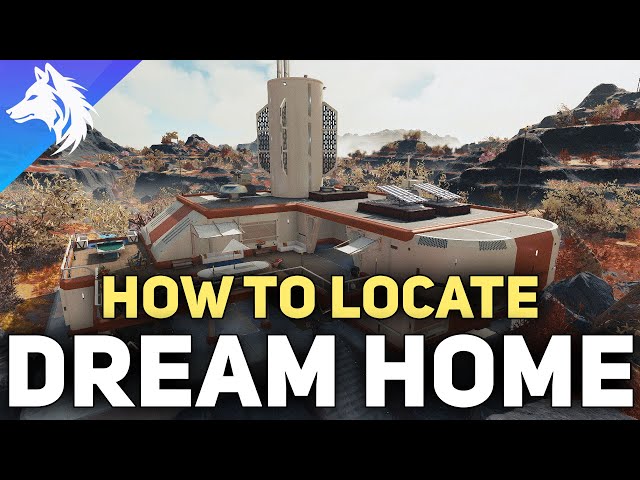 One thing you'll immediately notice is that it comes unfurnished, so it's up to you to decorate. This is why this trait isn't recommend for players that aren't interested in building and decorating, as takes work to get the benefit out of this trait.
How to find your Dream Home in Starfield
Your Starfield Dream Home location is on the planet of Nesoi in the Olympus system, though you must first meet Constellation before you unlock the Dream Home quest to meet Landry Hollifeld at GalBank in New Atlantis.
That's right, you can't forget about the large mortgage on your new home. Before you can enter your home, you will need to visit GalBank, which can be found in the Starfield New Atlantis map. Once you've done that, you can visit your home on Nesoi and enter it, revealing the empty house that can be customized to your needs.
Is the Starfield Dream Home trait worth it?
Yes, Dream Home is worth picking if you're a fan of customizing houses and settlements in Starfield, since it offers access to a spacious home right away. Furthermore, the mortgage is easy to pay back, despite how big the full sum appears.
With that said, if you're looking for pure combat or exploration effectiveness, there are better traits than Dream Home, such as Wanted, Alien DNA, and Introvert/Extrovert. However, if you're open to a trait more angled towards a relaxing side activity, then Dream Home is for you. Given you can pick up to three traits, you could choose two traits focused on combat and exploration, and pair it with Dream Home to have a varied character.
It's worth noting that there are other ways to get houses besides the Dream Home trait, so you can always get your hands on a different house later down the line. For example, certain Starfield missions can reward houses, namely the Starfield factions stories. The Starfield UC Vanguard will offer you a free apartment in New Atlantis, while the Starfield Ryujin Industries faction will give you an office in Neon.
Well, now you know everything there is to know about the Starfield Dream Home trait, including where to find your home and whether it's worth picking. While you're kicking back in your new (hopefully furnished) home, why not check out what happened to Earth in Starfield? It's certainly an interesting story.
Still looking for more? While a good Starfield wiki can be a handy source of information, our new Starfield Database goes further, offering you daily news, searchable databanks, and even interactive tools.