EA Sports' FC 24 is shaping up to be one of the best soccer games of all time – and one of the best sports games of the year – and quite a few players are getting improvements based on their performances last year. One player, though, is getting an obscene upgrade and is quickly jumping from an average silver card to quite-possibly one of the best FC 24 wingers available. Yes, we're talking about the newly-leaked FC 24 Kvaratskhelia rating that's appearing online.
Ahead of the FC 24 release date, quite a few ratings of some of the best FC 24 players have been popping up online. Sure, it's worth taking them all with a pinch of salt, but they're more accurate than not with the FC 24 closed beta out and available. So, that means we're quietly confident when we say that Napoli winger and Georgia international Khvicha Kvaratskhelia is getting an impressive 12 OVR increase – from a silver 74 OVR to a gold 86 OVR.
As shared online by known FC 24 leaker 'DonkTrading', Kvaratskhelia is getting a minor PAC boost from 81 to 84, a small upgrade to his PHY stat from 66 to 71, and will see his DEF rating remain the same. However, his DRI is up an impressive 6, from 79 to 87, and his SHO stat is up from 66 to 80. You can compare his FIFA 23 stats to his leaked FC 24 stats for yourself below:
Why does Kvaratskhelia deserve such an upgrade, though? Well, you just need to look at his stats. Joining Serie A side Napoli from Russian Premier League side Rubin Kazan for the 2022-23 season, Kvaratskhelia has scored an impressive 14 goals in 43 appearances for the club. This, of course, helping Napoli to win their third Serie A title from defending champions AC Milan.
Kvaratskhelia has also been scoring quite freely for Georgia throughout 2022, in both FIFA World Cup qualification games and the third division of the UEFA Nations League. Sure, they're not top-level international competitions, but five goals in ten games in 2022 and 2023 (so far) is far from a bad stat for a 22 year-old winger. Kvaratskhelia isn't quite young enough to be considered an FC 24 wonderkid, but this could be a sign of things to come for the player in the future.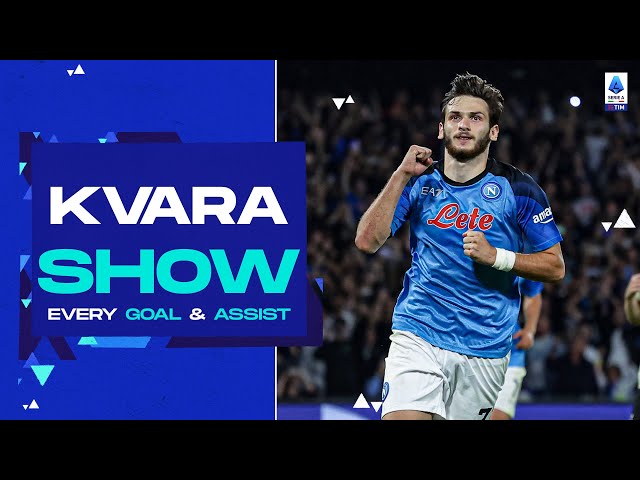 Only time will tell when it comes to that, though. For now, we just know that you should really be keeping your eye out for Kvaratskhelia when starting your FC 24 Ultimate Team squad. Imagine the FC 24 Ultimate Team Evolutions this player could have, too.
If you want to know a little more about the FC 24 ratings we can expect to see in FC 24 Ultimate Team, you can check out more on the FC 24 Ronaldo rating, the FC 24 Messi rating – both of which are in decline – and the FC 24 women's ratings. Well, those that we know about so far.