The FC 24 Messi rating has been in hot debate ever since Lionel announced his move to the MLS, playing under David Beckham's Inter Miami. Unless you've been living under a rock, both Messi and Ronaldo have been among the top rated players on FIFA for what seems like an eternity. But now, with their careers slowly coming to a close, their ratings have started to fall.
However, with this being said, in Messi's case, he's still doing some serious work in the MLS, pinging in free kicks galore and assisting aplenty with that magic vision of his – it's no wonder he's one of the best FC 24 wingers. So, with that being said, there's definitely an argument to be made for the FC 24 Messi rating to be up there with the young guns like Haaland. But will he join his former PSG teammate Mbappe at the top of the FC 24 ratings? Let's discuss our thoughts ahead of the FC 24 release date.
FC 24 Messi rating prediction
We predict that the FC 24 Messi rating will be 91, the same as what he received in FIFA 23. While this could come as a slight surprise to some who were expecting a drop, Messi did actually have a solid last season at PSG before his departure.
He picked up 20 assists in 41 games across all competitions for the club, which equals a better percentage than the 2021/22 season, proving he certainly hasn't lost his eagle vision. Additionally, he scored 10 additional goals in the latest campaign compared to that of the last, totaling 21 again, in 41 matches. 16 of these goals came in Ligue 1, which more than helped the club secure the first placed league finish.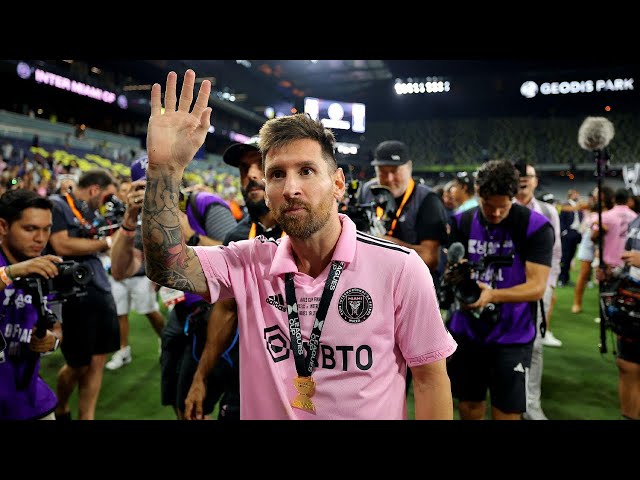 While his form was obviously better at club level, he also secured the biggest prize in the game – the World Cup. He was absolutely integral throughout, playing every single available minute, and almost securing the Golden Boot.
With both club and country performances combined, Messi more than deserves his still ridiculously high rating.
FC 24 Messi stats prediction
While there are no official FC 24 Messi stats released at the time of writing, we can again predict what these numbers might be – be they in FC 24 Ultimate Team or elsewhere. We'll be basing these off both his stats from FIFA 23 as well as his performance over the season, similarly to that of his overall rating prediction we've just stated.
First off, let's talk pace. Messi has certainly lost that half a yard of oomph in recent times and after a hefty downgrade of 4 from FIFA 22 to FIFA 23, we expect that this will continue in FC 24. We predict that Messi's pace will drop to 79, a further downgrade of two. While he still has some left in the tank, he is 36 years old after all and we all know speed is probably the first thing to go in those twilight years.
Moving to shooting and passing, as previously divulged, he's still a wizard in this regard. So, because of this, we think that there will be minimal downgrades here. For shooting, we expect that this will go down one point from FIFA 23, taking it to 88, and passing will stay put at a round 90. His free kick taking, passing, and goal scoring prowess has already been on top form in the MLS and this will definitely continue moving forward.
As for dribbling, one of Messi's trademarks, we do not foresee any drops here. In FIFA 23, he received a huge 94, and we believe he's still worthy of this number. However, since this stat does consist of Agility for example, there's a slight chance the devs of FC 24 could consider a downgrade.
Now for the less important stats for a player of Messi's ilk – Defending and Physicality, we anticipate Defending will hold firm at 34, while Physicality will drop one point, mainly due to Stamina, taking it to a total of 63.
And that wraps up our complete FC 24 Messi rating prediction. Overall, we've explained already that Messi can still keep up with today's titans. Even though he is that one year older and has moved into the MLS, we think he'll only receive slight downgrades in his stats, allowing him to still receive the overall 91. If you're a diehard Messi fan, this could be enough to convince you that FC 24 might cement its place as one of the best sports games this year. See you out on the pitch.