EA Sports' FC 24 may be shaping up to be one of the best soccer games we've ever seen on both PS5 and Xbox Series X, but the same can't be said for the PS4 and Xbox One version of the game. Why is that, though? Well, EA Sports has confirmed that all the new FC 24 Dynamic Moments that will be coming to both Manager and Player Career Mode – which include things like the FC 24 Ballon d'Or awards ceremony – will actually only be available on PS5, Xbox Series X|S, and PC.
On July 31, EA Sports shared a brand new Career Mode deep dive trailer detailing some of the new features soccer fans can expect to see in FC 24. While there are a lot of FC 24 Career Mode details that are worth talking about, and you will be able to play about with a lot of the new features on every version of the game, some of the most exciting moments will be reserved for players with the latest hardware. This, although slightly unclear in the trailer (if you were too busy watching the scenes themselves and not reading the small print), was confirmed in the associated Pitch Notes here.
As explained in the aforementioned Pitch Notes, EA Sports has partnered with Ballon d'Or organizers to bring the prestigious award to FC 24 alongside new "open top bus trophy parade" cinematics, and both the Manager of the Year and Player of the Year awards. All of these will feature in both Manager Career Mode saves and Player Career Mode saves. However, "the new Dynamic Moments cutscenes will only be viewable on PlayStation 5, Xbox Series X|S, and PC".
Without any explanation as to why this is, we can only imagine that it's due to the sheer power advantage these newer consoles have over the older generation. A cutscene like this, which will include a dynamic selection of relevant teams and players, is most-likely rendered more immediately than pre-rendered cutscenes in cinematic games. So, although we're unsure as to why something similar couldn't be developed for the PS4 and Xbox One, we expect that the processing power of the older consoles is the reason why you won't see this feature included.
Thankfully, the wider suite of Career Mode changes – including manager mode Tactical Vision and the match day Tactical View simulation system – appear to be available on all platforms. You'll also be able to take advantage of FC 24's new Player Agent feature to guide your player career; these improvements aren't all about the managers out there.
If you want to know more about Career Mode, and check out some new gameplay footage, you can check out the full deep dive below: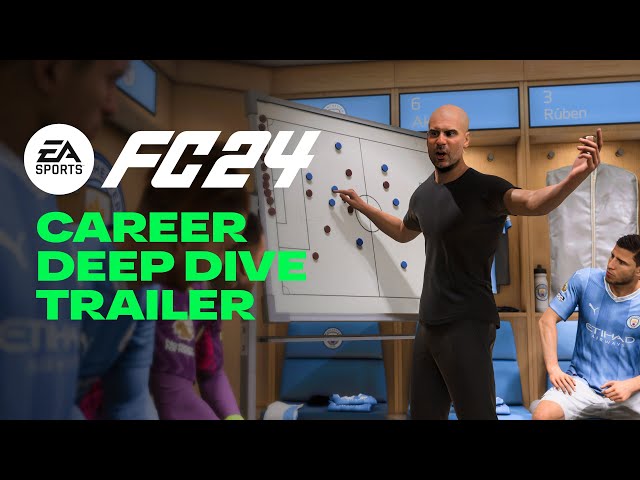 FC 24 is one of the most exciting upcoming PS5 games for soccer fans and one of the most interesting upcoming Xbox games if you're a fan of EA Sports FIFA series. If you want to know more about this game before the FC 24 release date rolls around, we have the latest on all the confirmed FC 24 Icons and FC 24 Heroes right here. With women joining FC 24's Ultimate Team, there are quite a few new faces worth checking out ahead of time.