EA Sports' FC 24 is on the way and the soccer game developer has just detailed an onslaught of new features coming to the FC 24 Career Mode – both player and manager. Whether you're hoping to guide your team to glory from the dugouts, or strap on your boots to try and become the GOAT with a Ballon d'Or or two under your belt, there's something here to excite you. One of the stand-out changes, though, is the new player agent mechanic coming to FC 24. If you want to take a break from FC 24 Pro Clubs and jump into a Player Career Mode save, this feature will give you more guidance and help you settle on your own path to glory.
As explained in the following Career Mode Gameplay Deep Dive video, a player agent will let you decide where you want to end up – for example, Real Madrid – and it will "give you guidance every step of the way on how to get there" through specific Career Path Objectives. These can include things like a Appearances Percentage throughout a season, Shots On Goal percentage if you're a striker, or even an aspirational weekly wage for you to try and negotiate for.
If you have a career tragectory in mind, "your player agent will know which stepping stone clubs you should be working towards and they'll give you certain milestones to make those jumps", according to game design director Pete O'Donnell.
What does this mean? Well, this means FC 24's Player Career Mode – which has gone without a big stand-out new feature for a while in EA Sports' FIFA games – will finally be getting some love and attention in FC 24. You'll also be able to tweak your player by taking advantage of new personality mechanics, FC 24's PlayStyles, and a new camera angle that keeps you in the action. There is, of course, new end-of-year awards and celebrations – including the Ballon d'Or – to look forward to. So, it's safe to say that this could be a very satisfying experience for fans new and old.
If you want to see what this will look like in-game, and what else is on the way, you can below: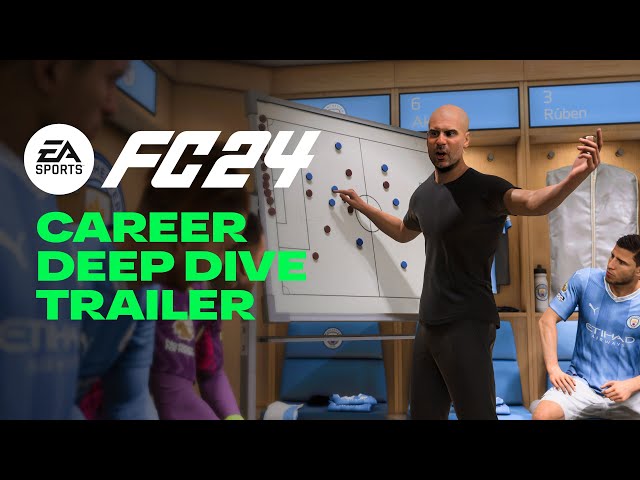 Are all these changes going to cement EA Sports' FC 24 as one of the best soccer games of all time? Well, we don't want to say anything definitive just yet but it's hard to argue with the improvements being made. If you want to know how this year's game shapes up to last when it comes to FC 24 Ultimate Team, you can find out more about the FC 24 ratings right here and all of our predictions ahead of the official reveal.
You can also read up on all the FC 24 icons and FC 24 heroes here. With the introduction of female players in FC 24's Ultimate Team, there are more than a handful of new faces this time around.