What Icons will be in EA FC 24? The EA FC era is upon as, and with it comes the potential of new FC 24 Icons and some changes to how these legendary former players work in Ultimate Team. In the FIFA days, the Icon roster swelled to well over a hundred players, and that massive offering looks set to continue (and even grow bigger) in FC 24.
With the integration of women's football into Ultimate Team, expect to see some legends of the women's game immortalized as Icons, alongside a cast of returning and new Icons from the men's game. Here you'll find all the latest news, rumors, and leaks surrounding the FC 24 Icon lineup that you'll be able to enjoy when the FC 24 release date arrives.
FC 24 Icons list
The confirmed new FC 24 Icons and returning stars are:
Mia Hamm – new icon
David Beckham – returning icon
Ronaldinho – returning icon
Thierry Henry – returning icon
Pele – returning icon
Zinedine Zidane – returning icon
Luis Figo – returning icon
Didier Drogba – returning icon
Johan Cruyff – returning icon
Juan Roman Riquelme – returning icon
Andrea Pirlo – returning icon
As of August 2023, several returning Icons have been officially confirmed, plus most of the roster from FIFA 23 is expected to come back for FC 24 as well. Several iconic players from the women's game have also been revealed to be coming to the game as either Icons or Heroes, and there are various leaks regarding brand-new male Icons too.
The first confirmed EA FC 24 Icon was David Beckham. After signing that huge deal to become an Icon in FIFA 21, he is also now an ambassador for EA FC Futures, EA Sports' grassroots soccer initiative outside of the game.
The second confirmed FC 24 Icon also came thanks to EA Sports revealing them as a Futures ambassador, and that's France legend Zinedine Zidane.
Moreover, EA Sports' announcement trailer confirmed the return of several other Icons, and also gave us a look at some of the in-game player models. In this trailer, we see a bunch of current players across various leagues, but we also see some Icons from FIFA games of old.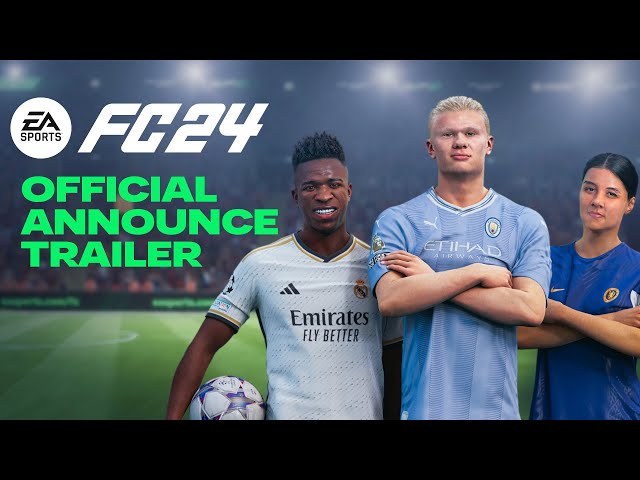 Players such as Ronaldinho, Drogba, Pele, Figo, Henry, and the aforementioned Zidane and Beckham all make an appearance in the distinctive white and gold Icon kit that we've become accustomed to in previous games.
Finally, the FC 24 Ultimate Edition cover also confirmed a few more names, as well as the introduction of women's Icons. On the cover you'll see FIFA 23 Icons Juan Roman Riquelme and Johan Cruyff. You can also spot a legend from the women's game, Mia Hamm, a former United States international with almost 300 caps, who has been confirmed as a brand new Icon for FC 24.
This list is by no means complete, and we will more than likely see other familiar faces such as Ruud Gullit, Roberto Carlos, and Iker Casillas join the list of returning Icons, but these reveals will likely come much closer to the full release date.
FC 24 Icons leaks
The following players have yet to be confirmed as Icons by EA Sports, but have been reported by reputable leakers.
Franck Ribery – rumored new icon
Zico – rumored new icon
Bobby Charlton – rumored new icon
Camille Abily – rumored new icon
Birgit Prinz – rumored new icon
Kelly Smith – rumored new icon
Among the Icon leaks and confirmations, a list of around 20 retired players was leaked, which included the likes of Arjen Robben, Sergio Aguero, Dimitar Berbatov, and Vincent Kompany. However, there was no telling which of these were destined to be Icons, and which were destined to be FC 24 Heroes. Many, including Berbatov and Kompany have also now been confirmed as Heroes. Plus, it was reportedly a shortlist, so not every name on there will make the cut in FC 24. As a result, we won't include a name from that list until a reliable leaker has confirmed their Icon status in EA FC.
In August 2023, 'Fut Scoreboard' reported that Mia Hamm won't be the only female Icon in this year's game. Should the leak materialize, she'll be joined by Camille Abily, Birgit Prinz, and Kelly Smith.
FC 24 Icon chemistry changes
One extra bit of confirmed Icon info that you need to know heading into FC 24 is that the way they dish out Ultimate Team chemistry is changing. EA Sports has listened to player feedback and Icons will now give an FC 24 chemistry contribution to every league in your squad, as well as the existing nation chemistry they used to give. This was confirmed by EA Sports developers in a showcase attended by The Loadout and other media.
This will make it far less punishing, chemistry-wise, to have an Icon in your team, so this is a great change for FC 24 Ultimate Team players.
So, that's the lowdown on Icons for FC 24. With exciting names like Hamm, Zico, and Charlton all destined for the game, the Icon roster is definitely going to feel nice and fresh this year. We wonder what FC 24 PlayStyles these new Icons will be blessed with?
While we count down the days to the FC 24 release date, why not check out everything we know about the new Evolutions feature in FC 24 Ultimate Team and see how that will shake things up. See you pitch-side.