What are the best Starfield ships? Getting your mitts on some of the best Starfield ships is a must for any elite spacefarer. With the top spacecraft available in Bethesda's intergalactic RPG game providing unparalleled levels of firepower, defense, and the ability to quickly traverse the cosmos with ease, we're here to give you the full rundown on which ships are the most stellar as you proceed with your interstellar travels.
Once you pick up one of the best Starfield ships listed below, ensure you're up to scratch with the Starfield ship customization options so you can pimp your ride appropriately. You'll also want to check out the best Starfield crew and Starfield companions that you can bring aboard. Considering how much variety there is to space travel in Starfield, it's no wonder that it's being considered one of the best Xbox RPG games around – read more on that in our Starfield review.
Best Starfield ships
The best Starfield ships are:
Razorleaf – Best early game ship
Wanderwell – Best trait ship
Star Eagle – Best mid-game ship
Starborn Guardian – Best free ship
Silent Runner – Best Cargo Capacity ship
Stronghold – Best defensive ship
Abyss Trekker – Best offensive ship
Narwhal – Best Starfield ship
When considering the best Starfield ships, we've weighed up the pros and cons for each model, with everything from Cargo Capacity to overall value being factored into our analysis. Naturally, each ship covered in this guide will merely serve as a starting point, as thorough customization will bring the best out of your vessel.
Additionally, you'll need to ensure you have the Starfield skills to pay the bills, particularly in the Starship Design, Starship Engineering, and Piloting departments in order to not only take command of some of these ships in the first place, but to maximize their potential.
Below we'll take a look at each ship in-depth, offering up not only their stats, but also how to obtain them. Some ships can be obtained as a reward for completing missions or other milestones, while others require a trip to one of the various Starfield ship vendors. Note that as there are late-game ships in here, there will be spoilers.
Razorleaf
The best Starfield early game ship is the Razorleaf. While it won't carry you and your crew through to the later stages of the game, it's certainly a solid upgrade from your starting craft.
In order to obtain the Razorleaf, you'll need to clear the Starfield Mantis quest, which also just so happens to award some of the best Starfield armor you can get during its opening hours.
Razorleaf stats:
Cargo Capacity – 420
Crew – 2
Fuel – 140
Hull – 469
Shield – 390
Wanderwell
The best Starfield trait ship is the Wanderwell. So anyway, here's Wanderwell. Pop culture reference aside, the Wanderwell is a solid all-rounder that offers meaningful upgrades on the Razorleaf pretty much all-round. However, there is a catch…
In order to obtain the Wanderwell, you'll need to take the Kid Stuff Starfield trait, and wait for your parents to cough up the goods. In return for a ship, your folks will take 2% of your Credits each week – a small price to pay comparatively.
Wanderwell stats:
Cargo Capacity – 800
Crew – 2
Fuel – 200
Hull – 502
Shield – 455
Star Eagle
The best Starfield mid-game ship is the Star Eagle. Another well-rounded Starfield ship, the Star Eagle is a factional reward for completing the Freestar Rangers' questline. If you're looking to juice up your crew during Starfield's mid-game, then be sure to snap it up. You also get to exclaim 'the Eagle has landed!' if RP'ing is your bag.
Star Eagle stats:
Cargo Capacity – 2,736
Crew – 5
Fuel – 140
Hull – 948
Shield – 760
Starborn Guardian
The best free Starfield ship is the Starborn Guardian. You won't be able to find Starborn Guardian during your first playthrough of Starfield, and for good reason – it's awarded to you upon starting a Starfield New Game Plus for the first time.
While it's not going to last too long in a dogfight at first, the Starborn Guardian is upgraded with each consecutive New Game Plus clear, granting bonuses to its base stats. You can see this at 0:49 in a video posted by 'BlackHeart86', or in the entry image which represents the fifth iteration of the ship.
Starborn Guardian base stats:
Cargo Capacity – 950
Crew – 5
Fuel – 1,500
Hull – 649
Shield – 630
Silent Runner
The best Starfield ship for Cargo Capacity is the Silent Runner. If you're in dire need of more space to stash your goods – be they those acquired legitimately or otherwise – then the Silent Runner's monstrous 6,080 Cargo Capacity will sort you right out.
For the low, low price of 390,150 Credits, head on down to Hopetech HQ, Hopetown, Polvo, Valo to quietly acquire the Silent Runner.
Silent Runner stats:
Cargo Capacity – 6,080
Crew – 5
Fuel – 300
Hull – 1,164
Shield – 975
Stronghold
The best defensive Starfield ship is the Stronghold. This absolute mammoth comes with a whopping 1,600 Shield, making it a perfect, well, stronghold as you hurtle yourself into combat against multiple ships.
The Stronghold can be attained for 400,125 Credits from the Ship Services Technician in Akila City, Akila, Cheyenne.
Stronghold stats:
Cargo Capacity – 2,360
Crew – 6
Fuel – 2,200
Hull – 1,047
Shield – 1,600
Abyss Trekker
The best offensive Starfield ship is the Abyss Trekker. If you're looking for nothing but pure firepower, then the Abyss Trekker has you covered thanks to its impressive array of Particle and Ballistic weaponry, as well as Missiles.
Coming in at a cool 365,525 Credits, you can make the Abyss Trekker yours by visiting the Ship Services Technician on Paradiso, Porrima, Porimma II.
Abyss Trekker stats:
Cargo Capacity – 340
Crew – 6
Fuel – 950
Hull – 1,031
Shield – 850
Narwhal
The best Starfield ship is the Narwhal. It's also the most expensive ship money can buy coming in at an eye-watering 455,400 Credits. In return, you will receive an absolute beast of a ship that packs a punch. Additionally, thanks to its 30 Light-year jump radius, the Narwhal can clear the same distance as the Starborn Guardian, without compromising its combat potential.
The Narwhal can be purchased from Taiyo Astroengineering, which is located in the Ryujin Building, Neon, Volii Alpha, Volii.
Narwhal stats:
Cargo Capacity – 1,760
Crew – 7
Fuel – 560
Hull – 2,118
Shield – 995
If you want to see what other ships the various Starfield vendors have in stock, then be sure to check out this video from 'SwanyPlaysGames'.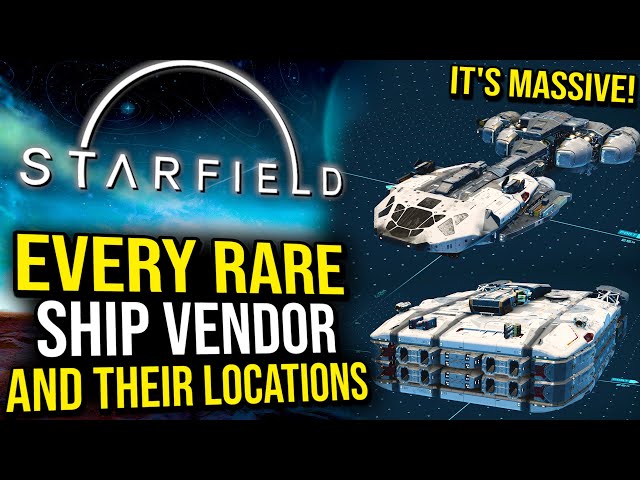 And that's all you need to know about the best Starfield ships, though even the best ships need Starfield ship parts to survive. Be it a mighty monolith that can navigate dogfights through brute force, or a light cruiser with the means to traverse the stars with ease, there are plenty of top-tier options at all points of the RPG game.
Still looking for more? While a good Starfield wiki can be a handy source of information, our new Starfield Database goes further, offering you daily news, searchable databanks, and even interactive tools.