Few people know that Giovanni did not create Team Rocket – his mum did. Even I, as an avid fan of the Pokémon videogames and TCG, didn't realise Madame Boss' influence on the Pokémon world until I heard it on a podcast recently. Her Bulbapedia entry is clear about her intentions: she wants to "capture rare Pokémon and auction them off for money," a deplorable endeavour by all accounts.
However, the concept of auctioning off Pokémon for profit has found its way into the real world – Many Pokémon TCG fans and collectors feel frustrated and dismayed that an increasing number of streamers and YouTubers seem to be cashing in as Pokémon TCG prices boom and online celebrities jump on the rapidly growing trend.
Is making a profit from someone else's passion inherently wrong or evil, like Madame Boss' master plan? Not entirely. But many regular collectors feel they are being priced out of their hobby by those people buying cards just to make content, rather than for the love of collecting. Many content creators are snapping up rare vintage booster boxes and selling the packs inside, in what are known as box breaks. They will then open the packs on stream, and send the cards to whoever bought them. Some see the huge sums they drop as an investment that they will recoup through both the pack sales and their revenue from the content, rather than buying to collect for themselves.
While prices have been steadily rising for the past year, the biggest increase in prices came soon after YouTuber Logan Paul streamed his own box break. He bought himself a rare First Edition Base Set booster box for around $200,000 (£140,000) and sold the packs inside. Like an IRL loot box, buyers were hoping for a shiny Charizard, one of the rarest Pokémon cards, which has sold for as much as $300,000 (£210,000) in the past.
Of course, only mint condition versions of the card will fetch anywhere near that amount, but buyers felt it was worth the gamble. Many buyers were other content creators, and made videos or set up livestreams to record their reactions to the pulls – regardless of the value of their card, they generated content and revenue from the event.
Just four months later, Logan Paul announced that he would be streaming another box break to coincide with Pokémon's 25th anniversary, boldly stating that he wanted to buy every First Edition Base Set booster box in the world. In the end, he settled for six boxes – but they set him back $2 million. The price of a First Edition Base Set box had increased by over $100,000 in four months, and Paul had bought half a dozen.
In his announcement video for his eye-watering purchase, Paul admits that his first viral box break played a big part in inflating the price; "Although I bought one in September for $200k, they were only now selling for the price point that I set," he says. But he would comfortably make his money back, auctioning 35 of the packs – nearly one full booster box – for an average of $39,206 per pack. The packs will be opened live on Pokémon Day, but Paul has already quadrupled his money on this booster box, and at this rate will recoup his entire investment by auctioning packs from just one of his six boxes.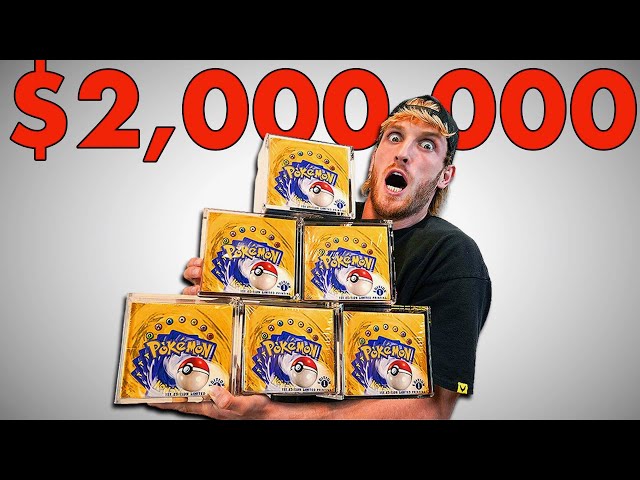 However, fans are worried that the popularity of box breaks and subsequent rise in prices could be negatively affecting the collecting community, and that long-time collectors who want to complete their sets will be priced out of the hobby.
Jesus Garcia is an auctioneer for Heritage Auctions, which specialises in collectables and currently holds the record for the most expensive card ever sold at auction: the one-of-a-kind 'Presentation' Blastoise that was used by Wizards of the Coast to pitch the Pokémon TCG to the Pokémon Company and sold for $360,000 (£265,000). Garcia is Heritage's consignment director for Pokémon, but even he was shocked at the huge increase in TCG prices over the past year.
An oral history of Pokémon VGC – as told by those who were there
"It blew up everyone's expectations," he tells The Loadout. He anticipated rare cards in pristine condition to appreciate over time, but only expected them to reach the heights that they did last year in another ten years. However, he thinks the boom is unsustainable.
"I've seen a trend lately, where cards are kind of leveling off," he says. "I don't really see them going up a lot more right now. Maybe in 10 years or so, we'll see another big boom."
However, Garcia acknowledges that content creators are not only increasing the visibility of the Pokémon TCG, but also increasing the rarity of the cards themselves. "People keep on purchasing [booster boxes] to open them up on video," he explains. "And the more they open up, the more I think these boxes are going to go up in price, because there's going to be less of them out there."
But it's not just old cards that are rising in price – fans have struggled to get their hands on packs of Shining Fates, which released on February 19, 2021. Retailers are struggling to get stock, and when they do it sells out instantly – often at inflated prices. While Logan Paul has only the high-ticket, vintage Pokémon TCG items on his radar, and has no interest in modern sets, the popularity that has snowballed following his initial box break has certainly impacted prices across the board.
One collector tells The Loadout that they've had "mixed success" trying to obtain Shining Fates packs online. They say they were "lucky" to get two Pikachu promo boxes and two tins, but they've been unable to find an Elite Trainer Box for less than $140 (£100). Elite Trainer Boxes are a collector's item that include themed card sleeves, a promo card, and ten booster packs. The Shining Fates Elite Trainer Box is themed around Gigantamax Eevee and is currently selling for nearly double its recommended retail price at specialist stores – and is listed for even more on sites like eBay.
One of the biggest streamers in the world, Tyler 'Ninja' Blevins. bought ten Elite Trainer Boxes, in all likelihood at inflated prices. Pokémon GO streamer 'Mystic7' bought 26, openly admitting that he "only buy[s] at online premiums".
"You're buying out all the stock"
– I only buy at online premiums and never fully buy a place out, and share sites I use

"The prices are too high and unfair"
– wake up and see how the world works

"It's people like you that ruin cards"
– sugma

— MYSTIC7 (@MYSTIC7) February 24, 2021
There are a lot of factors to consider with the rarity of modern cards. Firstly, Shining Fates is a coveted set due to the fact that nearly half the cards depict Pokémon in their shiny form – and are therefore already collector's items days after release. Secondly, the Pokémon Company released a statement saying that "very high demand and global shipping restraints [are] impacting availability," which is likely further impacted by the global pandemic.
Despite the Pokémon Company "maximizing production to increase product availability," it is still difficult to find stock at retail prices – unless you use a scalping bot, that is. Bots are an increasingly popular way for resellers to grab high-demand stock before regular collectors get a chance. Many premium bots have options to skip online queues and buyers receive stock alerts before the websites even update, thanks to insider information shared in reselling communities. While scalpers are infamously targeting PlayStation 5 restocks with great success, they are also looking out for Pokémon cards – anything with a high profit margin.
One scalper, who wishes to remain anonymous, says he sees both sides of the argument. "We have had some success over the past month or so with Pokémon and other card-related products that have some resell market value," they say. Put simply, if scalpers can see a profit, they'll invest, often at the expense of regular collectors. More stock going into the hands of resellers means less on the shelves, which further drives up prices.
But it's not just the scalpers who are using online bots that are the problem – people seem to be buying out entire stocks at brick and mortar stores with the intention of reselling.
After visiting ten stores with no luck last week, one collector tells The Loadout that they believe they encountered a reseller at a supermarket in Scotland. "Most collectors have an ethos of not clearing shelves out, especially if there are people waiting after them," they say. "The guy saw me standing behind him and straight up told me that he was going to buy everything." Whether this person was buying to resell or to augment his personal collection is ultimately unknown, but buying large stocks of sought after goods seems immoral when so many fellow collectors are going without.
But some in the community are fighting back. Andrew 'Randolph' Shane is a YouTuber and streamer whose content has focused on Pokémon TCG since 2019. However, he also owns a Pokémon Trading Card store called PokéRand, and he's making sure that real collectors get their cards.
Parents of children who collect Pokémon cards can sign up to his PokéRand Promise List, which will give them priority access to restocks of Shining Fates that come into his store. Parents have to prove that their child collects the cards to ensure their application is successful, but he calls for accountability from both content creators and stockists to put collectors first and not overcharge people for trying to play their hobby. He is doing his bit to keep cards in the hands of genuine collectors, but feels that other creators and stores have a responsibility to do the same.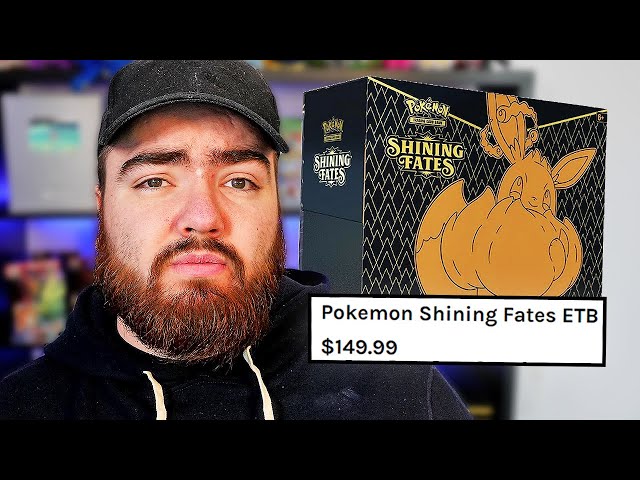 Cards old and new are suffering from the 'Logan Paul Effect,' which sees prices of TCG products soar as more content creators indulge in this new trend. Most can afford to pay twice or three times retail price for Elite Trainer Boxes, knowing that the investment will not only add to their collection – if they even have one – but also grow their channels and online followings. However, many fans believe that they are legitimising scalpers and depriving collectors who don't have as much spare cash of playing the game and collecting the cards that they love.
Are content creators the Team Rocket of the real world? That may be somewhat unfair, because there are many other reasons that the price of Pokémon cards is rising – the global pandemic and the perpetually increasing popularity of the Pokémon IP being just two. But maybe they need to open their eyes a little wider to see the impact some of them are having, before collectors are priced out of a hobby they love.