With the evolution of soccer, the role of the best FC 24 LB players has undergone a transformation. In the past, full-backs seldom ventured beyond the halfway line, but thanks to the emergence of adventurous, attack-minded defenders like Roberto Carlos, the role has been redefined. Today's best left-backs are no longer confined to a static role on the flank – they instead actively participate in every aspect of the game, and can even send it top bins like Carlos himself did on many memorable occasions.
Picking out the sports game's most impressive left-backs from our EA FC 24 ratings list and beyond, this guide will give you the full rundown on who best EA FC 24 LB players are in the FC 24 era – be it in EA FC 24 Ultimate Team or even EA FC 24 Career Mode. We'll also be offering up some top picks outside of the top 10 that can either dominate the opposition, or serve as more budget-friendly options if you don't have the UT Coins or Career Mode dollars to stump up for the top talents.
Best FC 24 LB
The best FC 24 LB ratings are:
Fridolina Rolfö – 87
Selma Bacha – 86
Andrew Robertson – 86
Sakina Karchaoui – 86
João Cancelo – 86
Marcos Acuña – 85
Theo Hernández – 85
Katie McCabe – 85
Lisa Boattin – 84
Jordi Alba – 83
Topping the list is Barcelona Femení's super Swede, Fridolina Rolfö. Having operated as both a left-back and an out-and-out winger, Rolfö can quite literally do it all, and with both feet to boot. As such, it's no wonder that she's a part of the fabled 'Gullit Gang', sporting 80+ stats across the board. You can check out her highlight reel below, which includes the winning goal in last season's UWCL final.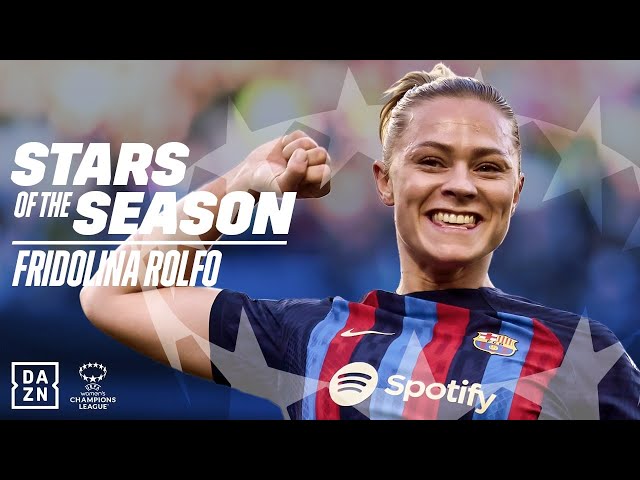 João Cancelo's career took an unexpected turn last season. As Pep Guardiola continued to tinker with his tactics, Cancelo found himself out of favor in the Spaniard's new system that preferred three at the back instead of four. A mixed loan spell at Bayern Munich for the second half of the season saw Cancelo recreate flashes of his brilliance, but for 2023/24 he'll have to prove he can shine once more in LALIGA with Barcelona.
Theo Hernández is undeniably the hottest LB property in men's soccer right now. The Frenchman has consistently dazzled down the left-hand side at AC Milan, earning himself yet another TOTS card for the fourth consecutive year in FIFA 23. Though he didn't quite get the upgrade many – ourselves included – were anticipating, he's still an absolute beast with pace for days.
While Hernández was on fire last year, Liverpool's Andrew Robertson's slight dip from his typically-imperious form was symptomatic of the team's struggles in the Premier League last season. As such, in FC 24 the Scot's received a small downgrade from the 87 overall he's held for the past few seasons.
Marcos Acuña may be entering the twilight years of his career, but the Argentine is showing no signs of decline just yet, hence the retention of his FIFA 23 rating. Conversely, Jordi Alba's drastically reduced minutes last season, and subsequent move to Inter Miami this summer, are indicative of a player beginning to depreciate.
FC 24 LB top alternatives
The top FC 24 LB players have more than earned their ratings, but that's not to say there aren't plenty of talented stars out there that can also do plenty of damage at left-back. Here you'll find some cheaper alternatives, or upcoming stars that'll mature like fine wine over the course of the season, be it in FUT or Career Mode. These include:
Alphonso Davies – 83
Alejandro Balde – 81
Destiny Udogie – 77
Alphonso Davies is a man who needs no introduction. The absolutely rapid Canadian can easily dribble the length of the pitch, effortlessly beating players left and right – okay, maybe just the left… While he won't bag you many goals, his ability to get into good crossing positions, and deliver a devestating ball make him a strong acquisition.
Next up we have a couple of FC 24 wonderkids – Alejandro Balde and Destiny Udogie. Both players are currently very affordable on the FUT market according to FUTWIZ, and are must-haves for those looking to build an army of top young talent in Career Mode. While you'll have to wait a season for Udogie, seeing as he only signed for Spurs this year, your patience will be rewarded. Balde, meanwhile, is continuing to develop and flourish at Barcelona. At just 19 years of age, his stock is rising at rapid speeds – Davies speeds, even.
The importance of LB players in EA FC 24
In all the best EA FC 24 formations, the presence of a LB is standard fare – at least, in a traditional four-person defense. While formations like the 3-5-2 utilize three center-backs and two attacking wing-backs on the flanks, even in these setups, traditional full-backs have embraced a more attacking role in today's game.
The significance of the best LB players lies in their ability to offer a perfect blend of defensive solidity, offensive flair, and tactical versatility, rendering them indispensable to any team that sets up with them. As the game's continued to evolve, the ability to create goals from every position on the pitch – barring the keeper, of course – has become more important than ever, hence the high valuation of goal-getters like Hernández and Cancelo.
And there is our rundown of the best EA FC 24 LB ratings and top alternatives. While some of soccer's most-journeyed stars are gradually dipping down the rankings, others are rising as they begin to reach their peak.
Before you go, be sure to read up on the FC 24 PlayStyles utilized by each of these players. When bargain hunting for top FUT talent, make sure you're using the FC 24 Web App to ensure you never miss out on steals for the best players in one of the best soccer games. See you on the pitch.