If you're out in Caldera looking at your loadout and wondering where it can improve, adding the Welgun to it might be the answer. The Call of Duty Warzone meta is always shifting, but the Welgun remains a popular option for the best Warzone loadouts. That's why we've put together the best Welgun Warzone loadout for you to check out below.
With the right attachments, the Welgun is a fantastic option for Warzone. It boasts one of the fastest time-to-kill stats in its class and a similar fire rate to Black Ops Cold War's LC10 and Vanguard's MP40. When you look at this SMG, it's clear that you should be using the best Welgun Warzone loadout out there.
But, what does that actually entail? Which attachment options do you need to turn the welgun into one of the best Warzone guns available? We have everything you need to know below.
Welgun Warzone loadout
'JGOD' has, once again, been crunching the numbers and we now have an up-to-date look at the best Welgun Warzone loadout for you to use in Warzone Pacific Season 2 Reloaded and beyond. Here's what you need to know:
Muzzle: Recoil Booster
Barrel: 120mm Gawain Short
Optic: Slate Reflector
Stock: Gawain Skeletal
Underbarrel: M1941 Hand Stop
Magazine: 9mm 64 Round Mags
Ammunition: Incendiary
Rear Grip: Taped Grip
Perk 1: Frenzy
Perk 2: Quick
With this combination of attachments, the Welgun is going to be a beast in Warzone Pacific – whether you prefer a Caldera battle royale or a resurgence solos on Rebirth Island.
The combination of the Recoil Booster and the 120mm Gawain Short barrel will increase your recoil control and improve the Welgun's base fire rate for a devastating SMG.
The Taped Grip also improves your weapon swap quickness, freeing up a perk slot without the need for Amped. Frenzy increases your health regeneration after kills – keeping you in the fight for longer – and Quick increases your base sprint speed while using the Welgun.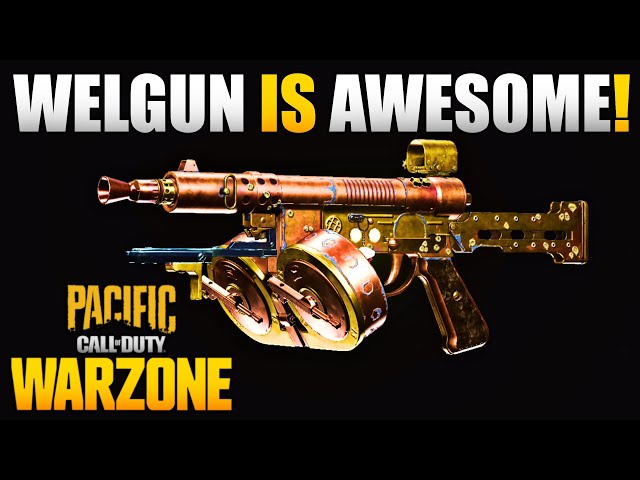 Welgun Warzone loadout secondary
The Welgun will be doing all the work at close range, so you're going to need a versatile LMG or AR to deal with all other scenarios. For our money, the Bren (despite its nerfs) and the STG44 are two great options.
Check out the best builds in our Bren Warzone loadout and STG44 Warzone loadout guides.
Welgun Warzone loadout perks and equipment
For the perks in this Welgun class, we recommend Double Time, Overkill, and Combat Scout. Double Time and Combat Scout are the most popular perks in their respective slots right now, and Overkill is necessary to run the Welgun alongside another primary weapon.
For equipment, Throwing Knives are a great lethal option as they let you finish off opponents quickly and without wasting ammo, while Stun Grenades are handy for your tactical slot.
That's our pick for the best Welgun Warzone loadout that you can use right now. Level up this SMG, select those ten attachments, and you'll be shredding your way through Caldera and Rebirth Island with ease.