In Call of Duty Warzone, the Bren is easily one of the best options. It's a famous machinegun used by British and Commonwealth forces in the Second World War and now you can drop into Caldera with it in Warzone Pacific. This iconic weapon, which sports a bipod and an upwards-facing magazine, packs a punch – it's easily one of the best weapons in the Warzone meta right now.
This weapon has the fastest time-to-kill out of all the Vanguard LMGs – and when you see the sheer size of it, you're not surprised. It's fantastic at longer ranges, but it's sluggish and heavy. The recoil can also be a pain to control – but with the right attachments, this is manageable and we have the best Bren Warzone loadout with this in mind.
So, what attachments do you actually need to use for the Bren? Well, read on to find out how this weapon will fit into the meta and what you need to keep an eye on.
Bren Warzone Loadout
'IceManIsaac' is a trusted name when it comes to Call of Duty Warzone class setups and he's shared the best Bren Warzone loadout build we've seen in a while. Here's everything you need to know about what attachments you should include:
Muzzle: MX Silencer
Barrel: Queen's 775m Scepter
Optic: SVT-40 PU Scope 3-6x
Stock: Hockenson SP2B
Underbarrel: M1941 Hand Stop
Magazine: .303 British 100 Round Drum
Ammunition: Lengthened
Rear Grip: Polymer Grip
Perk: Tight Grip
Perk 2: Fully Loaded
The MX Silencer adds recoil control – making this Bren build instantly more manageable – and is combined with the . It also protects the Bren's naturally strong damage range – which can be useful in a firefight.
This loadout also opts for a larger magazine in an effort to take full advantage of this weapon's devastating damage output. It reloads a lot faster than you'd expect and, in the right loadout, should keep you in the fight for a lot longer than a smaller magazine.
Picking Tight Grip for the Perk 1 option will increase the Bren's accuracy under sustained fire and the Polymer Grip offers further assistance when it comes to recoil management. This Bren Warzone loadout is going to shred and takes full advantage of the weapon's natural strengths.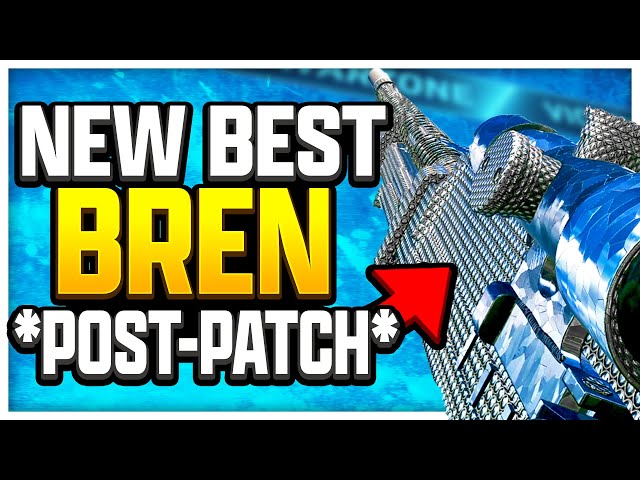 Bren Warzone loadout secondary
The Bren is deadly at medium to long range, but it's not the most mobile of weapons. With that in mind, for your secondary, you might want to pick an SMG that can carry you through close-quarter encounters.
The MP40 build in our MP40 Warzone loadout guide could fit the bill here, as it's effective in almost any situation and has a relatively large magazine. This Owen Gun Warzone loadout is also a fantastic popular choice for a secondary SMG.
Bren Warzone loadout perks and equipment
For this Bren Warzone loadout's perks, we recommend using Double Time, Overkill, and Amped. You can use Ghost if you want, but this is only really viable if you nab it in a second loadout later down the line.
As for equipment? Well, given the recent buffs to grenades, we'd recommend either Frags or Semtex alongside Stun Grenades.
And that's it – our best Bren Warzone loadout in full. Now that you've kitted out one of the best Vanguard guns available, jump on your nearest flight to Caldera, and get slaying.