If you're about to jump into your next Call of Duty Warzone game and you need a new SMG, you're in luck – we have the exact weapon build for you. Vanguard's MP40 is a reliable, hard-hitting SMG that should let you hit your shots with more than reasonable recoil. If you want to know what the best MP40 Warzone loadout is right now, you're in the right place.
The best MP40 Warzone loadout is never going to have the highest fire rate, or be the most mobile, but this weapon is as well-rounded as they come. If you're looking for a primary that gives you a fighting chance in almost every situation, then you need to be using this – basically.
So… That's basically why we have put this guide together for you to check out. You need to be using the MP40 in Warzone, but you need to know which attachments are the best options to make the most of this weapon that always appears in the upper echelons of the Warzone meta – no matter the season.
MP40 Warzone loadout
'Chuck', a Call of Duty content creator known for putting together some of the best Warzone loadouts out there, is back with another banger. His MP40 weapon build is, from our experience, one of the best out there right now. So, here's what you need to know about putting together the best MP40 Warzone loadout:
Muzzle: Recoil Booster
Barrel: Krausnick 317MM 04B
Optic: Krausnick ISO1M
Stock: Removed Stock
Underbarrel: Mark VI Skeletal
Magazine: 7.62 Gorenko 45 Round Mags
Ammo Type: Lengthened
Rear Grip: Fabric Grip
Perk 1: Steady
Perk 2: Quick
First up, you need to equip the Recoil Booster. This is going to buff the weapon's fire rate, making it much more competitive against weaker SMGs. The addition of the Krausnick 317MM 04B barrel is going to increas your accuracy, which will help you manage the increased recoil you're going to experience.
Interestingly, Chuck has gone for the Mark VI Skeletal underbarrel attachment – not the most popular choice. However, with increased ADS speed and no downsides, we can see why he's made the choice here. Lengthened ammunition is what you need to look out for here – it's going to increase bullet velocity and should improve your TTK with this weapon.
To make the most of everything so far, it's worth sticking 45 Round Mags on there with both Steady and Quick.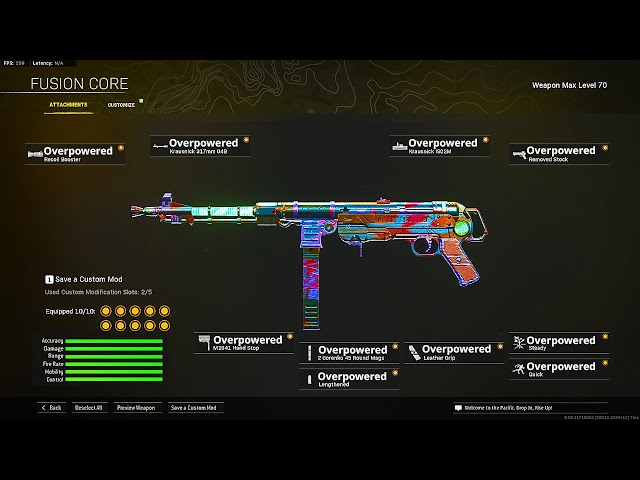 MP40 Warzone loadout secondary
As we mentioned, the MP40 can make a great support gun for a sniper class, so partner it up with your sniper of preference. You could also partner it with a long-range assault rifle, and a strong pick is the NZ-41. Check out our NZ-41 Warzone loadout guide for a great build.
Alternatively, you can drop into Caldera with this Bren Warzone loadout or this STG44 Warzone loadout.
MP40 Warzone loadout perks and equipment
For perks, we recommend running Double Time, Overkill, and Combat Scout – it's a tried and tested trio that has extremely high usage rates in Warzone right now.
Equipment-wise, running a combination of Stun Grenades and Semtex is probably your best option.
The MP40 has made a serious impact on the meta and is easily one of the best Warzone guns available right now, thanks to both its popularity in Vanguard and its incredible versatility. It's the most popular gun in the battle royale, and we expect its reign to continue beyond Warzone Pacific Season 3.