Call of Duty Warzone has been out a long time and players are spoilt for choice when it comes to throwing a great assault rifle into their best Warzone loadouts. However, as always, there's one assault rifle dominating the Warzone meta right now and that's the NZ-41. Whether you're gunning for kills or collecting cash, we have the best NZ-41 Warzone loadout for you right here.
With a competitive magazine size, damage profile, and a solid fire rate, the comparisons between NZ-41 and some of the best Warzone guns of the past are not misplaced. This gun is a beast in Vanguard's multiplayer mode and it's just as effective, if not moreso, in the Call of Duty battle royale. So, yeah… This NZ-41 Warzone loadout is going to be worth putting together.
But, enough chit-chat. Let's jump into the class setup you're going to need to make the most of this killer assault rifle. We'll go over all the attachments, the perks, the equipment… You know, everything you're going to need to get that win.
NZ-41 Warzone loadout
'Marathon', a content creator with a knack for finding the best Warzone weapon builds, has thrown together something for the NZ-41 that we reckon is the best you're going to get right now. So, without further ado, here's the best NZ-41 Warzone loadout available:
Muzzle: MX Silencer
Barrel: LOR Mk1 Burst
Optic: SVT-40 PU Scope 3-6x
Stock: Orbweaver E Pack
Underbarrel: M1941 Hand Stop
Magazine: 6.5mm Sakura 50 Round Mags
Ammunition: Lengthened
Rear Grip: Stippled Grip
Perk 1: Brace
Perk 2: Fully Loaded
The MX Silencer is really a no-brainer when it comes to the NZ-41. It does slow down ADS speed, but it adds damage range, recoil control for both axis, and that all-important sound suppression. Then, interestingly, you're going to want the LOR Mk1 Burst barrel attachment – but, you don't want to use the burst fire mode. This attachment increases the weapon's damage range even further, and boosts accuracy, helping it hit hard at any distance.
Adding to this, the Orbweaver E Pack stock, M1941 Hand Stop underbarrel, and Stippled Grip all increase recoil control and accuracy.
Finally, to take advantage of all this increased accuracy, you're going to want to equip the SVT-40 PU Scope and the 6.5mm Sakura 50 Round Mags.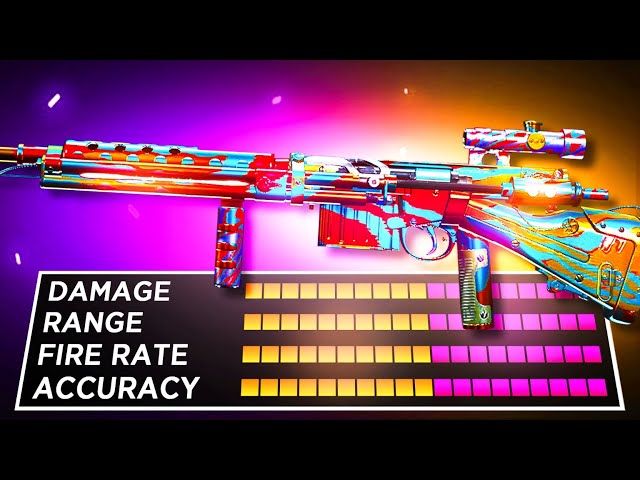 NZ-41 Warzone loadout secondary
With this weapon being a long-range build, you're going to want to check out a fast-firing SMG to accompany it.
So, that's why we recommend this Owen Gun Warzone loadout and this Welgun Warzone loadout. It's also worth checking out this Jak-12 Warzone loadout if you're looking for something even more close range.
NZ-41 Warzone loadout perks and equipment
This class is going to be a beast, but you need to finish it off with some perks – and a grenade or two, right?
With this in mind, you're going to want to run Serpentine, Overkill, and Combat Scout. We also recommend Throwing Knives or Semtex for your lethal slot and Stun Grenades for your tactical slot.
If you're looking for something that's going to kick ass, we've got you covered with this epic assault rifle. We just hope that it's going to stay that way after Raven Software's next weapon balancing sweep.