It's safe to say that Call of Duty Warzone players are a little spoilt for choice when it comes to fantastic assault rifles. There's a few weapons out there that are comfortably always in the upper echelons of the Warzone meta and one of those is the STG44. If you're looking for the best STG44 Warzone loadout right now, we have you covered with information on an attachment build and class options below.
If you're wondering why you even need to be using the best STG44 Warzone loadout right now, then all you need to do is check out the stats. This weapon is one of the most popular best Warzone guns out there right now, and for good reason. It boasts one of the highest K/D ratios, a competitve win-rate, and it's one of the most balanced weapons available.
So, yeah… If you want to fill out your best Warzone loadouts with something reliable, you're going to want to check out this assault rifle. Just, trust us on this one.
STG44 Warzone loadout
Following the latest weapon balancing sweep (thanks, Raven Software), Call of Duty content creator 'Marathon' has put together an STG44 that shreds. So, if you want to get your hands on the best STG44 Warzone loadout, you need the following:
Muzzle: MX Silencer
Barrel: VDD 760mm 05B
Optic: SVT-40 PU Scope 3-6x
Stock: VDD 34S Weighted
Underbarrel: M1941 Hand Stop
Magazine: 7.62 Gorenko 50 Round Mags
Ammunition: Lengthened
Rear Grip: Polymer Grip
Perk 1: Nerves of Steel
Perk 2: Fully Loaded
The STG44 is perpetually a menace in Call of Duty Vanguard's multiplayer and, more often than not, it's the same in the battle royale. So… To kick things off, you're going to want to equip the MX Silencer. This is a popular option at the moment and for good reason. It boost recoil control, damage range, and that all-important sound suppression.
The VDD 760mm O5B barrel attachment, the VDD 34S Weighted stock, the M1941 Hand Stop, and the Polymer Grip all improve this weapon's overall accuracy and play into its' natural strengths as an assault rifle.
Finally, to take advantage of all this, you're going to want the SVT-40 PU Scope, a larger magazine, and Lengthened ammunition.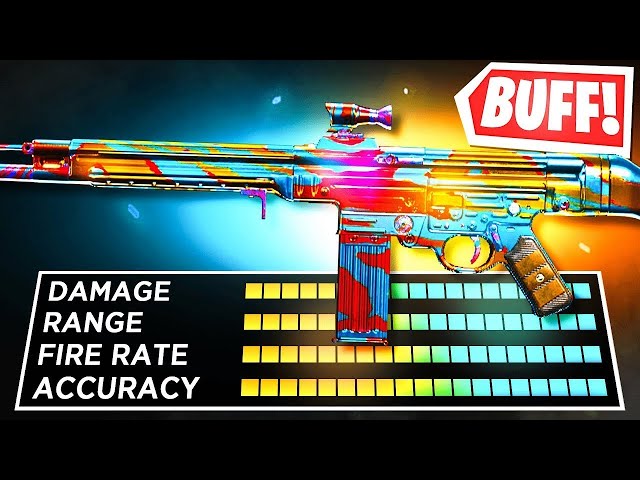 STG44 Warzone loadout secondary
This might be a bit weaker than the best NZ-41 Warzone loadout out there right now, but that doesn't mean you shouldn't consider it as the long-range option in your loadout.
With that in mind, we recommend this Owen Gun Warzone loadout, this MP40 Warzone loadout, or this H4 Blixen Warzone loadout as a pairing. All of these SMGs excel in close-quarters combat – and it's important to be prepared for attacks at any distance.
STG44 Warzone loadout perks and equipment
While perk choice is really down to personal preference these days, we think the best trio is Double Time, Overkill, and Combat Scout
For equipment, we still recommend running a Heartbeat Sensor – even after its nerf – and Semtex.
So, that's what the best STG44 Warzone loadout looks like. Is it one of the guns out there? Whose to say – but it will get you a lot of kills.