Call of Duty Warzone players are spoilt for choice when it comes to picking the best Warzone guns for your loadouts – and that choice just got a whole lot harder with the introduction of the UGR. This Black Ops Cold War SMG is a beast right now and we have the best UGR Warzone loadout options for you to check out below.
With deadly accuracy and a decent-enough fire rate, Warzone players will be able to hit hard at a distance with this Submachine Gun and shred at close range when required. It's a hybrid weapon, of sorts, and you should find a lot of joy having a UGR Warzone loadout close to hand.
Of course, though, we need to talk about what this loadout contains. So, keep reading and we'll sort everything out and let you know what attachments you need and how you should set up the rest of your class. It might not break the Warzone meta, but it'll get you the kills when it counts.
UGR Warzone loadout
'WhoIsImmortal', a content creator known for identifying the best weapon builds at the moment, has put together a UGR Warzone loadout that takes advantage of this weapon's strengths to be one of the best builds for the gun right now. Here's what you need to know:
Muzzle: GRU Suppressor
Barrel: 10.7" Task Force
Laser: Tiger Team Spotlight
Optic: Microflex LED
Magazine: Explosive Flechettes
The iron sights on the UGR are a bit poor, so the Microflex LED is a fantastic option for a weapon where you don't need high magnification.
Then, we come to the GRU Suppressor and the barrel attachment. The muzzle increases damage range and bullet velocity alongside improving vertical recoil control. Couple that with the 10.7" Task Force barrel that doubles down on the benefits of the GRU Suppressor with added strafe speed and you're onto a winner.
Finally, throwing the Explosive Flechettes onto this weapon might seem unfair on your opponents, but it's disgustingly good right now. This magazine increases the weapon's effective damage range on top of adding explosive impact damage to each shot. Even if you're missing a handful of shots in a gunfight, you should end up with the kill.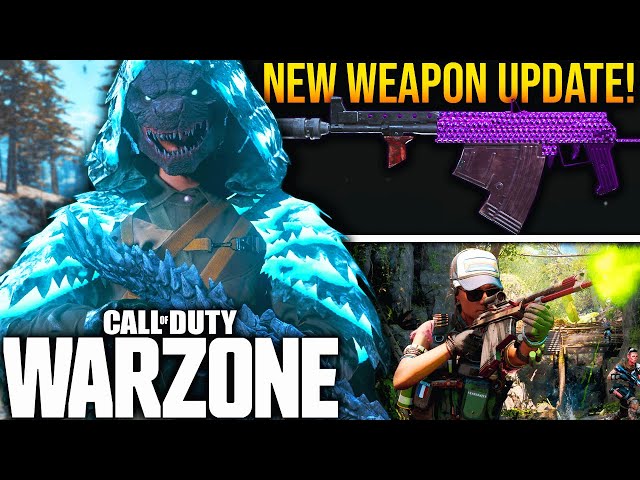 UGR Warzone loadout secondary
The UGR is a weird one – it's a decent SMG but not the most fast-firing option. So, if you're looking for something even quicker, we recommend this Nikita AVT Warzone loadout or this Cooper Carbine Warzone loadout.
If you fancy something with a bit more range, this Bren Warzone loadout and this Automaton Warzone loadout will do the job. Or, for those of you looking for a sniper class setup, check out this HDR Warzone loadout.
UGR Warzone loadout perks and equipment
Raven Software has been tweaking perks recently, but that doesn't change the best options when it comes to the three perk slots in your class. You're going to want to rock Double Time, Overkill, and Combat Scout. If you're confident you'll find a weapon you like out there, though, Ghost isn't the worst choice. Just be warned, it doesn't work when you're stationary anymore.
As for the equipment, we recommend Throwing Knives for the Lethal slot – or Semtex if you're prone to miss your throws. Stun Grenades remain the best Tactical equipment option in Warzone Season 3.
Well, that's all there is to it. If you want more information about the best Warzone loadouts, you can find it here. Will the UGR cement itself in the meta? We just don't know yet – but you might find a new favourite SMG with it in your loadout.