In Call of Duty Warzone, you need to balance your close-range options with your long-range options – especially if you want to use some of the best Warzone loadouts available. So, that's why we're taking a look at an established sniper rifle and a HDR Warzone loadout you can rely on in the heat of battle.
The HDR has been around for a little while now, but that hasn't stopped it being one of the harder-hitting sniper rifles in Warzone Pacific Season 3. With all the changes being made by Raven Software, it's hard to pin down where this weapon fits in the Warzone meta – but, don't let worry you. The best HDR Warzone loadout is still going to get the job done.
As we all know by now, attachments are everything when it comes to a decent weapon build – and the perks help too. So, keep reading for the low-down on what you need to equip with your HDR and everything else you need to know.
HDR Warzone loadout
Let's get stuck into it. Zack 'ZLaner' Lane is a trusted name in the Warzone community when it comes to the best loadouts and weapon builds and he's thrown together a HDR Warzone loadout for Season 3 that promises to drop enemies – like it's hot, or not.
Here's what you need to know for the best HDR Warzone loadout build:
Muzzle:

Monolithic Suppressor

Barrel:

28.9" HDR Pro

Laser

: Tac Laser

Stock:

FTAC Stalker Scout

Perk

: Sleight of Hand
The HDR is a high-damage, high-accuracy, high-range sniper rifle. So, this build is all about making the most of this weapon's natural assets. As a sniper rifle, it comes equipped with a decent scope – so, you don't need to worry about that.
The Monolithic Suppressor is the obvious choice when it comes to muzzle options – adding damage range and, of course, sound suppression to this rifle will keep you hitting hard from a distance without much fuss. Throw the 28.9" HDR Pro into the mix, and you've got yourself a decent rifle.
The Tac Laser and the FTAC Stalker Scout attachments just tip this weapon over the edge to make it a fantastic option – whether you're stalking the jungles of Caldera, or the corridors of Rebirth Island.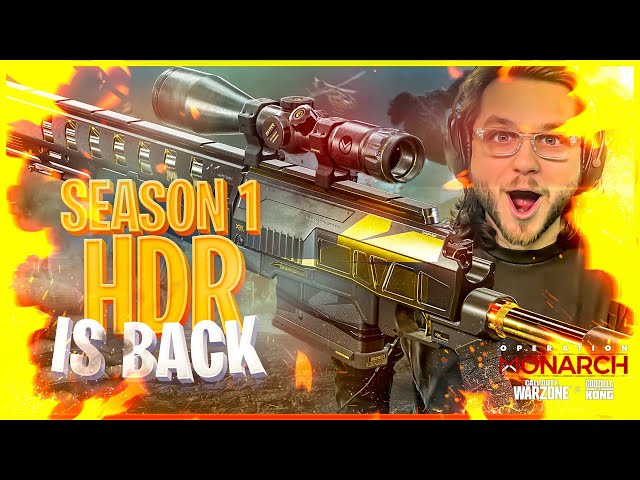 HDR Warzone loadout secondary
With a sniper rifle, the best option for your loadout is to balance the long-range option with a short-range choice. So, you're going to want to take an SMG or a lighter assault rifle into battle with you.
For Submachine Guns, we recommend you check out our Cooper Carbine Warzone loadout or our Owen Gun Warzone loadout. For assault rifles, the new Nikita AVT Warzone loadout is a great choice – or the older XM4 Warzone loadout makes for a fantastic option.
HDR Warzone loadout perks and equipment
Raven Software has been tweaking things when it comes to Warzone's perks, but there are a few popular options that fit this HDR Warzone loadout well. The combination of Double Time, Overkill, and Combat Scout remains the best option.
For equipment, we recommend taking Semtex or Throwing Knives into battle with your loadout. In the tactical equipment slot, we recommend dropping in with Stun Grenades – or a Heartbeat Sensor if you're worried about being ambushed.
Well, that's all you need to know about the best HDR loadout for Warzone Pacific Season 3 and beyond. Is it going to be the next best weapon? Who knows, but we hope so.