In Call of Duty Warzone, the Automaton is the definition of a laser beam. With a high fire rate and minimal recoil, this Automaton Warzone loadout is easily one of the best classes to drop into Caldera or Rebirth Island with.
The Automaton is easily one of the most popular assault rifles in the Warzone meta and it's a fantastic option for anyone looking for a reliable weapon. This is, mainly, because it's so easy to use. It's deadly at almost any ranges and its extremely fast-firing – people often compare it to Modern Warfare's Grau, which also held 'laser beam' status during the Verdansk era of the battle royale.
These factors all contribute to making the following build the best Automaton Warzone loadout out there right now and one of the best Warzone guns available. Here's everything you need to know regarding attachments, equipment, perks, and more.
Automaton Warzone loadout
'IceManIsaac' is well known for being a great person to turn to for Call of Duty Warzone loadout builds and he's shared the best Automaton Warzone loadout we've seen for a long time. Here's what you need to know:
Muzzle: MX Silencer
Barrel: ZAC 600mm BFA
Optic: SVT-40 PL Scope 3-6x
Stock: Anastasia Padded
Underbarrel: M1941 Hand Stop
Magazine: 6.5mm Sakura 75 Round Drums
Ammunition: Lengthened
Rear Grip: Polymer Grip
Perk 1: Tight Grip
Perk 2: Fully Loaded
This absolute monster of an Automaton class will guarantee you decent damage at range and a decent level of magnification to take advantage of this with the SVT-40 optic. The Sakura 75 Round Drum will also make sure you have enough ammo for almost any firefight.
The MX Silencer is going to keep your damage range up and the ZAC 600mm BFA barrel will reduce scope sway while firing – something that should help you land your shots when aiming down sights.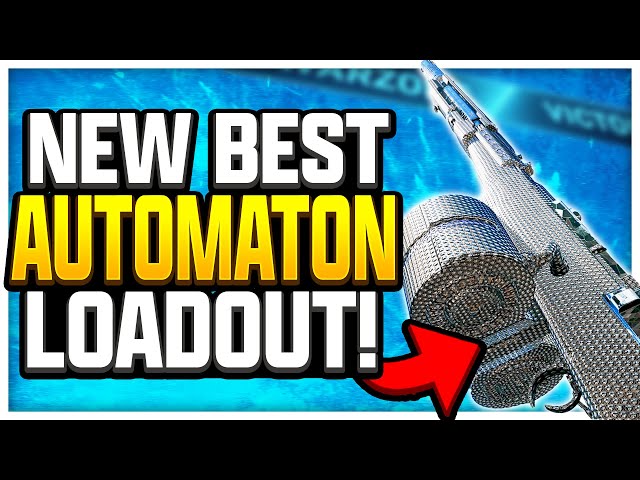 Automaton Warzone loadout secondary
This Automaton can probably hold its own at closer ranges, but you should always consider taking an SMG with you into the fight. Check out this Owen Gun Warzone loadout or this PPSh Warzone loadout for a potential meta-busting secondary.
This weapon would also do well paired with a sniper rifle – check out the best Kar98K Warzone loadout for a solid build.
Automaton Warzone loadout perks and equipment
For a solid, dependable class like this, you'll need a trio of solid, dependable perks to go with it. Double Time, Overkill, and Combat Scout is our go to in Season 3.
For your equipment, we recommend that most players should run Semtex and Stun Grenades. However, if you want to get a bit aggressive and charge into teamfights, Throwing Knives and Stims will serve you well.
There you have it, the best Automaton Warzone loadout you can make in Season 3. Give this a spin, and you'll be sending folks to the Gulag quicker than you can say "overpowered".