Call of Duty: Warzone Season 6 brings with it all sorts of goodies, including five brand new weapons to dispatch your enemies with down in Verdansk. One of these additions is the Grav – a fast-firing assault rifle which boasts best-in-class bullet velocity. On the surface, this sounds like an absolute dream for players who love to beam from distance.
However, from what we've seen of it, the Grav comes with a considerable amount of recoil, which means you're going to have to allocate some of your attachment slots to getting this wild beast under control. But once you get used to the spray and kit it out properly, you'll be shredding through players at range with ease.
So where does the Grav live in the Warzone meta? Well, thanks to some good-looking iron sights and its innate characteristics, we could see the Grav being picked up as an alternative to the Cold War AK-47 loadout that's currently ruling the assault rifle roost. Both weapons can be kitted out to be potent at all ranges, despite their unruly recoil patterns, though with the AK-47 you won't have to wrestle with the initial kick the Grav has.
Is the Grav the best Warzone gun? Probably not as things stand, but it can still put in a shift in Verdnask and you should definitely give it a shot. Should you decide to add the Grav to your loadout, here's the best Grav class we've seen so far.
Grav Warzone loadout
Agency Suppressor
21.3" Task Force
Axial Arms 3x
Field Agent Grip
50 Rnd
Right now there is no better build to maximise the Grav's strengths and mitigate its weaknesses than this. The combination of the Agency Suppressor and 21.3" Task Force at the front of the rifle brings the Grav's already-monstrous bullet velocity and effective damage range to the next level, while taming some of its recoil. To really bring the Grav under control, add a Field Agent Grip into the mix.
For sights and the magazine, you have two options. You can either opt to run iron sights for close range (which would also free up an extra attachment slot), or the Axial Arms 3x if you want to eviscerate opponents from afar. The 50 Rnd mag is what we'd recommend for Trios or Quads, as you really do need those extra rounds when fighting whole squads.
Meanwhile, if you're planning on bringing the Grav into a Solos or Duos lobby, then the smaller RK-7 30 Rnd Conversion is the easy choice, thanks to the 7.62 caliber rounds offering more damage and faster bullet velocity – the Grav's bread and butter.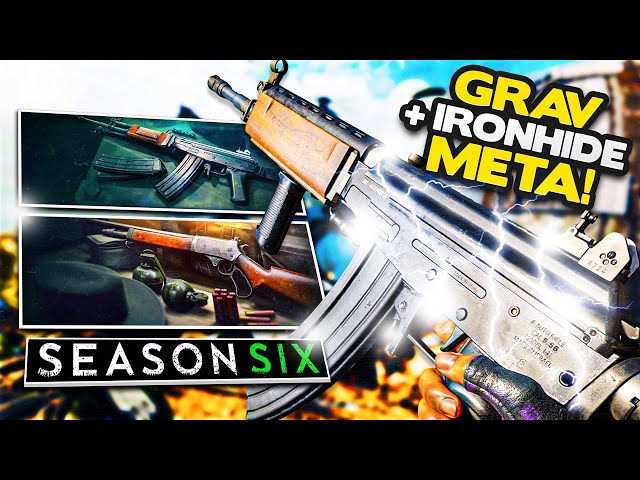 Grav Warzone loadout secondary
Of course, if you're bringing the Grav to Verdansk, then you're probably going to want a partner for it. We'd naturally recommend either our Bullfrog Warzone loadout or MAC-10 Warzone loadout if you're running the Grav at range. If you're offsetting the kick by jamming players at close range, then the Grav could easily play second fiddle in a sniper class – take our Kar98k Warzone loadout for example.
Grav Warzone loadout perks and equipment
For your perks, you can't go wrong running Double Team, Overkill, and Amped. A Heartbeat Sensor is pretty much the gold standard for tactical equipment at this point, so pack one into your build. For your lethal slot, either Thermite Grenades or C4 will do the job.
The Grav is certainly one of the more interesting assault rifles developer Raven Software has added to Warzone so far, so you should definitely treat yourself to a game or two with it.