We know we keep saying this, but it's been one hell of a week since our last entry into the Best Warzone Loadout of the Week series. The first weekend of the long-awaited Modern Warfare 2 beta has come and gone and now it's back to the sunny shores of Caldera for another iteration of our Best Warzone Loadout of the Week series. This week's primary weapon comes from 'Chuck', a Warzone whiz with a keen eye for weapons that fit nicely into the Warzone meta, and we've filled out the rest of the class. If you want to enjoy some classics, you need to use this class that features the best MP40 Warzone loadout and the best Grau Warzone loadout.
We know it's been a long time coming, but the Grau is finally falling back into people's best Warzone loadouts – just ahead of the approaching Warzone 2 release date. It was one of the best Warzone guns for a long time and now it's back – thanks to a few updates from Raven Software.
However, before we get stuck into that, we need to talk about Chuck's MP40 build – because it is beyond broken.
Whether you're taking on enemies on Caldera, Fortune's Keep, or Rebirth Island, here's what you need for this SMG:
Muzzle: Recoil Booster
Barrel: VDD 189mm Short
Optic: Slate Reflector
Stock: Krausnick 33M Folding
Underbarrel: Mark VI Skeletal
Magazine: 7.62 Gorenko 45 Round Mags
Ammunition: Subsonic
Rear Grip: Taped Grip
Perk 1: Brace
Perk 2: Quick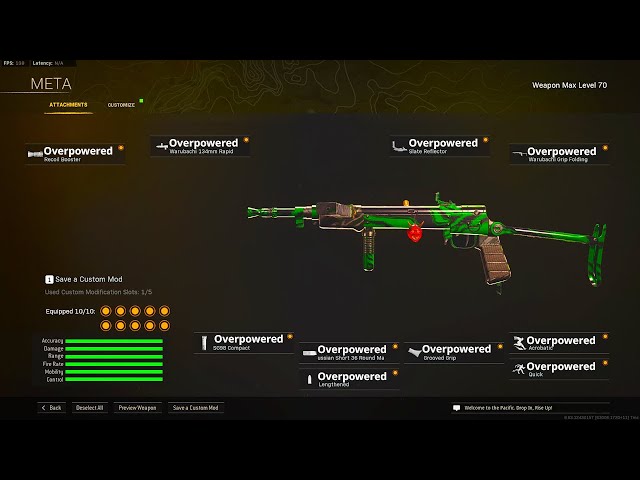 Now that we've discussed that, it's time to talk about the Grau. We have turned to competent player Ean 'FaZe Booya' Chase for a build that makes the most of this assault rifle's most-recent buffs. Here's the build:
Muzzle: Monolithic Suppressor
Barrel: Tempus 26.4" Archangel
Laser: N/A
Optic: VLK 3.0x Optic
Stock: N/A
Underbarrel: Commando Foregrip
Magazine: 60 Round Mags
Rear Grip: N/A
Perk: N/A
To finish things off, you're going to want to equip Quick Fix, Overkill, and Amped in the perk slots for this class and Semtex and Stims for the equipment slots. This is going to keep you reactive to close-range situations, but prepared for longer-range engagements. It's a class of classics that should scratch that nostalgic itch you have while we wait for the next iteration of what is one of the best battle royale games out there right now.