The Grau 5.56 assault rifle is one of the original Call of Duty Warzone weapons. Introduced way back in the first season, this weapon is widely regarded as one of the best assault rifles in Warzone's history – thanks to its easy-to-control recoil pattern and dependable damage.
Despite the fact that this gun has been nerfed and buffed more times than we remember, it's still one of the best Warzone guns – even in the Warzone Pacific era. There are a lot of exciting new weapons for the Grau to contest with, but don't be fooled – this will still do the job and then some.
But what is the best Grau Warzone loadout? Well, you're about to find out. Here's everything you need to know about setting up your Grau for your next Warzone win in Caldera, including which perks, equipment, and second weapon you'll need to take along for the ride.
Grau Warzone loadout
The best Grau Warzone loadout for Warzone Pacific Season 2 is:
Muzzle: Monolithic Suppressor
Barrel: Tempus 26.4″ Archangel
Laser: Tac Laser
Underbarrel: Commando Foregrip
Magazine: 60 Round Mag
Zac 'WhoIsImmortal', a Karnage clan content creator and a trusted name when it comes to Warzone weapon builds, has revisited the Grau in recent weeks and shared the best Grau Warzone loadout at the moment.
For inexperienced Warzone players, this build is the perfect assault rifle. It has virtually no recoil and can rival some of the hardest-hitting ARs in Warzone – this makes it ideal for casuals or newer players.
The Monolithic Suppressor muzzle and Tempus 26.4″ Archangel barrel increase the Grau's range, meanwhile, the Tac Laser and Commando Foregrip help improve aiming stability during sustained fire.
If you want to throw an optic attachment onto this weapon, we'd recommend subbing out the Tac Laser for that. 60 Round Mags aren't as important as the other attachments, but you can never have too many bullets when it comes to Warzone.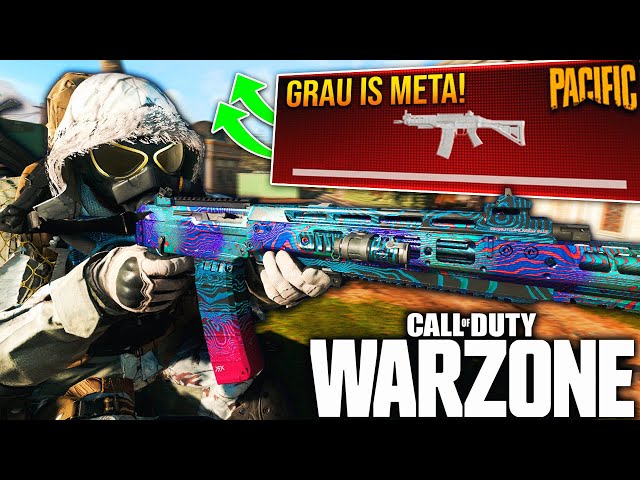 Grau Warzone loadout secondary
While your Grau will be putting in the work at medium and long ranges, at close-range it could get outgunned. That's where a fast-firing SMG comes in clutch as a secondary.
A personal favourite of ours for Warzone Pacific Season 2 is the Owen Gun – our Owen Gun Warzone loadout guide will help you kit it out with the best attachments.
Grau Warzone loadout perks and equipment
For perks in this Grau class, we'd recommend opting for Double Time, Overkill, and Amped.
For the equipment, we'd go with the Heartbeat Sensor and Semtex as your two pieces of equipment.
So that's our rundown of the best Grau Warzone loadout in Warzone Pacific Season 2. Check out our best Warzone loadouts guide for dozens of great weapon builds if the Grau isn't to your fancy.