In Call of Duty Warzone Pacific Season 3, there are a lot of options when it comes to putting together a loadout with one of the best Warzone guns. The Warzone meta is in a great place right now – so, thanks Raven Software! If you're looking for something a bit different, this Fara 83 Warzone loadout might be your new favourite.
The Fara 83 has changed a lot over the last few months, but it's far from a bad weapon to drop into Caldera with – or Rebirth Island, if that's more your speed. It might not be top of the pops when it comes to popularity, but the right Fara 83 Warzone loadout will keep you coming back for more.
It may have started off as a close-range option, but now it's one of the best long-range assault rifles. So, if that's what you're looking for, you're in the right place. Keep reading for everything you need to know.
Fara 83 Warzone loadout
'WhoIsImmortal', a Warzone content creator with a keen eye for the best weapon builds, has put together a Fara 83 Warzone loadout that's certain to impress. Here's everything you need to know:
Muzzle: GRU Suppressor
Barrel: 16.7″ Spetsnaz RPK Barrel
Underbarrel: Spetsnaz Grip
Magazine: Spetsnaz 60 Rnd
Optic: Axial Arms 3x
The GRU Suppressor is the first attachment you need to add to this weapon – and the stats make it clear as to why. It increases the Fara 83's Bullet Velocity, Effective Damage Range, and Vertical Recoil Control stats to lean further into this weapon's natural strengths as a long-range option. The RPK Barrel also increases all of these stats, making it the obvious choice.
To increase recoil control further, WhoIsImmortal has opted for the Spetsnaz Grip and the Axial Arms 3x optic will make sure you can see the things you're shooting at. The addition of the 60 Rnd magazine helps combat Warzone's increased health pool. Sometimes you just need an extra bullet or two to win a gunfight.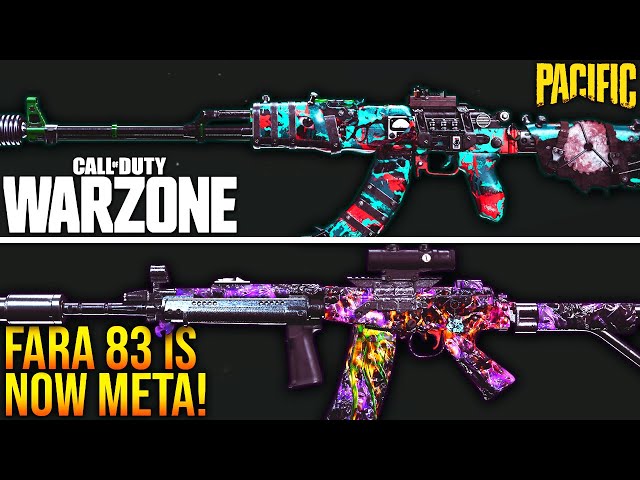 Fara 83 Warzone loadout secondary
This long-range weapon is going to be best used as an accompaniment to a fast-firing SMG. So, with that in mind, we recommend checking out our Owen Gun Warzone loadout or our Welgun Warzone loadout.
You can also use this as a sniper support weapon, if you're that way inclined. This Kar98k Warzone loadout and this HDR Warzone loadout are the best options at the moment.
Fara 83 Warzone loadout perks and equipment
Despite Raven Software's recent changes, the perk recommendations for this Fara 83 Warzone Loadout are Double Time, Overkill, and Combat Scout. These might be the most popular options, but there's a good reason for that.
As for equipment, Throwing Knives and Semtex make excellent Lethal options. Stun Grenades are our go-to Tactical choice – but a Heartbeat Sensor works too.
Well, that's all there is to it! If you're a fan of this loadout – or if you're looking for something else – check out our guide to the best Warzone loadouts right here.