Your next look at Modern Warfare 3 comes in the form of a thrilling cinematic, as Activision debuts the first MW3 Zombies trailer. A first for the Modern Warfare series, the open-world mode promises the biggest Call of Duty Zombies experience yet. However, there are already clues suggesting where the story will go, and the return of some familiar faces.
MW3 Zombies tasks players with participating in Operation Deadbolt, a contingency plan laid out by the CIA following the zombies outbreak witnessed by Requiem operatives in the 1980s. Black Ops Cold War fans will recognize that name, and that's because the Dark Aether timeline continues here. But we're not off to a great start for saving the world.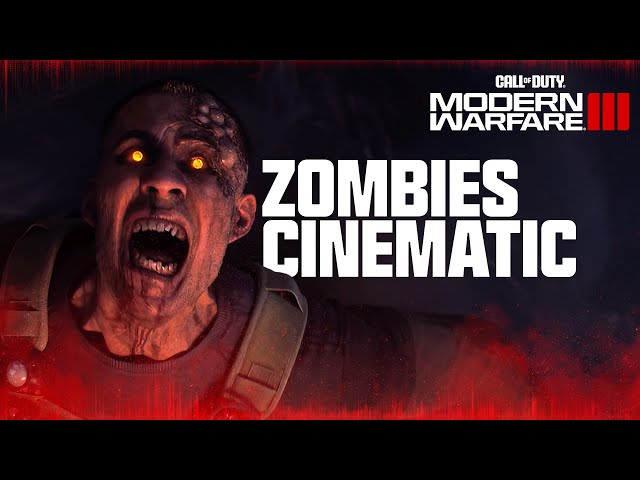 5. Weaver and Requiem from Black Ops Cold War
Viktor Zakhaev leads his team of Terminus Outcomes soldiers into a long abandoned basement, revealing what appears to be the four head operatives of Requiem. All joining hands in what could be a ritual sacrifice in front of a mysterious device, one of the deceased members is seemingly none other than Grigori Weaver from the Black Ops series. Though Activision is yet to confirm this, the likeness and circumstances are just too specific to dismiss it. The last time we saw Weaver in the Dark Aether timeline, he was arrested and sent to BLACKSITE-13 by Edward Richtofen.
4. COD Zombies Wonder Weapons
It wouldn't be a true COD Zombies experience without Wonder Weapons to do damage with. Sadly, we don't get to see whether the iconic Ray Gun or Wunderwaffe DG-2 are returning. However, we do get a brief look at the CRBR-S (Conversion-Ready Binary Repeater-Standard). First appearing in the map Mauer Der Toten, this Wonder Weapon can be equipped with different mods, each dispatching the undead with various effects. Hopefully this means the Mystery Box is back, too.
3. Return of COD Zombies perks
Black Ops Cold War gave COD Zombies perks a rebranding of sorts. Leaving glass bottles in the past and popping them in vibrantly designed cans, tried-and-tested perks like Juggernog and Quick Revive could also be upgraded by spending Aetherium Crystals. It is hard to make out exactly what perks are on the shelf, but we speculate that Juggernog, Stamin-Up, and Elemental Pop are the ones present in the trailer.
2. Monkey Bombs
Aside from Quick Revive, Monkey Bombs are essential for getting your squad out of a pinch. Originating back in the World at War Zombies era, this legendary piece of equipment looks set to be thrown all over the brand-new map.
1. The Forsaken
Throughout COD Zombies, we've seen the undead possessed and controlled by different people and entities. For much of the complicated lore, key figures like Samantha and Ludvig Maxis had them in their grasp – indicated by the undead's yellow eyes. When Richtofen assumed control, they turned blue. Other figures like The Warden (Blood of the Dead) and the Kortifex (COD Vanguard) saw them turn red. As you can see, the classic yellow returns here, which is also an indicator of The Forsaken's wrath from Black Ops Cold War. Though the bridge between worlds was closed off in BOCW, this is our biggest hint yet that an incredible threat is on the horizon.
That's just what we've spotted in the MW3 Zombies reveal trailer. We know Activision is hiding plenty of secrets, and we can't wait for the Modern Warfare 3 release date to find them all. There might be a MW3 Zombies beta to dive into as well. Until then, you can get your first taste of MW3 multiplayer soon, as the MW3 beta approaches. Here's how you can get a free MW3 beta code.