When is the Call of Duty MW3 release date? After months of leaks and rumors, Activision has finally revealed 2023's Modern Warfare 3, and it's shaping up to be pretty amazing, especially for veteran COD players. The MW3 2023 release date isn't all that far away either, so here's everything you need to know about when you can play Modern Warfare 3.
Despite past rumors that Activision would pivot to a two-year release cycle for Call of Duty games and that there would be no Call of Duty game in 2023, we now know that to not be the case. With Sledgehammer Games at the helm, Call of Duty MW3 could be one of the best FPS games when it comes out, as it features several important innovations. MW3 Zombies will be in the game, and the MW3 map list is comprised of some remastered gems from a classic Modern Warfare title. So, if that's not enough to convince you to get your MW3 pre-order in, check out everything else we know about Modern Warfare 3, including its official release date.
Call of Duty MW3 release date
The Call of Duty MW3 release date is Friday, November 10, 2023, on PS5, PS4, Xbox Series X|S, Xbox One, and PC. This was first confirmed by Activision in a reveal trailer for the game on August 7.
The reveal trailer not only confirmed the Modern Warfare 3 title and release date, but introduced us to an old nemesis. In 2023's MW3 Makarov returns as the main villain, as was teased at the end of 2022's Modern Warfare 2.
Prior to this official confirmation, the release date was also leaked ahead of time by Insider Gaming. Perhaps most interestingly though, the FTC vs Microsoft court battle also revealed pertinent details when a Federal Judge seemingly confirmed Call of Duty 2023 would release in November. While no specific date was provided, the official Call of Duty Twitter account seemingly acknowledged the information leaked during the court hearing with a very suspicious post.
From here, the Call of Duty Twitter account also asked players whether Operators, weapons, and bundles from MW2 should carry on forward into Call of Duty 2023, promising a reveal on the topic "soon". This also suggested that the next Call of Duty was, in fact, MW3, given the time period of the equipment that could potentially be carried forward. This was eventually confirmed, with MW2 to MW3 camos transfer and MW2 to MW3 skins transfer procedures announced.
The Modern Warfare 3 logo also leaked from a Monster Energy promotion, alongside key art.
Nevertheless, now that we know the MW3 release date, it's clear it will now have stiff competition. Ubisoft's free-to-play shooter XDefiant has been picking up steam throughout multiple playtests and it's only going to go up from here. With the XDefiant release date likely landing before MW3 comes out, Activision could find their hardcore players have moved elsewhere. Long-time Call of Duty fans and competitive-minded players weren't massive fans of its predecessor, MW2. However, Sledgehammer Games is making huge strides towards making those players happy again, with nostalgic maps, long-requested features, and much more. You can read about all of that further on in this guide.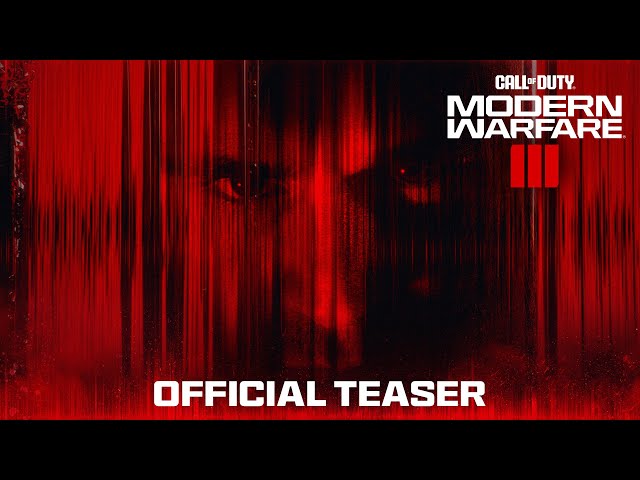 Besides the MW3 launch date, leaks have also revealed several important dates to mark on your calendars for MW3 early access and the MW3 beta. The latter will take place in October, while MW3 campaign early access will begin on November 3, a week before launch.
Call of Duty MW3 new features confirmed
Thanks to a Call of Duty Modern Warfare 3 blog, we know several of the new features coming in MW3. These are:
Modern Warfare Zombies – the largest Zombies offering to date
New 'Open Combat Missions' in Campaign
New Combat Vests and Perk system in multiplayer modes
New Tac-Stance movement
New After-Market Parts in the Gunsmith
All MW2 weapons, camos, attachments, and Operators carrying forward into MW3
From this list of new features, it looks as though MW3 is surprisingly innovative, despite claims that it was an expansion for MW2 that was padded out to become a full new premium game.
For those that love Call of Duty campaigns, Open Combat Missions in the campaign mode. While MW3 will have traditional, linear, cinematic missions, these will be cut with some of these Open Combat Missions, which are larger missions that encourage different approaches and player choice.
"You may wish to undertake an OCM with a lights-out approach, using night-vision goggles and suppressed weapons and complete your objectives without your adversaries knowing you were even there," Activision says. "However, if loud explosions and reckless abandon are part of your repertoire, strap extra armor plates onto your torso and hit those targets head-on!"
Next, MW3 Zombies, known as Modern Warfare Zombies, is set to redefine the experience of this fan-favorite mode. According to Activision, it's the "largest Zombies offering to date", so expect some exciting new maps, weapons, and features that spice up the intense zombie-slaying action fans have come to know and love. Some content creators also attending a briefing about MW3, and claim that MW3 Zombies will actually feel a lot like Warzone's DMZ experience, rather than being round-based. Activision also promises "some of the biggest enemies in Call of Duty history" to appear in Zombies.
From here, MW3 will also build significantly upon the multiplayer offerings of the past. With a new Combat Vests and Perk system setting the groundwork for revitalized loadout customization, even veterans will have new toys to play with when it comes to customizing your playstyle. Likewise, there's also new After-Market Parts for use in the Gunsmith. These are essentially extra attachments that can dramatically change the feel and performance of a weapon, and can be unlocked through gameplay challenges.
Some of the main complaints about MW2 multiplayer are also being addressed, with a new movement system, 150 base health, a classic minimap, and map voting returning.
Call of Duty MW3 campaign gameplay
You can check out the MW3 campaign gameplay below from Gamescom 2023 Opening Night Live. It is from the mission 'Kostovian Sea'. While this isn't one of the MW3 open combat missions, it does appear to be inspired by The Gulag mission from MW2. It's a unique twist on that though by taking place in a castle and focusing on stealth and espionage.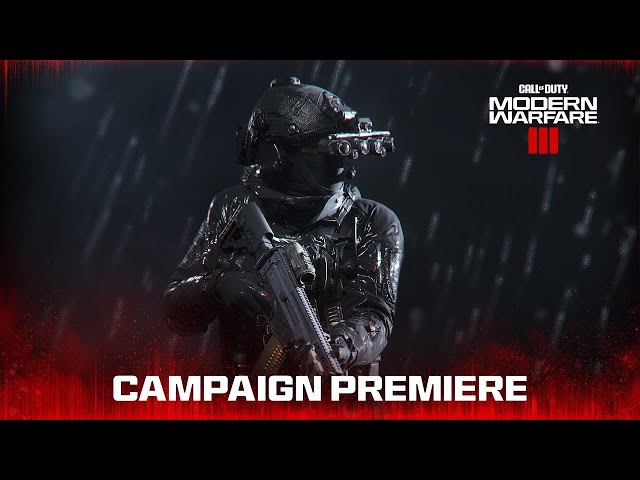 The original Gulag mission also saw you embarking on a covert operation to break a character (Captain Price) out of imprisonment, though it's rumored that Price is not the one in the cell this time around.
While this gameplay was rather slow, largely due to it being a stealth mission, the lengths Activision has gone to provide an immersive experience is evident.
Overall, you can expect action-packed set-pieces, plenty of epic car chases, stealth missions, and also the brand-new Open Combat missions. The MW3 campaign will certainly be a wild ride, especially with the narrative stakes having risen once again.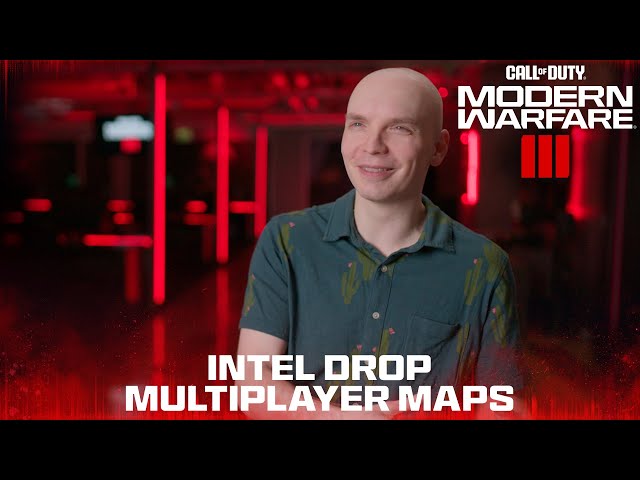 Call of Duty MW3 multiplayer gameplay
The official development video above offers the first look at Call of Duty MW3 multiplayer gameplay, showing off remastered maps and the faster movement of the upcoming game.
This is most apparent when we see a player traversing Highrise by clambering up ledges and jumping across to beams. Not only will this provide for much faster gameplay than the previous game, but it will also offer a new experience even on these remastered maps. From this gameplay, which can expect much greater flanking opportunities and a much faster paced multiplayer overall.
Activision offered an insight into its approach to remastering these old-favorites and how it impacts multiplayer gameplay in a dedicated Call of Duty MW3 blog post.
Call of Duty MW3 maps
As was originally leaked by 'CoD_Perseus' and 'El_Bobberto', MW3 multiplayer will feature 16 maps at launch, and all of them are fully-remastered versions of maps from the original MW2. Yes, you read that right – the MW3 maps will include the likes of Rust, Favela, and Terminal.
It's certainly surprising that we are seeing original MW2 maps remade in this title, rather than the 2022 game. Again though, this is likely a hangover of MW3 being (reportedly) an expansion to MW2 that morphed into a full game.
While the only brand-new maps are four new Ground War/Invasion maps, and one War Mode map, Sledgehammer has pledged to launch at least 12 new maps over the course of MW3's lifespan as part of seasonal updates.
Zombies will also be played on a new, large-scale map, and while nothing has been officially said about it so far from Activision, content creators have claimed that it will be the same play space as the new Warzone map that will arrive on the MW3 release date. There will also be larger maps for Ground War and one bespoke map for the War game mode, which returns after a few years on the side-lines.
There's also a tease for the Warzone players who are hoping to see the return of an iconic map. The MW3 Makarov trailer teases Verdansk's return, which is something that Warzone players have been waiting for since it was removed, with Caldera replacing it in the original Warzone.
Call of Duty MW3 modes
The MW3 modes list will feature three main modes, those being campaign, multiplayer, and Zombies.
While these might sound like obvious inclusions, some have been absent in Call of Duty titles before. Black Ops 3 did not feature a traditional campaign, for instance, so its inclusion in MW3 is an opportunity for more stories with the beloved Captain Price, Soap, and the rest of the crew.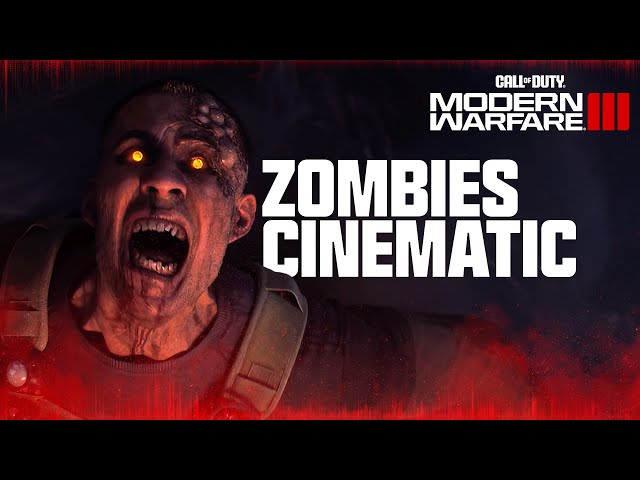 Likewise, Zombies is also set to make an appearance. For many players, this is the most promising addition so far, as the official blog claims it's the largest Zombies offering the series has seen.
Most excitingly, the MW3 Zombies mode takes place on a large, open-world map, with several player squads fighting the threat of both zombies and enemy AI soldiers. Continuing on from the Dark Aether zombies storyline, this should make for the most diverse and unique incarnation of the Zombies mode yet, while also offering enough for hardcore fans of the mode.
Within multiplayer, you can expect all the typical modes like Team Deathmatch, Hardpoint, and Search and Destroy. Large-scale modes like Ground War have also been confirmed, and Sledgehammer is bringing back the War game mode that it introduced in 2017's Call of Duty WW2.
Call of Duty MW3 weapons leak
Leaks by 'CoD_Purseus' point towards several new and returning MW3 weapons. Though the images have since been taken down, the leak revealed the Lach-9, BAS-B, MTZ-762, TAQ-V, ANVL-B, MCW, and the Sidewinder.
Some of these appear to be new variants within the weapon family system of MW2. For example, the BAS-B looks to be an assault rifle variant of the popular BAS-P SMG. Likewise, the Lach-9 could be a renamed Lachmann-Sub or even a new variant within the Lachmann weapon family. Meanwhile, the TAQ-V is a potentially returning weapon from MW2.
It's highly likely that this is the case, with MW3 guns and weapons expanding upon many of the weapons available in its predecessor. This is especially likely given the MW2 weapons, camos, attachments, and more are being transferred into MW3. Most exciting, however, is the entirely new weapons in store for us if leaks are accurate, such as the ANVL-B.
Call of Duty MW3 leaks and rumors
With Modern Warfare 3's full reveal in August, most of the major leaks we had for MW3 have now been confirmed. The majority of main points from the reveal was leaked ahead of time, including that it would launch with a full suite of remastered Modern Warfare 2 maps, that there would be a new movement system, and that map voting would return.
The only other major leak that hasn't been confirmed is the aforementioned leak that reveals some of the weapons expected to be added in MW3.
If more information from reputable leakers and sources emerges, we'll be sure to add them to this guide.
And that's everything you need to know about Modern Warfare 3 ahead of the MW3 release date, based on the latest news and leaks. If all the rumors are true, then MW3 could be one of the best competitive FPS games in recent years.