When was the MW3 release date? Every year, a new Call of Duty game is released and, while many players have their complaints with each annual installment, we're still going to buy them. But if you've been waiting for the latest CoD game, here's the date that the Modern Warfare 3 release date landed on.
We've been busy playing the MW3 multiplayer and MW3 Zombies modes, deciphering whether it's one of the best FPS games or not. Especially considering our Call of Duty MW3 review had major concerns with the MW3 campaign. But if you're waiting to drop into some matches with the best MW3 guns, here's what you need to know.
Call of Duty MW3 release date
The Modern Warfare 3 release date was Friday, November 10, 2023, for PS5, PS4, Xbox Series X|S, Xbox One, and PC with digital pre-orders getting access to the campaign seven days prior on November 3. The game currently costs $69.99 / £69.99 for the standard and $99.99 / £99.99 for the Vault Edition on consoles.
At launch, the game received middling review scores, earning it a 56 on Metacritic for PS5, with 64 and 53 on Xbox and PC respectively. The campaign was pretty disappointing, to say the least, and while the multiplayer and Zombies elements are actually quite good, there are quite a few bugs and glitches that muddy the experience. Hopefully, over time, our and other player's complaints will be fixed.
Where to buy MW3
Call of Duty Modern Warfare 3 can be bought at any large retailer, as well as digitally on each platform's storefront. Here are some of the best deals below:
Call of Duty MW3 trailers
Before release, Modern Warfare 3 received numerous trailers. First (aside from a small announcement trailer) was the Makarov reveal trailer, which gave us our initial look at the antagonist of the game, Vladimir Makarov.
Following on from that was the gameplay reveal trailer. Within the gameplay reveal, we got to see parts of the first MW3 campaign mission, Operator 627, as well as some action-packed moments from the rest of the campaign. Despite the name, there's shockingly little gameplay found in this trailer. But, we all know what to expect from a Call of Duty title by now. The first true look at gameplay within the campaign came from the Campaign Premiere, which gave us nine minutes of the first mission.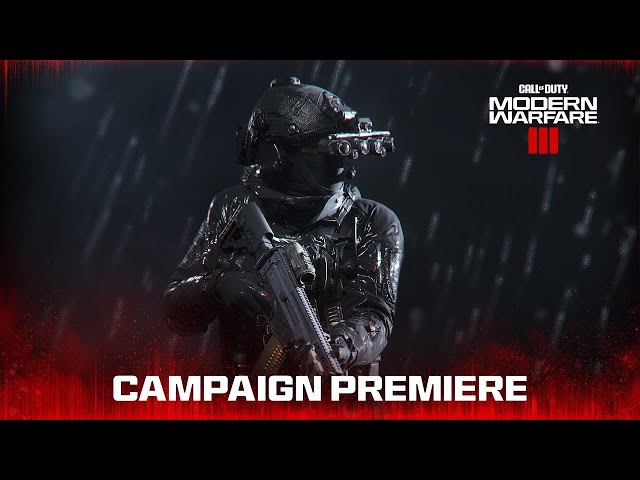 Our first look at the multiplayer portion of the game came with the multiplayer and beta trailers, which let us see the remastered MW3 maps from 2009's Modern Warfare 2, as well as some of that high-octane multiplayer action we've come to love.
Finally, many of the last trailers were fairly minor, except for the Zombies reveal. Ahead of the launch, Activision confirmed that Treyarch would be producing the Zombies mode for MW3, which is the first time the beloved game mode has arrived in the Modern Warfare series. However, this is a lot different compared to traditional CoD Zombies, with players exploring an open-world map, with similar mechanics to the DMZ mode.
MW3 Carry Forward explained
With Modern Warfare 3 directly following up on last year's MW2, Sledgehammer Games has introduced Carry Forward, which brings all of your Modern Warfare 2 weapons, blueprints, Operators, cosmetics, and more for use in MW3. Almost everything you've unlocked in 2022's Call of Duty game can be used in Modern Warfare 3, aside from a small amount of cosmetics.
While it's great to have all of our owned cosmetics, both paid and free, can be used in Modern Warfare 3, the addition of MW2 guns is pointless. Many of the guns feel like peashooters compared to the new guns, and while variety is the spice of life, as the MW3 meta evolves we're definitely going to see these older guns dwindle out.
However, we do hope that this system is kept, at least for cosmetics, in future games. It allows us to feel like our money on store bundles isn't wasted, even if the blueprints within them are useless by the next Call of Duty release.
That's everything to know about the MW3 release date, as well as what happened prior to launch. If you're ready to jump into the latest Call of Duty game, we'd suggest taking a look at the best MW3 loadouts right now to give yourself a headstart in multiplayer, or grab one of the best PS5 controllers or best Xbox controllers for that competitive advantage.