Does Call of Duty MW3 have Zombies? Having originally been introduced in Call of Duty World at War, the Zombies mode has made many appearances in COD titles over the last 15 years. However, it's never been a feature of the Modern Warfare line of games. Well, thanks to official confirmation, we've got news. Here's all there is to know about MW3 Zombies in 2023's Call of Duty game.
Before we get into that though, be sure to get up to speed with everything we know so far about 2023's Call of Duty MW3. Alongside Zombies, we'll also be getting MW3 multiplayer and a bone-chilling narrative in the MW3 campaign, though which MW3 characters could return? Nevertheless, Zombies is returning in a big way, so here's what we know about MW3 Zombies.
Does Call of Duty MW3 have Zombies?
Yes, Call of Duty MW3 will have a Zombies mode. Aptly titled Modern Warfare Zombies, it will offer the "largest Zombies map ever", with an open-world experience akin to that of Black Ops Cold War's Outbreak Zombies.
MW3 Zombies is the largest iteration of the mode to the series yet, and the first time the mode has been featured in the Modern Warfare games. As a result, fans are eager to see how this mode plays out. Thanks to a dedicated Modern Warfare 3 Zombies cinematic trailer, we've already got our first glimpse.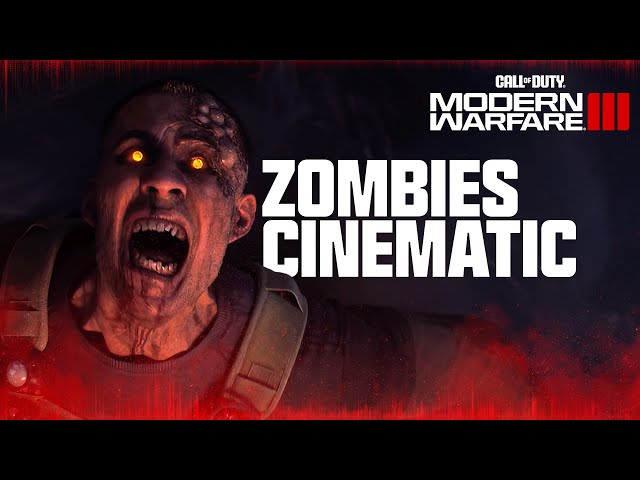 Previous leaks, such as the ones from Insider Gaming, reported that Zombies would be introduced for the first time in the Modern Warfare games as an "Outbreak 2.0", confirming it would be a larger-scale successor to the mode found in Call of Duty Black Ops Cold War. This larger-scale mode came to fruition when Activision officially revealed the MW3 Zombies mode. Keep reading to find out more about the Call of Duty Modern Warfare 3 Zombies mode, maps, story, and more.
Call of Duty MW3 Zombies gameplay
As described by Activision in a recent Call of Duty blog post, Modern Warfare Zombies is an extraction survival PvE mode within Call of Duty MW3 and will have you going from various regions of the map to others to complete story missions and objectives. It is set to be a mix between Warzone's DMZ mode and traditional Zombies.
Unlike most Zombies modes in the best FPS game series, Call of Duty MW3's Zombies will seemingly remove the round-based challenges of classic Zombies, but will challenge you by requiring you to exfil when you think things are getting out of hand. While you'll likely get rewards if you succumb to the hordes, escaping alive is much more beneficial.
Most interestingly, MW3 Zombies is a much bigger cooperative experience than you might imagine, with players teaming up with other squads. That's right, it won't just be you and your squad surviving against the undead horde. While it's yet to be fully explained by Activision, not only does MW3 Zombies feature the biggest map, but also seemingly the largest player count.
Aetherium is once again taking a big part in the Zombies mode, after appearing in Vanguard and Black Ops Cold War. This means that special Zombies field upgrades could also return in Modern Warfare Zombies, though we'll have to wait and see.
Given the narrative details we'll go over soon, MW3 Zombies also features human enemies for the first time in the series. Things could certainly get chaotic if you're facing off against a horde of Zombies and Terminus mercenaries armed to the teeth. This simple addition will no doubt change how you play, as running around in circles works wonders against the undead, but not so well against soldiers armed with firearms. As such, we're expecting players to come up with some inventive strategies and loadouts to better contend with both types of enemies in the much larger arena of MW3 Zombies.
Call of Duty MW3 Zombies story
The story for Modern Warfare Zombies in Call of Duty MW3 will take you to the new Zombies map as a member of Operation Deadbolt. After a mercenary group called Terminus Outcomes steals the last quantities of Aetherium, with plans to weaponize it, you're tasked with stopping them from further harvesting the resource.
Unfortunately, when attempting to escape, Terminus created an incursion that causes zombies to spread and infect the map, meaning you'll have to deal with hordes of the undead while on your mission. Things can't ever be easy, can they?
Operation Deadbolt sees players attempting to counter the threat posed by the Exclusion Zone as Task Force 141 Operatives under the command of SSO Kate Laswell and SSO Selma Greene. That means the one and only 'Soap' MacTavish is leading the charge against Zakhaev and Terminus. However, the much larger implications for the story is that you'll be facing down not only the zombie threat but also a human threat through the Terminus group, which is new for the mode.
Call of Duty MW3 Zombies map
The Call of Duty MW3 Zombies map is Operation Deadbolt, an open-world PvE environment with several different regions that escalate in difficulty, as confirmed by Activision in a dedicated Zombies blog post.
This is a somewhat controversial decision, as many hardcore Zombies fans are clamoring for a more traditional Zombies experience. Nevertheless, the larger format will, at the very least, create a unique mode that distinguishes MW3 Zombies from other incarnations of the mode. Hopefully post-launch updates will add more small-scale maps for those seeking a more traditional experience.
Call of Duty MW3 Zombies Wonder Weapons
So far, the only Call of Duty MW3 Zombies Wonder Weapon we've seen is the CRBR-S, a high-powered firearm from Call of Duty Cold War Zombies.
This was uncovered by the avid Zombies community shortly after the dedicated Zombies cinematic trailer, and highlighted by 'Detonated' on Twitter. The CRBR-S can be seen on a shelf, shrouded in shadows and cobwebs, much like the iconic Monkey Bomb which will be returning.
There will be several other Call of Duty MW3 Zombies Wonder Weapons, though these are yet to be revealed.
Who is the developer for Call of Duty MW3 Zombies?
Modern Warfare Zombies for Call of Duty MW3 is being developed by Treyarch, the developer behind most of the Zombies modes in previous games, as well as the Black Ops games in the COD series.
Despite Treyarch not developing Modern Warfare 3's multiplayer, its team of developers is leading the charge on Modern Warfare Zombies. While Treyarch's classic round-based Zombies formula won't be present in MW3, fans generally trust the studio to deliver excellent Zombies experiences, and are excited to see what it can pull off this time around.
And that's everything we know about Modern Warfare 3 Zombies for now. While we await further news, be sure to check out some of the best competitive FPS games out there to tide you over. It won't be long now, zombie slayers, until the Call of Duty MW3 release date arrives.