When is the Call of Duty MW3 beta? The upcoming Call of Duty for 2023 is set to continue the rebooted Modern Warfare series, with the Call of Duty MW3 beta dates and platforms allowing players like yourself to get an early experience with the beloved FPS series. This time, Sledgehammer Games, which last developed Vanguard, is developing Modern Warfare 3 with Infinity Ward's assistance, and the MW3 beta will be your first chance to see what the studios have cooked up.
With the Call of Duty MW3 release date fast approaching later this year, finally being able to test out the Call of Duty MW3 multiplayer ahead of launch is an exciting opportunity. If you're hoping to jump into the latest entry in one of the best FPS game series earlier than most, here's when you can.
Call of Duty MW3 beta dates
The MW3 beta dates are Friday, October 6, 2023, to Tuesday, October 10, 2023 for PS5 and PS4 players. The second beta weekend is available to Xbox Series X|S, Xbox One, and PC players (as well as PS5 and PS4 players) and runs from Thursday, October 12, 2023 to Monday, October 16, 2023.
The dates were confirmed by Sledgehammer during Gamescom 2023. Here's a full breakdown of the beta dates and schedule:
MW3 beta weekend 1 dates:
October 6-7 – Early access PlayStation players
October 8-10 – All PlayStation players
MW3 beta weekend 2 dates:
October 12-13 – Early access PC and Xbox players, and all PlayStation players
October 14-16 – Open beta for all players
As you might have noticed, there is one major caveat when it comes to access. If you don't have Call of Duty MW3 early access, you won't be able to participate in the beta weekends for their full duration. During weekend one, October 6-7 will remain early access-only, before opening up from October 8-10. Likewise, the first couple of days of weekend two (October 12-13) will also be reserved for those with early access.
This also follows the formula that Activision has been using the last few years, with PlayStation players having exclusive access to their own beta one week prior to other platforms. PlayStation players are eating well when it comes to MW3 beta access.
It seems that Activision isn't ready to move onto current-gen only just yet, with the beta also coming to PS4 and Xbox One. Hopefully, Treyarch's Call of Duty for 2024 will be on current-gen and PC only, so the series can advance visually and mechanically. Nonetheless, we're hoping that the Call of Duty MW3 campaign will be a banger, despite possible last gen limitations should it remain tied to dated hardware.
Fans of Warzone will have to wait a bit longer to experience any changes. With Warzone being a live-service battle royale, any changes coming alongside MW3 will come with an update to the game and won't be playable before then. We'd expect those changes to arrive with the Call of Duty MW3 Season 1 release date, if not on the launch date of Modern Warfare 3.
How to access the Call of Duty MW3 beta
Call of Duty MW3 beta access is available as part of the MW3 pre-order bonuses through digital storefronts and select retailers. It is likely that beta access may also be awarded via marketing promotions or watching CoD esports events.
Pre-ordering is the best bet as you're guaranteed access and it's the least difficult process. Importantly, you don't need to purchase the more expensive Vault Edition, despite how exciting the bonuses like MW3 Vault Weapons might look – any version of MW3 will get you access to the beta if you pre-order it.
Equally, we've seen Call of Duty beta access dished out in the past through marketing promotions and collaborations with snack or energy drink brands, so that could potentially make a return in the build-up to MW3.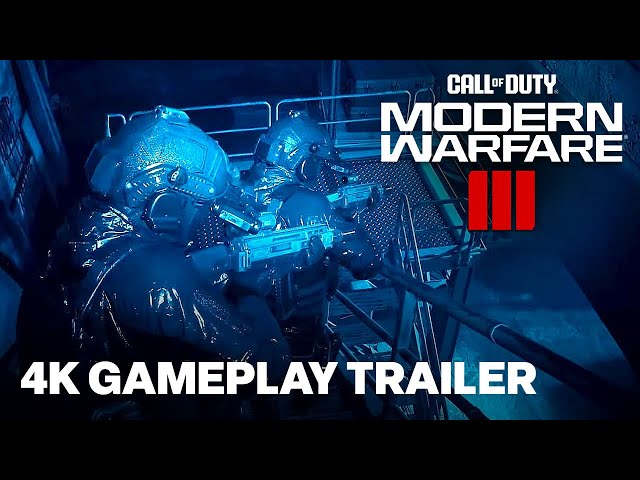 What's in the Call of Duty MW3 beta?
The Call of Duty MW3 beta will be limited to just multiplayer, though players can expect a variety of maps and modes to test the new features and changes. Check out all the MW3 maps and MW3 modes to have an idea of what to expect in the beta ahead of official confirmation.
Unfortunately, this does mean you won't be able to get a sneak peak at the story mode or Zombies, despite how alluring these modes are. You'll have to wait until the full release to experience these for yourself.
Call of Duty MW3 beta rewards speculation
While the Call of Duty MW3 beta rewards haven't been announced yet, we expect the rewards to include exclusive blueprints, Operator skins, and player cards or emblems to celebrate your time with the beta. These rewards will likely be based on your final level throughout both beta weekends, similar to MW2.
That means anyone who plays on PS4 and PS5 will have two weekends to reach all of the rewards, whereas those on other platforms will only have four days to reach the level cap.
Does MW3 beta progress transfer to the full game?
No, your MW3 beta progress won't transfer to the full game. While you may earn rewards, your progress in the MW3 beta – which includes things like stats, XP, weapon levelling, and attachment unlocking – won't carry over to the full game. Activision has confirmed this already in its FAQ.
While this can be annoying for those eager to grind out challenges and level up everything, this ensures a balanced starting point once the game officially releases. Otherwise, we all know that a handful of players would grind everything they could during the beta to get ahead on day-one.
Those are the Call of Duty MW3 beta dates, the platforms you can play on, and how to access it to get those tasty rewards. While you're here, and waiting for the beta anyway, find out all of the Call of Duty MW3 guns you'll be able to wield. Oh, and buckle up for MW3 Zombies, because it sounds like an experience unlike past Zombies modes.