Do you want to know where you can find Remnant 2 Blood Moon Essence? This rare material is needed to buy some incredible upgrades, gear, and even one of the secret classes. So, you will want to know where it can be found and the best Remnant 2 Blood Moon Essence farm.
Here we will go over the material and where it can be found across the game's many worlds, as well as that farm so you can get it as efficiently as possible. As mentioned one of the Remnant 2 classes can be found by farming this material so you will definitely want to get as much of it as you can. This information was obtained during our Remnant 2 review playthrough of the game.
How to get Blood Moon Essence in Remnant 2
You can obtain Blood Moon Essence in Remnant 2 by killing the purple root wisp creatures in the environment. These spawn when the Blood Moon itself is out on Yaesha (the sun is behind the moon). The moon can spawn anywhere on Yaesha randomly, but The Forbidden Grove is the optimum spot.
Upon killing the wisps, the Blood Moon Essence will automatically travel towards you and get added to your inventory. These wisps do flee upon noticing you, so be sure to kill them with a rifle or long-range weapon quickly. If you can't get a Blood Moon to spawn, you can brute force it effectively by traveling in and out of Yaesha using doors. It can take a significant amount of time, but you will eventually get one.
You can then spend your Blood Moon Essence at the Blood Moon Altar in The Forbidden Grove. This altar includes a number of the best items in the game. These include one of the best Remnant 2 amulets, a concoction, some weapons, and of course, the unlock for the Summoner class in Remnant 2.
Best Remnant 2 Blood Moon Essence farm
The best Blood Moon Essence farm in Remnant 2 can be found anywhere on Yaesha by simply spawning a Blood Moon and then killing all the wisps in the area. Leave via one of the connecting areas via a door or portal and then re-enter. This will cause the wisps to re-appear.
This is a surefire way to rack up Blood Moon Essence. Do note that eventually the Blood Moon will pass and you will have to repeat this process over again to get another one to spawn. Maximize your gathering by being as quick as possible when killing the wisps and re-entering the area. Skip all the other mobs or enemies too.
'Quick Guides' on YouTube has a good video walkthrough of this exact same farm if you want to see it for yourself.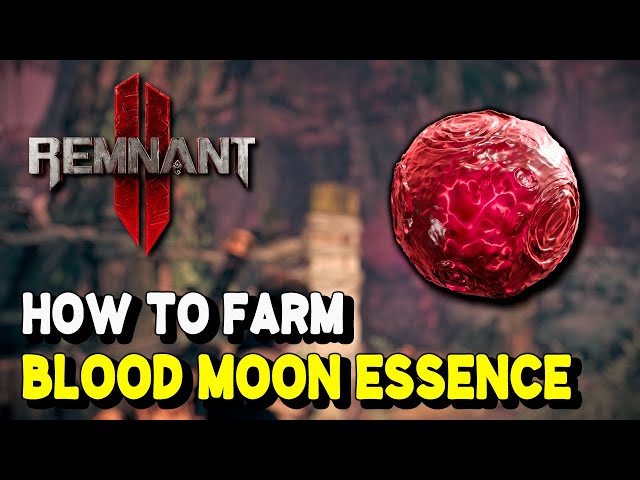 That covers Remnant 2 Blood Moon Essence and the best farm for it. Overall, it is quite easy to pick up once you know where you are looking, but actually getting it to spawn isn't a bit of a monotonous task. For even more guides on Yaesha, check out our Remnant 2 Water Harp puzzle guide, Remnant 2 The Lament guide, and how to beat the Corrupted Ravgaer in Remnant 2. You can also find additional help in our Remnant 2 walkthrough article.