When is the Honkai Star Rail 1.3 release date? Another version update, another great content addition on the way, with new characters, a new location, quests, and even a new Simulated Universe update. There's always something to look forward to in each update, and HSR 1.3 is no different. So here's the latest information about the Honkai Star Rail 1.3 release date, banners, and roadmap.
The Honkai Star Rail 1.3 release date is looking like one of the best yet, with some of the most anticipated Honkai Star Rail characters arriving in the HSR 1.3 banners. As always, you don't want to miss out on the Honkai Star Rail banner schedule, as it's stacked this update.
Honkai Star Rail 1.3 release date
The Honkai Star Rail 1.3 release date is Wednesday, August 30, 2023 at 11pm EDT/8pm CDT/4am BST/5am CEST. This is based on official confirmation and the six week update schedule and current banner durations which counts down to the start time of the next version update.
All previous banner durations have been 20 days each, for a total of 40 days per update. This made the release at the end of August very predictable as always, with HoYoverse typically releasing version updates on a Wednesday. If you're looking to get in on the HSR 1.3 banners, then this date is even more vital as you've got limited time to earn as much Honkai Star Rail Stellar Jade as you can.
With two version updates out of the way, the six weeks per update cycle fans expected from Genshin Impact looks to be the same for Star Rail going forward. Though it's possible that HoYoverse could buck the trend in the future for bigger updates, the Honkai Star Rail 1.3 release date is sticking to the formula.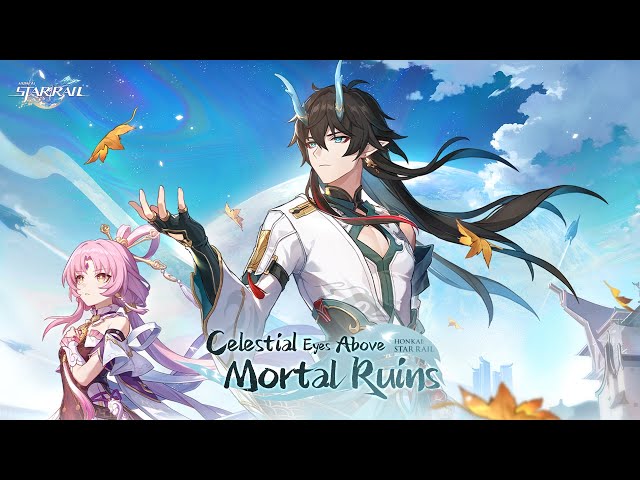 Honkai Star Rail 1.3 livestream date and time
The Honkai Star Rail 1.3 livestream Special Program date and time was Friday, August 18, 2023, at 19:30 (UTC+8). This is:
4:30am PDT
7:30am EDT
12:30pm BST
1:30pm CEST
8:30pm JST
The 1.3 Special Program officially confirmed the upcoming banners, new content, and new features arriving in the update, though it's available online for those that missed it: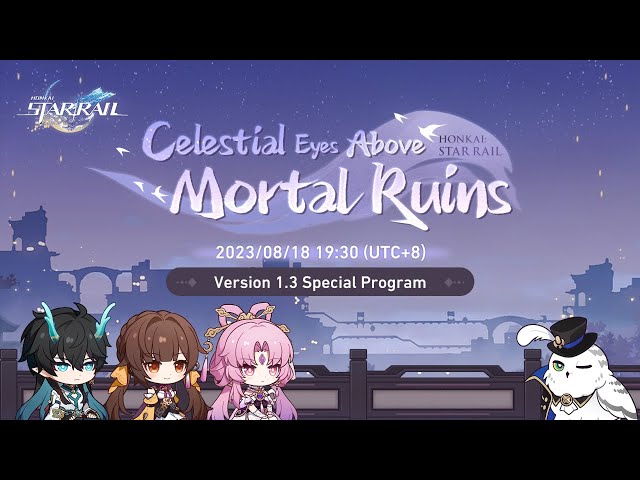 Honkai Star Rail 1.3 updates
The Honkai Star Rail 1.3 update adds the following:
A new story quest
A new area – Aurum Alley
Major Simulated Universe update – The Swarm Disaster
Three new characters – Imbibitor Lunae, Fu Xuan, Lynx
Version 1.3 continues to expand on the game's unfolding narrative, with Jing Yuan and Dan Heng now united to vanquish Phantylia and resorve the Ambrosial Arbor crisis. With 1.3 though, the dust has now settled and it's our job to aid in the recovery effect.
Part of this brings us to the new area – Aurum Alley – which is in need of revitalization. As revealed by HoYoverse, "Trailblazers can weigh in by employing strategic logistics planning and efficient cargo organization to shape the alley's destiny back to its former glory." So, we'll also have an exciting new location to explore, even if it's not quite a new planet.
Meanwhile, Honkai Star Rail 1.3 also adds 'The Swarm Disaster' to Herta's Simulated Universe. Here, Trailblazers will navigate through randomly generated domains as usual to face various different challenges. This time, however, there's a great new Path at our disposal, the Path of Propagation.
As for how big 1.3 is, it's about the same size as 1.2. For reference, the Honkai Star Rail 1.2 release date came alongside two sub-areas to the Xianzhou Luofu, two new Relic sets, new quests, and new characters, making it a rather substantial update.
Honkai Star Rail 1.3 banners
The new characters are the most exciting part of version updates, and the Honkai Star Rail 1.3 banners aren't letting us down. We've already got a guide covering the juicy Honkai Star Rail 1.3 banners, so check that out to learn more.
Nevertheless, Imbibitor Lunae, one of the most anticipated characters, is finally making their debut, alongside two more new characters that fill in the roster. If you've been working on a Quantum team with a Honkai Star Rail Silver Wolf build or Honkai Star Rail Seele build, then you don't want to miss these new additions.
As usual, these weren't exactly surprise additions as an old but reliable leak by 'Team China' pointed us in this direction well before any official news. Nevertheless, this is a great banner for those of you looking to spend your Stellar Jade.
We've no doubt that the HSR 1.3 banners will shake up the Honkai Star Rail builds and best Honkai Star Rail team comps as we enter the third major update to the game, filling in much more of the blanks in terms of elemental and Path coverage.
However, after such stacked Honkai Star Rail 1.2 banners, players are likely running on fumes with only a handful of precious Stellar Jade left. We'd recommend taking part in all the events that you can and keeping an eye on the Honkai Star Rail codes to make sure you're not missing out on the upcoming characters if there's ones on your wishlist. Understanding the Honkai Star Rail pity system can also go a long way in getting the characters you want.
Well, that covers everything there is to know about the HSR 1.3 update ahead of the Honkai Star Rail 1.3 release date, including 1.3 banners and new content. With such anticipated characters on the way, check out the Honkai Star Rail tier list of best characters to see who's worth spending your Stellar Jade on next.