Grand Theft Auto V popped into our lives almost 9 years ago, back when the PlayStation 3 and Xbox 360 were king. Now, with the release of the PlayStation 5 and Xbox Series X|S, many are left wondering where the hell the next GTA 6 is.
It's no surprise that people are desperate for a new game either. The fifth entry into this timeless carjacking game brought us an intricately woven single-player and a massively entertaining multiplayer that still attracts millions of people every day. So, when can we expect Rockstar Games to pull out all the stops and announce the GTA 6 release date?
Well, soon we hope – we're well past the usual window for a new game. We know Rockstar Games is looking to share some news with us soon, but for now, we've rounded up all the latest GTA 6 rumours in one place to answer your burning questions like: 'when is GTA 6 coming out?' and 'where will GTA 6 be set?'
Read on for everything we know about GTA 6.
GTA 6 release date speculation
When is GTA 6 coming out? Well, if you're one of the thousands of people frantically searching for the GTA 6 release date, then we've got bad news for you: the game doesn't have one just yet. But don't despair, Rockstar Games has finally confirmed that "the next entry in the Grand Theft Auto series" is in active development.
This isn't a release date, but Rockstar follows on from this announcement with another that suggests we will see something regarding the next entry in the Grand Theft Auto series – GTA 6, hopefully – on Rockstar Newswire soon.
Internet sleuths have been keeping a close eye on GTA 6 developments for a while, and although there's been a couple of slip-ups, there hasn't been anything that offers us a specific release date for GTA 7 – other than a possible 2025 release date.
One of the biggest slip-ups, though, relates to a former employee's CV. That's right, back in 2019, a 3D artist called Bibin Michael listed Grand Theft Auto 6 on his CV. Although Bibin, who worked on two Rockstar Games projects, later removed the reference, it appears as though suggestions that a new carjacking game is in the works were accurate.
Need a hand? Here's a list of all the GTA V cheats
This now-confirmed suggestion is supported by a Kotaku report published in early 2020 which notes Rockstar is working on a new "moderately sized" Grand Theft Auto game that management says will be expanded with regular updates.
Since then, known leaker Tom Henderson has reported that GTA 6 – which will apparently see a return to Vice City – will finally be with us in 2025. Rockstar Games hasn't confirmed what year the next entry in the Grand Theft Auto series is set to release, however, this claim has also been backed up by Bloomberg's Jason Schreier, as well as sources close to VGC.
GTA 6 map
If you've been digging into the rumours surrounding GTA 6, then you'll have no doubt seen London chucked around as the location for the next GTA 6 map. While it's true Rockstar has considered bringing the GTA magic back to the United Kingdom, it seems, for now, that isn't the case for the next game. In an interview with The Guardian, co-writer Dan Houser says he "would love to set a game in the UK, but I don't know if it would be a GTA game."
Those comments were made in 2013 – around the time GTA 5 launched – so things might have changed, but truth be told since Rockstar hasn't officially confirmed the existence of GTA 6, we're still relying heavily on rumours.
Stop horsing around: All the RDR2 cheats in one place
Since then, theories have come and gone, but one of the most popular ones is that the GTA 6 map will be based on the entirety of the United States. It's a big old country, so if the rumours are true, it'll likely be scaled down for size so you can actually steal a car and drive to a garage cross-state in five minutes, rather than five hours.
In reality though, the GTA 6 map is more likely going to be based on two locations: Vice City and South America. Reports suggest that the game will return to the setting of the first game, while flying players to missions in South America.
Whatever the GTA 6 map is, we're sure it's going to be good.
GTA 6 gameplay
As mentioned before, Rockstar management told Kotaku that the new GTA 6 will be "moderately sized" and will continually be updated as time goes on. This suggests that GTA 6's story will be smaller than GTA V's – but it's likely this will be expanded as the game gets more updates. We think this will likely follow the same pattern as GTA Online now – with more missions and heists added to keep the game fresh for longer.
What and who it'll focus on though is anyone's guess. Since GTA 6 news is pretty rare, it's hard to know what GTA 6's gameplay is going to look like. It is likely that we'll see the return of multiple protagonists in a fresh new setting. What misdemeanours they get up to, however, is a mystery.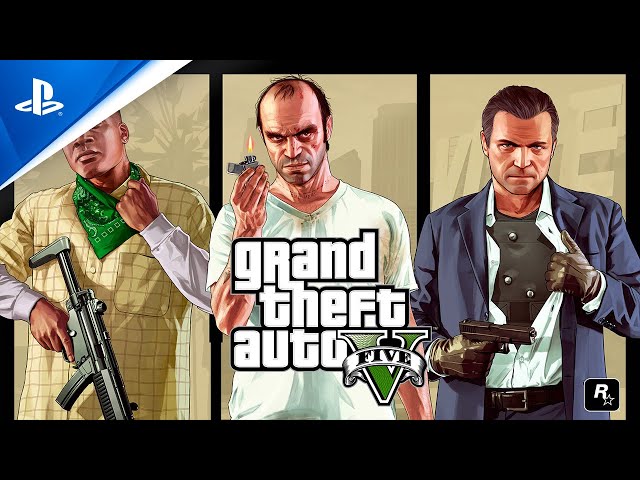 GTA 6 trailer
Since Rockstar has only just confirmed the game is in the works, we don't have a GTA 6 trailer to show you. We do, however, have the next-gen trailer of GTA V, which should show off some of the tricks the studio has up its sleeves regarding next-gen capability.
As soon as this changes, you'll be first to know.
GTA 6 multiplayer
Since Rockstar is making a standalone version of the GTA V multiplayer, titled GTA Online, we don't know if GTA 6 will have a multiplayer mode or not. It's more than likely that if GTA 6 is in production, Rockstar will update GTA Online in line with the new game. As such, GTA Online will become more of a live service game, similar to say Call of Duty: Warzone, which changes with the seasons.
This should keep things interesting for everyone invested in the online mode, especially since new storylines and heists have been added for all to enjoy in recent years.
That's all we know about GTA 6 for now, but we'll update this guide if anything changes.