When is the FIFA 23 release date? For football fans, EA Sports' latest FIFA game is always a must-buy – and we don't think FIFA 23 is going to be any different. With the latest team sheets, updated player ratings, and graphics to blow your shin-pads off, we can't wait for the FIFA 23 release date to arrive.
We finally have the full details. including the FIFA 23 release date, and while it's true that EA Sports doesn't change the formula much when it comes to their yearly FIFA releases, this year's game is looking pretty juicy indeed. That's because, alongside all the fan favourites like FIFA Ultimate Team and Pro Clubs, players are also getting their hands on two FIFA World Cup tournaments, new women's club football offerings, and new fancy HyperMotion technology.
But what else do we know about the next iteration of this iconic series? Well, keep reading for everything we know about the FIFA 23 release date, the latest on gameplay, and all the rumours and leaks worth talking about.
FIFA 23 release date
When is FIFA 23 coming out? The FIFA 23 release date is September 30, 2022.
You can get your hands on the game three days early though, thanks to FIFA 23 early access. You'll be granted access to the game on September 27 if you pre-order the Ultimate Edition.
FIFA 23 cover star
This year, we're getting not one, but two FIFA 23 cover stars. Kylian Mbabbe returns, alongside Sam Kerr for the front of the Ultimate Edition.
This is Mbappe's third appearance on a FIFA cover and the first time for Kerr. The Chelsea forward's inclusion is being hailed as a landmark moment for women's football, which is apt given the game is going big on women's football this year.
FIFA 23 preorder bonuses
Like previous years, there will be a number of FIFA 23 preorder bonuses on offer. The Ultimate Edition will contain the following:
One Ones to Watch (untradable) player
One FIFA World Cup Hero (untradeable) player
One TOTW1 player
Five game Kylian Mbappe loan item
FUT Ambassadors Player Pick
4,600 FIFA Points
Career Mode Homegrown Talent
Three days early access
FIFA 23 crossplay
Will FIFA 23 have crossplay? It will indeed – but there are some limitations depending on what mode you want to play.
Check out our FIFA 23 crossplay guide for all the info. It's worth noting that while the lack of FIFA 23 Pro Clubs cross-play is disappointing, EA Sports says it is working on it.
FIFA 23 platforms
FIFA 23 will release on Xbox Series X|S, PS5, and PC. A last-gen version will also be available for PS4 and Xbox One users, alongside a Nintendo Switch Legacy version.
The FIFA 23 Legacy edition for Switch will feature the same gameplay features from FIFA 22, although it will have updated visuals. It'll also have the following modes:
Kick off
Career Mode
Tournaments
Women's International Cup
Skill games
Online seasons and friendlies
Local seasons
A select number of FIFA Ultimate Team campaigns
To enhance the playing experience, the Switch version of the game will also have split joy-con support so you and a friend can play football on the go.
FIFA 23 trailer
The FIFA 23 trailer was revealed on July 20, 2022. You can watch it in all its glory below.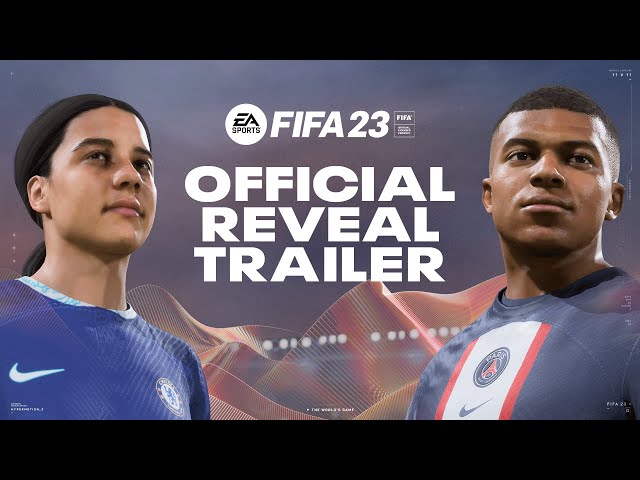 FIFA 23 career mode
Career mode makes a return in FIFA 23 with some nice new features. We're getting plenty of new stadium and player customisation options, a youth academy system, a kit editor, pre and post-match interviews, man of the match awards, and playable moments.
FIFA 23's Career mode will even let you throw birthday parties and buy your teammates retirement gifts. How about that? It's a pretty big change from just switching up the FIFA 23 wonderkids.
FIFA 23 Ultimate Team
We're hearing more and more about FIFA 23 Ultimate Team as the weeks go on, but the good news? It's looking bigger and better than ever.
Alongside popular modes like FUT Co-Op, Division Rivals, Squad Battles, and FUT Champions, Ultimate Team is getting a new mode in the form of FUT Moments.
The mode is also overhauling the chemistry system to make building hybrid squads easier. This will have an impact on squad building challenges, but it should mean that they're easier to complete. We'll also be getting promo players in red picks now and lots more FIFA 23 Icons and FIFA 23 heroes to sink our teeth into.
FIFA 23 World Cup
FIFA 23 is getting not one, but two FIFA world cup modes in the form of the 2022 Qatar men's tournament and the Australia and New Zealand 2023 women's tournament.
FIFA 23 women's football
Women's football is a key focus for FIFA 23 and we'll be getting the chance to go hands on with the women's world cup, as well as the Barclays FA Women's Super League and Division 1 Arkema at launch.
FIFA 23 Hypermotion 2
FIFA 23 is a new and improved game thanks to the help of Hypermotion 2 – EA Sports' fancy tech that helps bring more realism to the pitch.
According to the developer, it now has twice as much data capture so it can bring "6,000 authentic animations" to the game. This applies as much to the mens game as it does to the women's modes thanks to motion capture for both of them.
As a result, several systems in game like dribbling, jockeys, accelerating, and striking should be improved.
You can find out more about how HyperMotion 2 is improving the game here.
FIFA 23 gameplay changes
As a result of all this new tech, several changes have been made to FIFA 23 to continue innovating the game. These are:
Power shots: A new risky shooting method has been added to the game, allowing you to create space and send a banger flying home.
Redesigned set pieces: An overhaul of the set pieces system gives you more control over things like free kicks, penalties, and corners.
Improved physics: Players should feel more lifelike while playing now
More gameplay variety: New animations mean shooting, defending, passing, and tactical awareness should be smoother and easier to complete.
You can read more about the gameplay changes here.
Well, that's everything we know about the FIFA 23 release date right now. As you can see, EA Sports looks set to close out this chapter of FIFA games with arguably the best one yet.