Despite still being outshone by its city rivals, the FC 24 Man United ratings will make for promising reading after several key players enjoyed strong performances last season. With new signings like Andre Onana and Mason Mount to also look forward to, Manchester United are looking like a decent team heading into the EA FC era.
When it comes to the top 100 FC 24 ratings, you can always expect to see some Man United stars in the mix. This season is no different, and there are also overall rating increases and decreases expected throughout the whole squad. As we await the full ratings reveal from EA Sports and the FC 24 release date, here are the latest leaks and our own expert predictions on the Man United ratings in FC 24.
Confirmed FC 24 Man United ratings
The officially confirmed FC 24 Man United ratings from EA Sports are:
Casemiro – 89
Bruno Fernandes – 88 (+2)
We'll be sure to keep our list updated as more ratings are officially confirmed by EA Sports. For a deeper dive into each player's stats, you can see the official announcement page here. Before the ratings began to drop officially, reputable leaks may have spoiled the big reveals.
FC 24 Man United ratings leaks
According to reliable leaker 'FUT Scoreboard', the FC 24 Man United ratings are:
Casemiro – 89
Bruno Fernandes – 88 (+2)
Andre Onana – 85 (+3)
Marcus Rashford – 85 (+4)
Raphael Varane – 85 (+1)
Lisandro Martinez – 84 (+3)
Luke Shaw – 83 (+3)
Jadon Sancho – 82 (-2)
Mason Mount – 81 (-3)
Antony – 81 (-1)
Aaron Wan-Bissaka – 80
Anthony Martial – 80
Diogo Dalot – 80 (+2)
Rasmus Hojlund – 76 (+9)
Alejandro Garnacho – 75 (+5)
While this isn't the full squad, FUT Scoreboard has shared the ratings of 15 Manchester United players ahead of launch. Some surprises include a generous +3 upgrade to Lisandro Martinez and a brutal -3 downgrade to Mason Mount. Aside from that, the ratings are looking largely as many fans and experts – including us – expected.
While new signing Mount will be a disappointment, the same can't be said for new goalkeeper Andre Onana, who arrives at Man United with a healthy rating of 85 and an excellent spread of stats for a 'keeper as well. New young striker Rasmus Hojlund – widely tipped to be one of the FC 24 Wonderkids in Career Mode this year – also arrives at the club with a big upgrade to 76.
Once EA Sports reveals the official ratings, we'll be able to confirm these leaked stats and give you definitive ratings for the whole squad. Below you can find a full breakdown of Manchester United's season last time out and our own initial predictions, which we published before the recent ratings leaks.
Our FC 24 Man United predictions
Our FC 24 Manchester United ratings predictions were:
Casemiro – 89
Bruno Fernandes – 87 (+1)
Andre Onana – 85 (+3)
Marcus Rashford – 85 (+4)
Mason Mount – 84
Raphael Varane – 84
Christian Eriksen – 83 (+1)
Antony – 82
Jadon Sancho – 82 (-2)
Lisandro Martinez – 82 (+1)
Luke Shaw – 81 (+1)
Aaron Wan-Bissaka – 81 (+1)
Anthony Martial – 80
Victor Lindelof – 80
Scott McTominay – 79 (-1)
Harry Maguire – 79 (-1)
Tyrell Malacia – 79
Diogo Dalot – 79 (+1)
Wout Weghorst – 78 (-1)
Donny van de Beek – 77 (-2)
Jonny Evans – 77 (-2)
Martin Dubravka – 77 (-3)
Eric Bailly – 76
Rasmus Hojlund – 75 (+8)
Alejandro Garnacho – 75 (+5)
As you can see, we're predicting a fair bit of movement among the Man United squad when it comes to their FC 24 ratings. While there are a few downgrades, there are also some nice upgrades too.
Rashford enjoyed arguably his best season ever in a Man United shirt, netting 30 goals in all competitions and contributing a few assists as well. His rating took a harsh dip from 85 to 81 in FIFA 23, and we expect EA Sports to reverse that for FC 24 and return him back to an 85-rated player.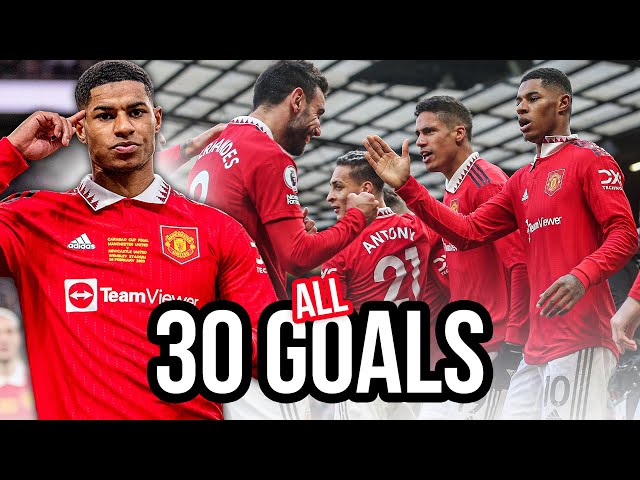 At the top of our ratings prediction is Casemiro, who – despite a few hotheaded red cards – was solid as a rock in United's midfield last year, and we'd be surprised to see him not hold onto his 89 rating.
Elsewhere, we also expect strong showings from the likes of Fernandes, Shaw, Martinez, Wan-Bissaka, and Christian Eriksen (despite his age) to be rewarded with small overall increases.
We are also predicting some big upgrades for some of United's new signings compared to their FIFA 23 overalls. After a stellar season with Inter, expect new goalkeeper Andre Onana to come in with a boosted rating of 85. Elsewhere, young striker Rasmus Hojlund – who was a silver 67-rated card last year with Atalanta – has just joined Man United for a massive fee. He will certainly get an upgrade, and we think we'll just make the cut for a gold card with a rating of 75.
New midfielder Mason Mount, however, will likely come into the fold at the same 84 rating he held when he played for Chelsea during FIFA 23.
A final player worth mentioning is Alejandro Garnacho, who was missing an Ultimate Team card last year but will certainly debut in the game mode this year. Garnacho impressed last season, and like Hojlund, we think he'll get a 75 rating in FC 24, which is +5 on his FIFA 23 Career Mode rating.
So there you have our predictions for Manchester United's FC 24 ratings. We will of course update this with the official ratings once EA Sports announces them, but for now, all we've got is our crystal ball.
For more on what's new in EA FC, check out our explainers on how FC 24 chemistry and the new FC 24 Evolutions mechanic are going to work in Ultimate Team this year.