With every big new expansion, Bungie pulls out all the bells and whistles to bring us a batch of interesting new Exotic weapons and armour for players to chase and experiment with. The highly anticipated Lightfall expansion will be no different. Here are all the Destiny 2 Lightfall Exotic weapons players can get their hands on.
Besides keeping up to date on the latest weapons in our ever-expanding arsenal, it's also good to know the full list of Destiny 2 Exotics. You can also get prepared by stockpiling Destiny 2 Ascendant Shards and Destiny 2 Ascendant Alloy, as well as doing some Destiny 2 Lightfall Bounty prep to get ahead on day one.
Destiny 2 Lightfall Exotic weapons
The Destiny 2 Lightfall Exotic weapons are:
Final Warning (Sidearm)
Winterbite (Glaive)
Deterministic Chaos (Machine Gun)
Quicksilver Storm (Auto Rifle)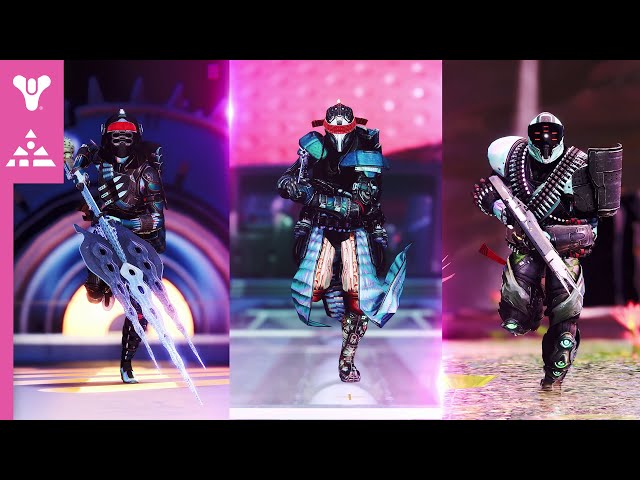 Final Warning
Final Warning brings another charged Sidearm to the Exotic pool. However, this time it is unique in that this weapon fires Strand. As such, Final Warning is the first Destiny 2 Strand weapon.
This gun looks to be a menace and possibly a great PvP sidearm as charged rounds will track enemies.
Winterbite
Bungie is finally answering a fan request by adding a Stasis glaive with Lightfall. Winterbite fires out a Frost Orb with its ultimate fire that slowly freezes enemies.
Then combining this with regular fire or other abilities will lock enemies into Stasis and freeze them into place.
Deterministic Chaos
Deterministic Chaos looks to be making the most of Void 3.0 with a Rhythmic debuff on enemies that applies on every fourth shot fired. This will weaken enemies before the sixteenth shot makes all enemies weakened Volatile. You can then throw a void grenade or use an ability to create a large chain reaction of explosions.
This will no doubt be a devastating machine gun for clearing adds and possibly a meta weapon with how much power it stores in its bullets. But, we will need to wait until Lightfall arrives to know for sure.
Quicksilver Storm
Heralding from the mysterious new Cloud Strider's arsenal, the Quicksilver Storm Exotic auto rifle is one of the premier Lightfall Exotic weapons, though players can already get their hands on it in-game. Much like Osteo Striga with the Destiny 2 The Witch Queen Exotics, to get Quicksilver Storm players must pre-order the Lightfall and Annual Pass edition of Destiny 2 Lightfall. it will then become available to everyone with the expansion once Lightfall launches
If you've done so, speak to Master Rahool in The Tower to collect your pre-order items, including the Quicksilver Storm. This fun new Exotic auto rifle has the ability to fire homing micro-missiles at opponents after rapid hits. When Lightfall launches it will also create Strand Tangles on kills which can then explode.
That's all the new Destiny 2 Lightfall Exotic weapons that we know of right now. To equip your Guardian with the best of the best, be sure to check out the best Destiny 2 PvE weapons and the best Destiny 2 PvP weapons so you're ready to take on Calus and The Witness when Lightfall releases.