Call of Duty Warzone Season 4 is here and if you're wondering whether you should check out the new UGM 8 LMG, we're here to tell you that you should. It's a little rough around the edges right now, but the right UGM 8 Warzone loadout isn't something you should miss out on. It hits hard and offers more mobility than your average light machine gun. So, what's not to love?
Well, there is quite a lot not to love if you're not putting together the right UGM 8 Warzone loadout. As always, attachments mean everything – they can turn a mediocre weapon into an absolute beast at times and this LMG isn't any different. Raven Software's Season 4 weapon balancing sweep has shaken up the Warzone meta once again and the UGM 8 is slowing finding its' place in and amongst some of the best Warzone guns available.
In the Call of Duty Blog, it was introduced as a "high fire rate, mobile LMG that excels at creating suppressing fire and pushing enemy positions". If that sounds good to you, then keep reading and we'll run through everything you need to know about building the best version of this weapon.
UGM 8 Warzone loadout
'Hero', a Call of Duty content creator with a knack for throwing together some of the best Warzone loadouts available, has shed some light on what players need to be looking out for when it comes to the UGM 8 – and we think their build is one of the best out there.
So, without further ado, here's everything you need to know about throwing together the best UGM 8 Warzone loadout available:
Muzzle: Recoil Booster
Barrel: Bernard XL214 736mm
Optic: G16 2.5x
Underbarrel: M1941 Hand Stop
Stock: Mercier WT Ancre
Magazine: .303 British 75 Round Box
Ammunition: Subsonic
Rear Grip: Taped Grip
Perk 1: Tight Grip
Perk 2: On-Hand
First things first, you're going to want to increase the fire rate with the Recoil Booster muzzle attachment and up the ammo count with the .303 British 75 Round Box.
Then, you want to take advantage of this LMG's natural strengths with the Mercier WT Ancre stock, which increases accuracy and recoil control during sustained fire, and the Bernard XL214 736mm barrel, that also improves these statistics alongside bullet velocity.
Finally, to increase this weapon's general viability, Hero has opted for Tight Grip and On-Hand for the two perks. Tight Grip will ensure that this weapon maintains a decent accuracy while firing and On-Hand should negate the negative effect this heavier weapon has on using equipment and Field Upgrades. This isn't the fastest weapon, but it's going to hit hard – and you can't ask for more than that with an LMG.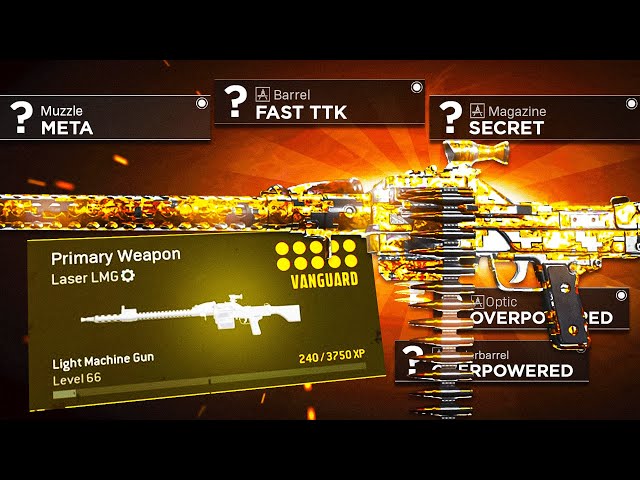 UGM 8 Warzone loadout secondary weapons
The fact that this weapon is so slow means that it's best paired with a fast-firing SMG – something with high mobility.
That's why we recommend this Marco 5 Warzone loadout or this Owen Gun Warzone loadout. The H4 Blixen is also a great option if you unlocked it, so check out our best H4 Blixen Warzone loadout here.
UGM 8 Warzone loadout perks and equipment
As always, the meta for Warzone's perks remains unchanged. Double Time, Overkill, and Combat Scout are what you want to be looking at. It's also worth checking out Serpentine if you want a little more protection, but this LMG is heavy and Double Time should alleviate some of the pressure low mobility brings.
Finally, for the equipment, we recommend Semtex and Stims. Stun Grenades are useful too, but this weapon isn't built for pushing enemies – as much as the Call of Duty Blog wants to tell us it is. It's good at taking them out, that's for sure, but there are so many quicker weapons out there.
Well, that's everything you need to know about what you need for a decent UGM 8 class in Warzone. Is this one going to stand the test of time and become one of the best? We hope so, but we're not sure just yet.