With an abundance of assault rifles and sniper rifles featuring as the best long-range options in a lot of the best Warzone loadouts, it often looks like the age of the LMG is over – aside from the ever-popular Bren, of course. While it isn't as overpowered as it once was, this PKM Warzone loadout is challenging that notion and might just be your new favourite weapon.
The PKM is one of those weapons that offers up exactly what you'd want from an LMG – and sort of what you expect. It has a huge magazine size, decent enough stability under sustained fire, and deals quite a lot of damage. Lovely stuff, really.
Of course, this all comes at a cost. The PKM isn't going to match your average assault rifle when it comes to speed and mobility, but it is going to be a fantastic medium-to-long range alternative for players looking to stray away from the Warzone meta once in a while. So, we have the best PKM Warzone loadout for you right here.
PKM Warzone loadout
Cameron 'Westie' West, a Call of Duty content creator and a go-to name for some of the best Warzone weapon builds and loadout options, has shared their thoughts on the PKM after the recent bout of balancing changes and we're convinced that, following his suggestions, this is the best PKM Warzone loadout for Warzone Pacific Season 2 Reloaded and beyond:
Muzzle: Monolithic Suppressor
Barrel: 26.9″ Extended Barrel
Laser: Tac Laser
Underbarrel: Snatch Grip
Optic: Cronen C480 Pro Optic
The Monolithic Suppressor is the obvious choice when it comes to the PKM. It buffs this weapon's damage range, and when used with the 26.9″ Extended Barrel, you get more bullet velocity and recoil control too.
The Snatch Grip underbarrel attachment is going to build on the recoil control you'll need to get the most out of the PKM. The Tac Laser and Cronen C480 Pro Optic are both going to help you hit your shots, too.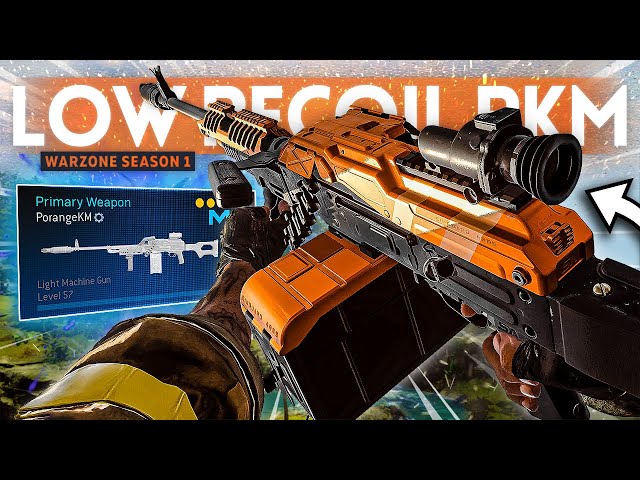 PKM Warzone loadout secondary
Looking at secondary weapon options, this PKM is best paired with a weapon that's suited for close-quarters combat.
That's why we recommend this Jak-12 Warzone loadout, if you're looking for a throwback, or this Owen Gun Warzone loadout, if you're looking for something dominating the meta. A good MP40 Warzone loadout is an excellent pairing option too, if that's more your speed.
PKM Warzone loadout perks and equipment
As for the perks, there are only really three viable options – even after Raven Software's changes. Double Time, Overkill, and Combat Scout are what we recommend. If you want to make sure you're killing enemies you're attacking, this trio of perks should help you do the job.
For lethals, we recommend Throwing Knives – the perfect way to finish off a downed enemy quickly. And, for tacticals, you should be looking at Stun Grenades or Stims.
Well, that's everything you need to know about this PKM Warzone loadout – which may just be one of the best Warzone guns on the rise and a solid Modern Warfare-based loadout option.