Ever since the launch of Call of Duty: Warzone Season 3, the game's Cold War guns have received a fair amount of buffs. As such, we're now starting to see the meta shift from Modern Warfare's weapons to Cold War weapons – and it's providing some pretty intense fights on Verdansk.
One of the weapons that's just received a substantial buff is the Krig 6, one of Cold War's starting assault rifles. The gun's head and neck damage multiplier and upper and lower torso damage multiple have all been increased, improving the gun's overall time to kill.
As such, the gun is currently being run by some of the biggest Twitch streamers online, and, if things continue, this beastly rifle could be making an appearance in our best Warzone guns list. So if you're looking to take a break from using the best CR-56 AMAX Warzone loadout, give this Krig 6 build a shot.
The best Krig 6 Warzone loadout
Here is the best Krig 6 Warzone loadout for Season 3:
Agency Suppressor
19.7″ Ranger barrel
Axial Arms 3x scope
Field Agent Grip
STANAG 60 Round mag
This Krig 4 Warzone loadout is built for medium to long range engagements, which is pretty evident from the size of this gun's barrel. The 19.7″ Ranger gives the best bullet velocity possible, allowing you to gun down your opponents efficiently from afar.
The STANAG 60 round mag gives you the best ammo capacity for this gun, but it does affect how quickly you can reload and ADS. Some might prefer to opt for a lower capacity mag here, but if you're playing anything other than solos, you're going to want to go big or go home.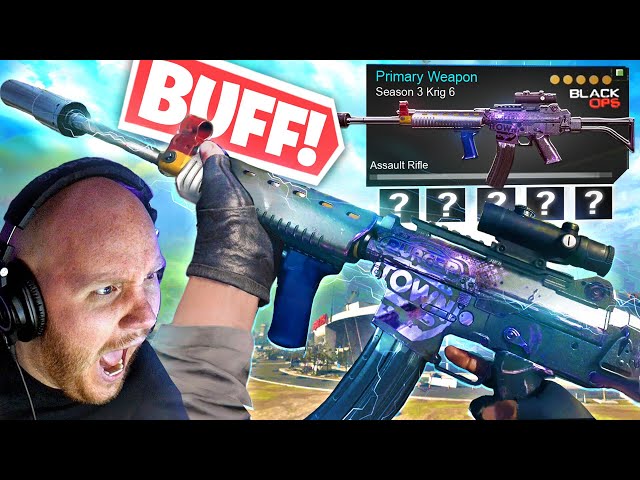 The Axial Arms 3x scope is standard for Cold War rifles, but it's not everyone's cup of tea. The scope moves around a fair bit when firing so this can be switched out for something of your choice.
The Field Agent Grip helps lower the gun's vertical and horizontal recoil, which is an absolute must, and the Agency Suppressor will keep you off the grid while improving bullet velocity and range.
While this gun doesn't hit as hard as some of the other meta guns, many predict this gun will reign supreme when the AMAX eventually gets nerfed in a future update, so start the grind now while you still can.
If you're planning on running this build, we'd recommend pairing the Krig with Double Time, Overkill, and Tracker. For a secondary, we'd recommend giving our best AK74U Warzone loadout a shot.
So there you have it, that's our best Krig 6 Warzone loadout for Season 3. If you're still not sure on what to pair it with, take a look at our NICKMERCS Warzone loadouts guide for more inspiration.