Assault rifles are probably the most important weapon class in Call of Duty: Warzone, and right now there are none more popular than the Krig 6. Any player worth their salt has to have a powerful AR in their loadout, and while there are plenty of those around in Warzone Season 5, Krig Warzone loadouts are proving immensely popular right now.
The Krig 6 was actually slept on for the first few seasons of the Black Ops Cold War era. Now though, it is the most-used assault rifle in Warzone and one of the best Warzone guns.
The Krig is now one of the hardest hitting ARs in the Warzone arsenal, thanks to a slight buff during Season 4 at a time where many other top-tier ARs were nerfed. Plus, with a 60-round ammo mag available to you, its damage per magazine stat is one of the best in class. It is also much easier to control than the likes of the AMAX or the Cold War AK-47, and is a firm favourite of controller players in particular.
So what is the best Krig 6 class in Warzone right now? Well, we've got the answer for you right here.
Krig 6 Warzone loadout
Agency Suppressor
15″ CMV Mil Spec barrel
Axial Arms 3x
Field Agent Grip
STANAG 60 Round mag
This Krig Warzone loadout is built for medium range engagements. While the 19.7″ Ranger barrel used to be the go-to for the best Krig 6 Warzone loadout, it's now better to use the CMV Mil Spec barrel instead.
The STANAG 60 Round Mag gives you the best ammo capacity for this gun – much more than the biggest big you can get for the AMAX, which is only 45.
With the addition of the Field Agent Grip, this thing barely moves when holding down the trigger. If you struggle with recoil control, this is the AR for you.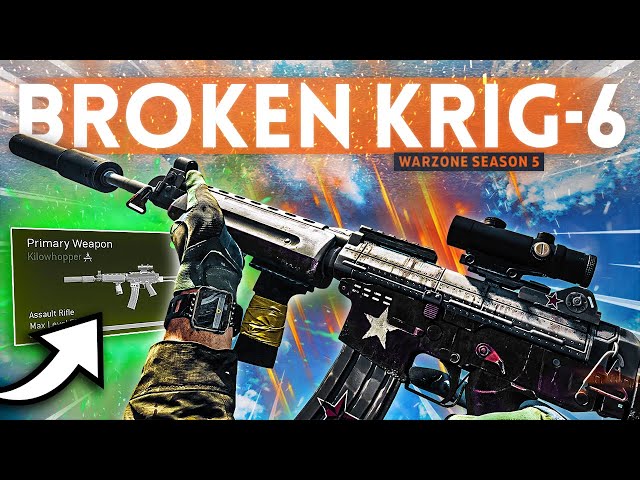 But what second weapon should join the Krig in your loadout? An SMG is definitely your best bet, and you can't go wrong with an OTs 9 or a MAC-10 in that department.
Check out our OTs 9 Warzone loadout and MAC-10 Warzone loadout guides for the best attachments.
For perks, we recommend Double Time, Overkill, and one of the new Warzone perks, Combat Scout.
For your equipment, a Heartbeat Sensor is definitely the best choice for the tactical slot. In the lethal slot, either Semtex, Thermite Grenades, or C4 are all viable options.
So there you have it, that's our best Krig 6 Warzone loadout for Season 5. The Krig is an easy-to-use yet effective AR that will serve you extremely well, and is hands down one of the best Warzone loadouts right now.