The Bruen is back, baby! Well, it's certainly on the up again in Call of Duty Warzone – and for fans of Modern Warfare weapons, it's been a long time coming. This LMG dominated the Warzone meta for a long time when it was released, but it's been out of favour for a long time. However, following an interesting weapon balancing update, it looks like using a Bruen Warzone loadout might just be worthwhile in Caldera and Rebirth Island.
This light machine gun isn't the all-conquering weapon it once was, but it's still one of the best Warzone guns available – despite the fact that a lot of weapons have been added since it's arrival. The Bruen gives players the benefits of an LMG – namely a huge magazine – but the stability and recoil control of an assault rifle, with the right attachments.
And that's where we come in – well, this Bruen Warzone loadout guide, anyway. We have everything you need to know about the best attachments, the right loadout options, and which secondary weapon you should drop into Caldera with right here.
Bruen Warzone Loadout
'WhoIsImmortal', a Call of Duty content creator with a knack for finding the best Warzone loadouts available, has us convinced that the Bruen is worth another go with a fantastic build. Here's the best Bruen Warzone loadout for Season 2 Reloaded:
Muzzle: Monolithic Suppressor
Barrel: XRK Summit 26.8″
Optic: Corp Combat Holo Sight
Magazine: 60 Round Mags
Underbarrel: Commando Foregrip
The selection of attachments WhoIsImmortal has chosen are far from controversial, but sometimes things are popular for a reason.
The Monolithic Suppressor increases damage range and works well with the XRK Summit barrel to offer increased bullet velocity and recoil control. The Commando Foregrip has also been chosen to help keep the Bruen manageable during a firefight.
If you're having trouble hitting your shots, you might want to look into changing out the 60 Round Mags – however, these will make sure that you can finish a gunfight without needing to reload. Well, provided you hit most of your shots.
The Corp Combat Holo Sight is WhoIsImmortal's choice of optic attachment, but as you can see in the video below, the VLK 3.0x Optic is also a great option.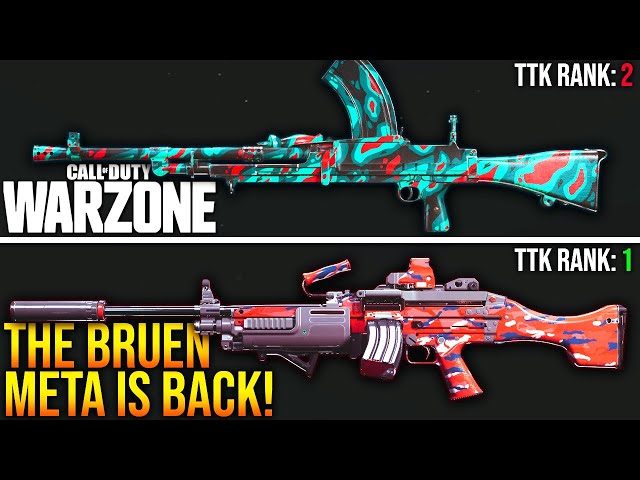 Bruen Warzone Loadout secondary
With this Bruen being a fantastic medium-to-long range option, we recommend pairing it with something suited for close-quarters combat.
This Jak-12 Warzone loadout is a fantastic option if you're looking for a shotgun, but we also recommend this Owen Gun Warzone loadout or this MP40 Warzone loadout.
Bruen Warzone loadout perks and equipment
As for perks, we recommend the standard selection of Double Time, Overkill, and Combat Scout. Double Time will keep you mobile and Combat Scout is going to make sure any enemies you tag in a firefight won't get away.
Looking at lethal equipment options, Semtex or Throwing Knives are the best choices. As for tactical equipment, the Heartbeat Sensor is still a fairly reasonable choice – but if you're an aggressive player, Stun Grenades and Stims would do an equally good job.
Well, that's everything you need to know about throwing together a decent Bruen Warzone loadout. Is it going to jump back into the Warzone meta permanently? We're not so sure – but, this Bruen is going to get you kills and that's more important.