If you want a weapon that will hit hard and fast, the HCR 56 is far from a bad option when it comes to the selection of light machine guns on offer in Warzone 2. This is going to be a little bit slower than you might be used to, if you use assault rifles, but don't let that put you off checking out the best Warzone 2 HCR 56 loadout right here.
Why do you need to care about a loadout for this weapon, though? Well, with the right attachments and a class that compliments it, this could be more than one of the best Warzone 2 LMG options available. It could be one of the best Warzone 2 guns altogether – in the right hands, of course. You still need to land your shots and play smart.
Best Warzone 2 HCR 56 loadout
So, without further ado, here's the best Warzone 2 HCR 56 loadout – with a weapon build from Call of Duty content creator 'Handler':
Barrel: Bruen Turaco 686mm
Underbarrel: Commando Foregrip
Laser: VLK LZR 7mw
Optic: Cronen Mini Pro
Rear Grip: Stip-40 Grip
When it comes to this HCR 56 build, recoil control is paramount. That's why you need the Commando Foregrip underbarrel attachment and the Bruen Turaco 686mm barrel attachment – which also adds sound supression to this LMG.
The VLK LZR 7mw is also going to combat this weapon's low mobility by increasing ADS speeds and the gun's sprint to fire speed. The Stip-40 Grip is also a great option because it doesn't negatively affect this weapon's mobility, but doubles down on the recoil control you need.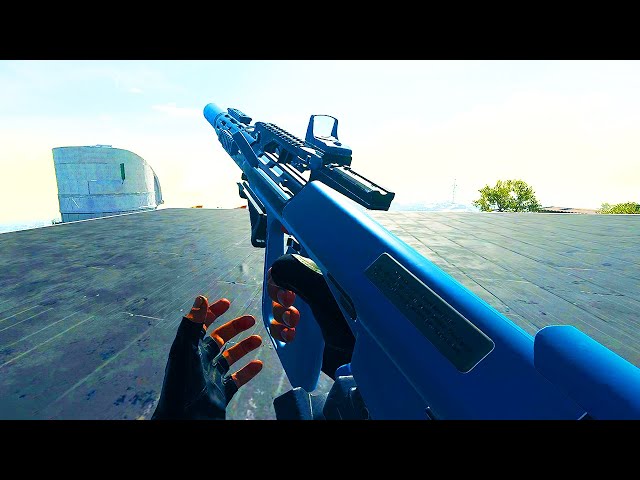 And, that's all she wrote. Well, all we wrote about creating the best build for this LMG. We know it's only one weapon, but this is a great starting point for setting yourself up with one of the best Warzone 2 loadouts available.
Best Warzone 2 HCR 56 class setup
We know the HCR 56 is a fully automatic weapon, but you're going to want to pair this with one of the best Warzone 2 SMG options as a secondary. Why? It's just too slow to be the only close-range option at your disposal. If you're lucky, you can get away with using it when being pushed. However, having an SMG available is going to be a much better option.
So, that's why we recommend using the best Warzone 2 Lachmann Subb loadout or the best Warzone 2 Fennec 45 loadout. Even the best Warzone 2 BAS-P loadout option would do, if you have this newer weapon unlocked and levelled up.
As for the rest of the loadout, you're going to want to look at equipping the Drill Charge lethal and Stun Grenade tactical. The Drill Charge can be a useful tool in flushing enemies out of cover, without needing to get too close to them, and the Stun Grenade could buy you some time if you get pushed by an enemy squad.
When it comes to the best Warzone 2 perk package option for this class, there are a couple of options. If you want your fully-built secondary weapon straight away, you should look at the Weapons Specialist perk package – which offers you Overkill. However, if you're not so fussed about this, you should check out Specter. This one has Ghost, which is always handy.
But, that's all there is to it when it comes to putting together the best HCR 56 class for this battle royale. If you want to improve your chances even more, you should check out the best Warzone 2 settings and best Warzone 2 FOV options available.